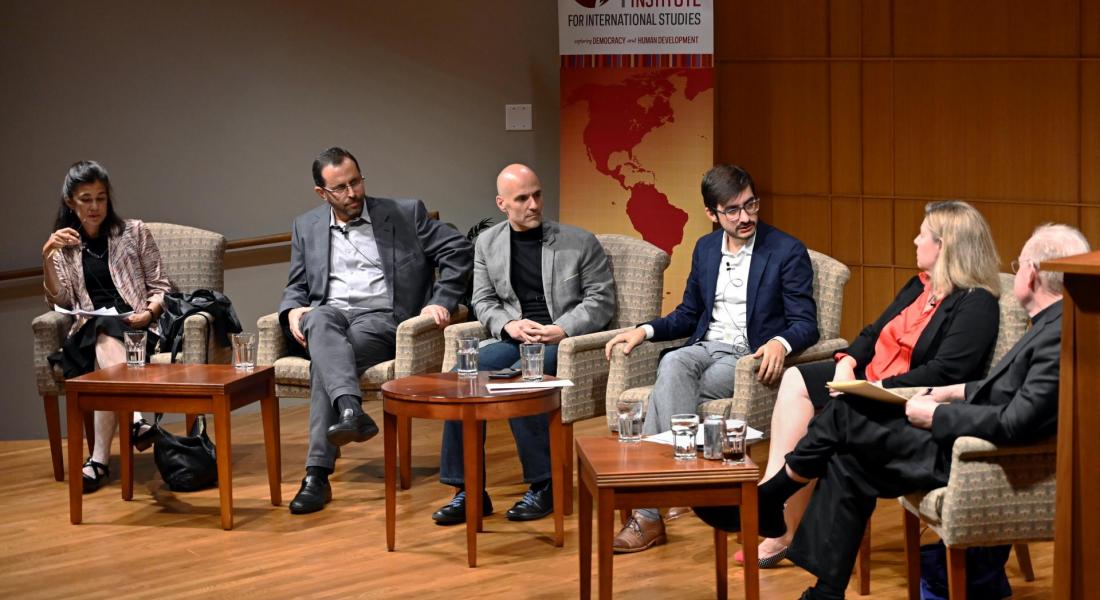 A new group of Latin Americanists has joined the faculty of the Kellogg Institute for International Studies, highlighting the Institute's historic strength in studies of the region. 
The half-dozen professors, most of whom joined the Institute's faculty in the fall, include political scientists, a theologian, and a sociologist. They specialize in areas ranging from free trade agreements and Christian ethics to data science. 
Director Paolo Carozza said their arrival deepens the Institute's expertise in a region that has been its "historic center of gravity since the founding of the Institute." 
"We're just being true to our roots," he said.  
Another Latin Americanist – democracy expert Scott Mainwaring, who directed the Institute for 13 years and now teaches at Harvard University's Kennedy School – will return to the Institute in the fall of 2019. He is also on the Institute's Advisory Board. 
The Kellogg Institute is the center for Latin American scholarship within the university's new Keough School of Global Affairs, the first college to open at the University of Notre Dame in nearly 100 years. Nine institutes and centers – each devoted to a specific geographic region or topic of international study – are part of the Keough School. 
Carozza said recent political developments in Latin America, such as instability in Venezuela and the election of a populist president in Brazil, are reviving interest in the region after a period of relative calm there. 
"It's a really important area," he said. "There's so much happening there that's really complex and interesting from both a scholarly and a political point of view."  
He added that Latin America remains the largest predominantly Catholic region in the world, and studying it encompasses the Institute's emphasis on Catholic social thought and its research priorities of democracy and development. 
The new faculty fellows are: 
Two of the new Latin Americanists – Lantigua and Pérez-Liñán – were affiliated with the Institute as students. Lantigua was a Kellogg Institute doctoral student and Pérez-Liñán was a dissertation year fellow in 1999 -2000. 
Carozza said their return speaks to the Institute's reputation and the importance of ongoing academic excellence: "We're nurturing future generations of scholars, and the ones who are here now might be leaders in the Institute in the future." 
At a recent panel discussion on Latin America, several of the new faculty fellows cited the Kellogg Institute's strong sense of community, along with its cutting-edge scholarship, as reasons they came to Notre Dame. 
"It's an incredible intellectual community and an incredible place where people support each other," Kay said. 
The Kellogg Institute has more than 100 faculty fellows, who represent 24 academic departments, centers, institutes, and schools at Notre Dame.