Research
Acción Venture Lab, Washington D.C.
Summer Entrepreneurial Internship Program
Acción Venture Lab
Washington D.C.
Summer 2017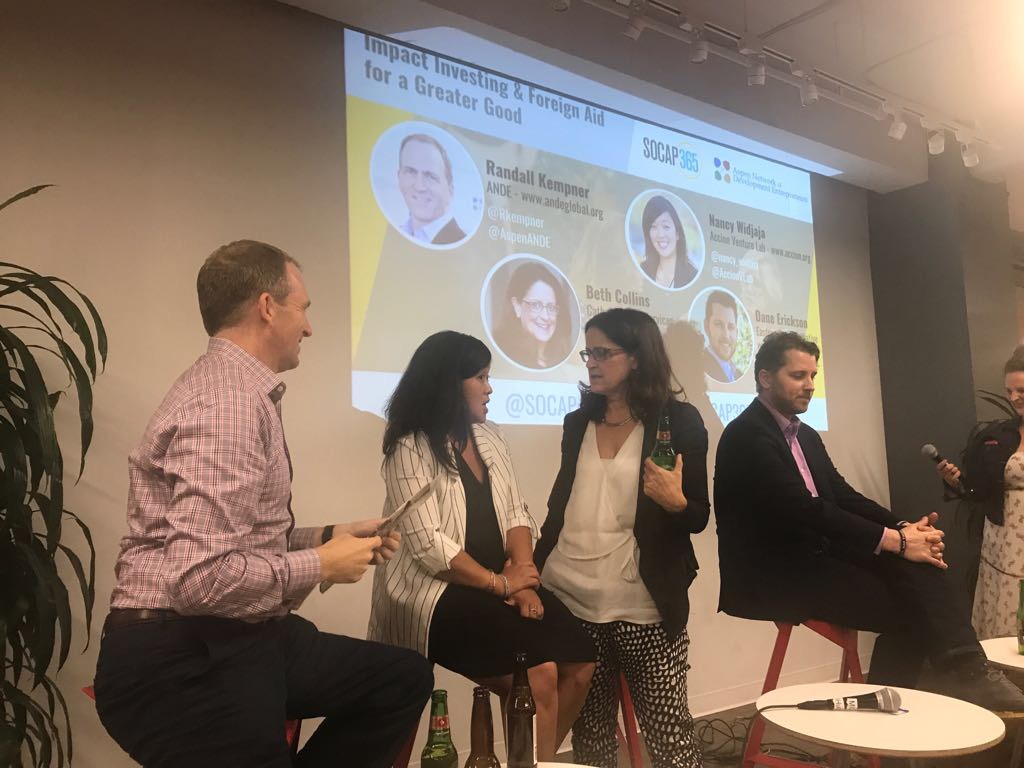 An hour into my first day at the office, I was guided into a large conference room. I took my seat between two people I did not know, and quietly wondered what was going on and who these people were. As I sat there with a bewildered look on my face, the man to my left started speaking about two new investments that were to be decided upon during the meeting. He also casually mentioned that he was CEO of the larger non-profit – Acción – that my group was housed within. About an hour later, almost a million dollars were committed to two fantastic start-ups, Escala and NowMoney, which seek to improve the education system in Colombia and provide financial services to the underbanked in the UAE.
This summer, with the help of a Summer Entrepreneurial Internship from the Kellogg Institute, I was lucky enough to be the sole undergraduate intern at Venture Lab, a seed-stage and impact focused Venture Capital fund. The fund invests 300k-500k in start-up companies worldwide that are producing a positive impact and providing the underserved more access to financial services, whether it is through affordable loans, a mobile bank account, or various other options.
My summer at Venture Lab was incredible due to the amazing people I worked with and the chance to take on responsibility throughout the investment process. On the job, my responsibilities were primarily split up into three different types of work. The first type is the initial screening and analysis of companies. Venture Lab has made 30 investments throughout the U.S., Latin America, Africa, and Asia over the 5-year life of the company. To get to these 30 investments, they have screened and talked with over 1600 different start-up companies. I spoke to approximately 35 companies ranging from emergency and unemployment insurers for the middle and lower class in the United States to mobile remittance and payments platforms throughout Africa and Latin America. Some of these have great and innovative business models, and some are struggling to find their niche, but almost all of them are driven in some fashion to use business for a greater good.
My second responsibility was leading a research project on educational lending worldwide in relation to solutions that fintech can provide. This topic is both niche and complex, as it is targeted at a smaller part of an incredibly large, dynamic, and multi-faceted problem in both the U.S. and emerging markets. Unfortunately, in many markets including the U.S., many forms of education are not very successful at providing the upward mobility that many seek. While of course no holistic solution was found, the project raised my awareness of how complicated education reform can be and how important it is to both acknowledge the difficulties of the situation but also not get bogged down in hopelessness.
Finally, my third responsibility is with later stage due diligence at the writing of a Private Placement Memorandum. The due diligence essentially entailed further research into companies that we were more serious about, or research into companies we were determining whether to invest in as a follow-on investment. My role with the Private Placement Memorandum was to draft part of the document used to build a new investment fund.
Altogether, I gained exposure to the entire investment process and now more fully understand how market forces can contribute toward humanitarian goals. Additionally, Venture Lab benefitted by the addition of a necessary extra hand to help with introductory calls and completion of important investments.
When looking back on my experience this summer, there are a few key aspects that stick out to me – namely the incredible people in the office, the innovation occurring globally, and the general ability to combine market forces and humanitarian efforts. Everyone I worked with in the office had backgrounds in top consulting firms or investment banks, often with MBA degrees from Ivy Universities or top international schools. Basically, they could be making large amounts of money elsewhere in financial services, but instead choose to work at Venture Lab for a fraction of the pay, but more impact and meaning. All my coworkers inspired me to use my education, and the professional skills I gain in the future, to bring about positive change. Beyond just my coworkers, I was astounded by the technological developments occurring worldwide. In one day, I called a company in India that used satellite imagery and drones to analyze soil quality and agricultural potential, and another company that utilized digital payment systems to revolutionize how schools in South Africa collect tuition fees. These two companies are just two examples of the various innovations I was exposed to during my time at Venture Lab, and that still amaze me. Finally, simply working with the various companies that were attempting to combine profitability and positive social impact inspired me to believe that market forces can contribute to humanitarian change. Often, capitalist forces are demonized, especially among my generation, and this reminded me that it is most often the people within the market, and not the market itself, that determines the type of change.
As a whole, I had an incredible summer in D.C. with the Accion Venture Lab team. I think that for someone interested in business and impact, there are few better experiences than what I was a part of this past summer. The learning curve was high, the team was inviting and open to any requests I made, and the work itself was exceptionally interesting and meaningful. To any others that have the chance to work at Venture Lab – take initiative and get to know your coworkers and their personal stories. The experience is what you make of it, and the experience has an enormous amount to offer if you dive in.