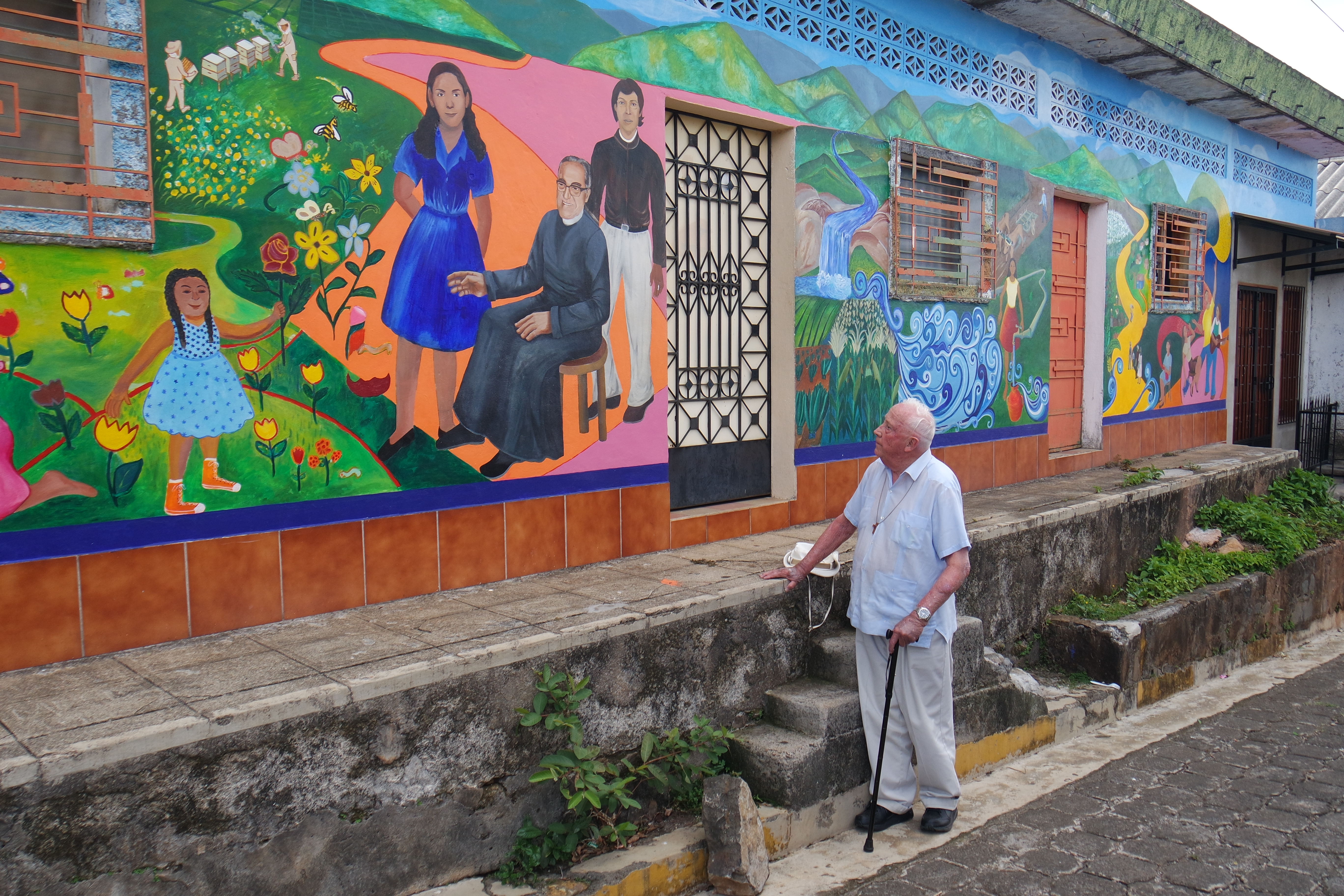 Rev. Robert Pelton, CSC (May 29, 1921 - November 4, 2019) has been an important part of the Kellogg community almost since its inception, becoming a Faculty Fellow in 1992 and later founding and directing Latin American/North American Church Concerns (LANACC) as part of the Kellogg Institute. We invite you to peruse the tributes to and photos of our dear Fr. Bob, adding your own if you'd like and remembering the impact he has had on so many.
by Peter Casarella
¡Bueno, bueno! That's my fondest memory of Fr. Bob Pelton. He never arrived or departed without a jovial greeting, usually en español. Throughout his whole life, he let his enthusiasm spread like wildfire. It will be sorely missed.
Read more...
Fr Robert Pelton was the most remarkable priest I have ever known. I attended the May 2016 95th birthday celebration. In a toast, I recall saying there were three words that described him: leader, educator, and witness. He had the capacity to make you think outside the box about the poor, the oppressed and rejected and what role the laity can play in the church. Privately he told me the Church must change its policy on the role of women in the church and he personally helped during the time I was coming out as a gay man in 1996. Rest in peace.  by Michael J. Cook
With the passing of Fr. Pelton we may be tempted to think that bright light of kindness, generosity, and justice has gone out. Yet, I hold dear Bob's most precious gift to me many years ago as a young Theologian - his kindness led me to be kind; his generosity inspired me to be generous; his keen sense of justice inspired my voice against the darkness that threatens God's designs. Bob and I shared a deep love for St. Romero. He was a mentor who believed in me as a person, as a woman, as a theologian. Because of this, his light continues to shine in me and the work I am called to do. Such is the power of the resurrection he now enjoys in its fullness. My deep condolences to the Congregation of the Holy Cross and to the Notre Dame Community. by Damian Zynda Th.D.
Que de Dios goce el Padre Bob Pelton, que ha fallecido en Notre Dame, Indiana, USA, a los 98 años de edad. Un GRAN ROMERIANO, el P. Bob organizó conferencias sobre nuestro santo por 30 años en la Universidad de Notre Dame, asistidas por estudiantes y teólogos de todo el mundo. Fue la voz clave que instó a la Iglesia a considerar a Mons. Romero como un posible "doctor de la iglesia" hace un par de años. Viajó a El Salvador para la beatificación y a Roma (a pesar de que el médico le recomendaba no hacer el viaje) para la canonización. Antes de esto, tuvo una carrera impresionante. Estudió en Roma, donde se entrevistó con el Papa Pío XII cuando defendió su tesis. Fue cercano al Arzobispo Marcos Macgrath, panameño, quien tuvo mucho que ver con el desarrollo de la teología latinoamericana. Tras la elección del Papa Francisco, el Padre Bob estaba desarrollando un historial que explicaba el magisterio Bergogliano en el contexto del legado de CELAM/Macgrath, lo que el Padre Bob denominaba la "teología puente". Fue un gigante. by Carlos Colorado, CULTURA ROMERIANA
Fr. Bob was a very close friend of my uncle's, Archbishop Mark McGrath of Panama. Fr. Bob was a frequent visitor at my parent's house in Panama in the '60s, where he frequently joined my uncle for family meals. My brothers and I maintained contact with him during our undergraduate years at Notre Dame, and later met with him occasionally over the years when our uncle traveled north to attend ND Trustee meetings. More recently, I had the privilege of Chairing the Kellogg Institute's Board for a decade - Fr. Bob almost always attended our Kellogg dinners and invariably shared wonderful stories with me about his very close fried, my uncle. What an inspiration and blessing his life has been to all who were fortunate enough to know him! by Mark G. McGrath II
A pleasantly loyal friend- kept in touch since 1955. The entire world has been a better place for his life on it. He was accepted as the Chaplain for the Class of 1956 during his later years. by John Manion, '56, resident in Badin Hall with Fr. Bob
While at the Kellogg Institute I had the privilege of working with Fr. Bob on many projects, including his Romero Days events. He would stop by my office for chocolates, ask for lifts to his residence, and sometimes just chat. We partied at Carnaval and he was always fun to be around... Good stuff Fr. Bob. Good stuff! by Dean Hartke
As others will attest, Fr. Bob's passion for social justice never impeded his charm and ability for a little humorous competition. For many years at Notre Dame, I volunteered to debrief the students who gave up some of their Christmas season to do the Urban Plunge to learn about poverty in their hometowns. Fr. Bob also was on the debriefing team. As he would greet me each year, he would say with a twinkle, "It must bug you, Harvey, to know that as long as I live, you will never be the oldest de-briefer!" Rest in peace, my friend! by Tom Harvey, President Emeritus, Catholic Charities USA
Since I arrived at Notre Dame, Fr. Bob was a kind, cheerful, and wise colleague, who helped me make the Kellogg Institute my second home. He really loved Latin America and especially Chile. Therefore, when he knew that one of my areas of specialization was Southern Cone literature and culture, he opened his heart and shared with me his experiences in Chile during the first hard years of the Pinochet's regime. We will miss him very much. However, his spirit and generosity will live for many years in ND. He touched a lot of people. Enjoy the eternal divine peace that you so deserve, sweet Fr. Bob. by María Rosa Olivera-Williams
With great sadness I receive this news. I was blessed with Fr. Pelton's friendship and guidance throughout many years. We last met a few years ago in the journey on The Most Reverend Mark McGrath.
I remember our warm encounters both here in Panama and at Notre Dame.
I give thanks to Our Lady for the gift of such a wonderful human being.
I will joint in spirit the services and have him, the friends at Kellogg and the Holy Cross community in my prayers. by Stanley Muschett, MA'82. PhD '92