Research
Women in Progress/Global Mamas, Ghana
Summer Entrepreneurial Internships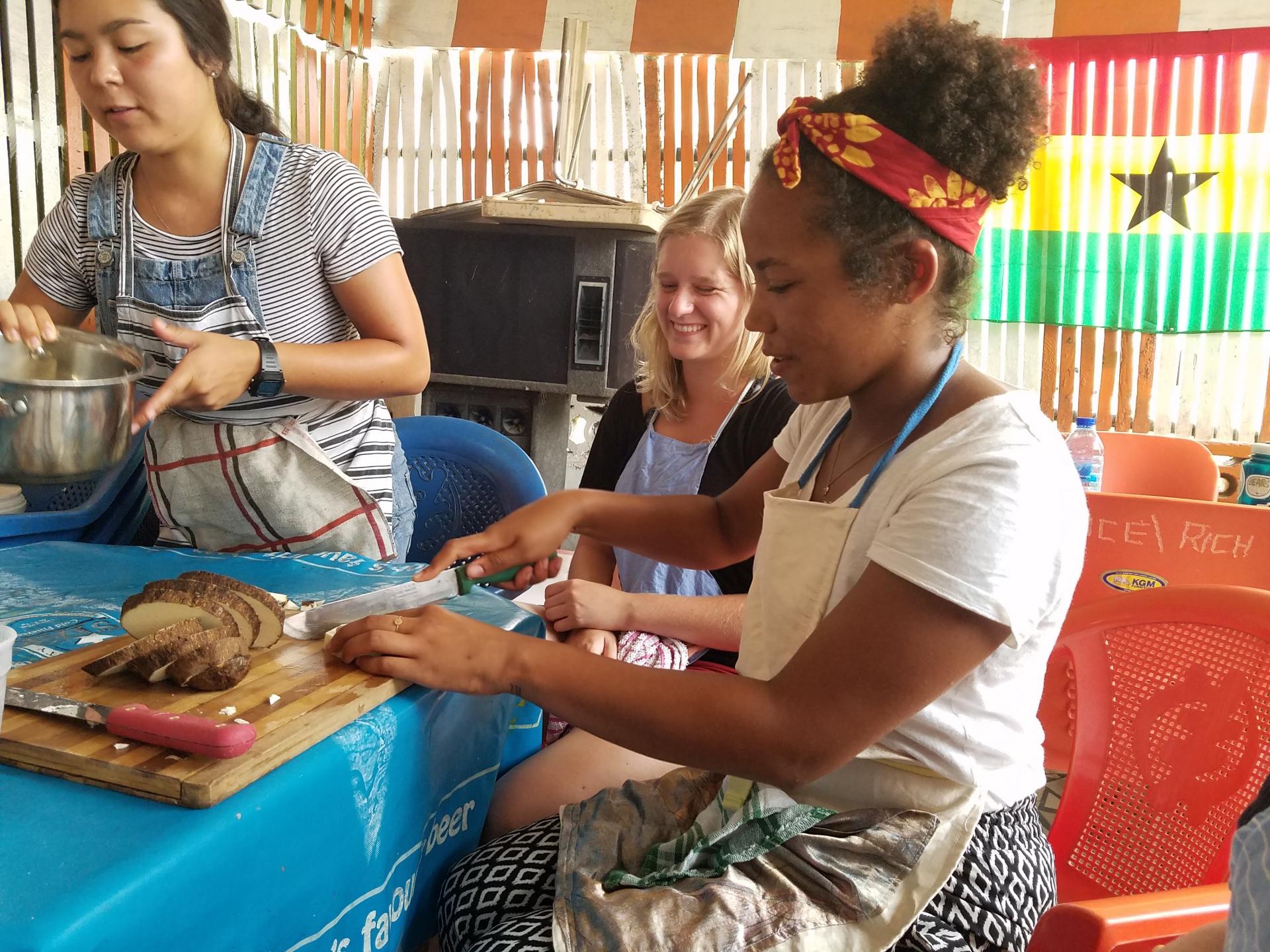 On Tuesday, June 19…
My first two weeks here have been great! Our volunteer house is a short taxi ride from the office and I have gotten comfortable being able to communicate where I need to go and even sometimes giving direction on how to get there. 
At the office, Ali (a marketing intern from IU) and I have been communicating frequently with Jess Bowen, the sales and marketing manager for Global Mamas and she has outlined a number of projects and tasks she would like us to have accomplished by the end of our time in Ghana. 
My first task was to create sample outfits that would be shown to Instagram and Facebook followers as examples of what they could win in a Global Mamas' giveaway. Global Mamas previously used the online social fashion-sharing platform Polyvore to create outfits and share their products with those invested in the fashion community. However, the website was bought by a company who has yet to make changes/provide a replacement, so after doing some research we found that previous users turned to urstyle.com, a platform that operates in a similar manner and allows users to post outfit combinations and discover new looks. Between Ali and I, we cataloged over 300 Global Mamas items into the system​ ​​​​so other users are able to share how they would style our products and discover new Global Mamas items while creating outfits. ​
Ali and I are also leading communications and execution of the 12th annual design competition. The competition is open to all mamas in the Cape Coast, Ashamain, and Accra locations. We had a meeting for the Cape Coast mamas last week on Tuesday. Twenty mamas were present (the highest attendance they have had in several years) and they were excited to hear us tell them about this year's competition. We explained trends for Spring 2019 in both patterns (for possible batiks), colors, and sewed items. Patience Essibu, the office manager, translated in Fante for us after each section. Through Patience, we were able to effectively answer their questions. I also created a one page sheet explaining color trends, pattern trends, and sewing trends to send to the office managers at the Ashamain and Accra locations. Ali and I are hoping to visit these locations and document some of the mamas in their creative process. 
---
FINAL REPORT
When thinking about how I wanted to spend my summer, I felt pressured to go in so many directions. As a business student, I was compelled to get an internship with some fancy firm that would likely give me a project in addition to mundane administrative tasks. When I heard about Global Mamas from a friend that had interned with the nonprofit organization before, I immediately knew I wanted to intern in Ghana. I knew nothing about the organization, the fashion industry, fair trade, or Ghana, but I was so compelled by the organization's mission and determined to make their internship a reality for myself. After applying through the Kellogg Institute and being one of the grateful applicants to receive funding to go abroad, I was ecstatic. It was not until I was boarding the plane to Washington-Dulles International Airport that I realized I had no idea what I was getting myself into, and I loved every second of it. I was a marketing intern for Global Mamas and stayed in Cape Coast, Ghana for nine weeks working with the ethical apparel nonprofit which employs women with the goal of economic prosperity for all its Mamas.
As a Global Mamas marketing intern, I was responsible for a number of projects. Before arriving in Ghana, the Director of Marketing and Sales, Jess Bowen, reached out to me to better understand how she could tie my specific interests into the company's immediate needs. For me, this was super helpful because I felt that Global Mamas was taking interest in my talents and applying them to projects they could benefit from, instead of simply giving me tasks to complete. One of the projects I did for Global Mamas was to execute their design competition amongst the Mamas between three different production locations. This consisted of researching trends for the upcoming season, communicating these trends and competition guidelines to Mamas, finding judges for the event, and planning the celebration and award ceremony at the end. Another one of my projects that was more marketing-oriented was to create the foundation for an influencer program. This project was not on my list at the beginning of the internship, but after my regular Skype calls with Jess, we both came to the agreement that it was something I could contribute which would greatly help the organization. Global Mamas traditionally uses home parties as a means of selling directly to consumers (their largest volume of sales is through wholesale channels). In an effort to better serve an emerging new generation and target a younger customer base, I proposed to Jess that Global Mamas should have a social media influencer program and she accepted the idea with open arms. While I was at the point in my internship where I could not fully execute the Global Mamas Brand Ambassador Program, I set up the foundation for reaching out to influencers, a timeline for a trial class of influencers, and incentive system along with posting guidelines. 
Some other small projects I worked on included re-designing the first day volunteer orientation at the organization, which included modifying the tour around the Cape Coast office to be more informative and conducive to volunteers just arriving at the office. I also created a press kit for Global Mamas to be able to quickly and easily articulate their mission, background, and products. This press kit will be used for bloggers, online publications, and print publications who inquire to write about the organization. In addition to these projects, I was tasked with content creation for various social media platforms. This included taking pictures and videos of products for their Instagram and Facebook pages, as well as writing several blog posts about the organization's progress and events in Ghana. 
At Global Mamas, I feel that I was successful not only in accomplishing my tasks, but also in developing my experience in the nonprofit sector of business. My tasks, while plentiful, never felt overwhelming or unstructured. There was a level of autonomy in the projects which made them extremely enjoyable for me. I think if the projects had not been catered to my talents and interests I would still have been successful, but not as invested in the work. For that, I am extremely grateful to Global Mamas for being so attentive to my area of study and desired means of helping the company. My experience in the nonprofit sector of business also grew tremendously while at Global Mamas. This developmental success was fostered by my involvement in and exposure to Global Mamas' business operations. I was invited to meetings and was even asked for opinions on strategic decision making for their upcoming collections. Something I learned while working for Global Mamas that I had not realized about nonprofits before was just how much they operate like a for profit business. Global Mamas is just as viable (if not more so) as a for profit business would be. They also prioritized optimization and efficiency within their clothing creation and distribution. 
My behind-the-scenes exposure to Global Mamas and their operations as well as my work with the organization helped shape my current career goals. Global Mamas is an organization that prides itself on positively affecting the communities it reaches as well as providing economic empowerment to those whose circumstances would otherwise put them in an opposite position. The dedication to their mission and continuous stride toward employee development are two factors I know I want in a company after graduation. I became aware of the terrible working conditions and human trafficking that plague the apparel industry while writing a blog post about Global Mamas in comparison to its counterparts. In addition to learning about this and becoming well-versed in fair trade and its principles, I have become very interested in fair trade and justice within distribution channels. This was something I had always known but not necessarily understood.  While I was in Ghana I was able to better understand the horrible things other apparel companies are doing, not through direct experience, but through research and conversation on the topic as well as seeing Global Mamas as an example of a company who is working to pave the way for ethical apparel. I would love to explore more about how to employ informed consumerism to change human trafficking and slavery in supply chains, and hope to employ my academic skills in doing so. Eventually, I would like my career path to enable me to focus on startups and small businesses. I believe educating others on business practices and technological resources, as well as providing a marketable platform for them, can completely change their lives and their communities.
Overall, my internship at Global Mamas was a fantastic experience. I was able to travel to different parts of Ghana on the weekend with the other interns and felt I was fully immersed in the culture. The nine weeks I spent in Cape Coast and Elmina are times I truly will never forget and I will always cherish the friendships I made while I was there.