Research
Projects Abroad, Nepal
Summer Entrepreneurial Internships
Final Report: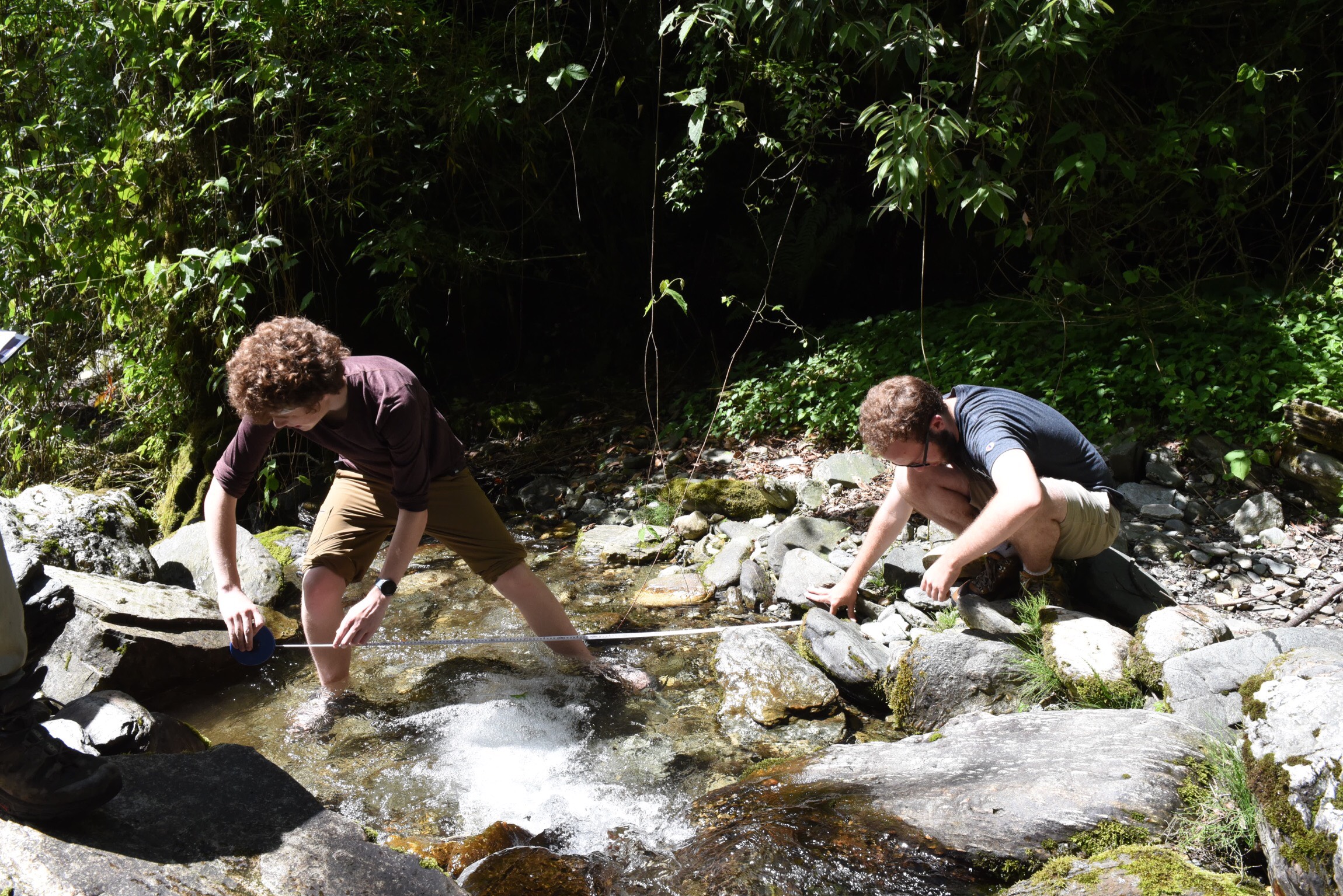 Entering the country of Nepal, I was both apprehensive and eager for the following two months. The opportunity to apply my conservation knowledge to protect unimaginably distant land seemed incredibly fulfilling. As I had learned from my scouring of the internet, my destination lay at the start of world-class trekking routes to the tallest peaks in the world. My answer to the common question, "If you could travel to any country in the world, what would it be?" was always Nepal. In my formative years, my imagination was captured by Mount Everest, and I ravenously devoured any book or article I could get my hands on about the first expeditions to the tallest mountain in the world. This was a one-dimensional view of Nepal that I had slowly formed over the years; from books and climbing films. As time went on, however, I began to appreciate Nepal for its strong national identity and unique culture bred by the rugged terrain. I began to question my lifelong goal of "conquering" Everest. In previous years, catastrophes on Everest included a devastating earthquake and an avalanche. Both of these tragedies primarily killed Sherpas, the indigenous people of the Khumbu region who are often employed as climbing guides for their prodigious strength and resistance to altitude. According to the World Bank, the adjusted net income per capita in Nepal is just above 800 dollars a year. For a remote and historically impoverished community, risking your life as a climbing guide for rich, white, western clients is a reasonable tradeoff for financial security for yourself and your family. As I learned more about this dynamic, it increasingly disgusted me. Even as I left for Nepal, I saw another rash of stories decrying the trash, dead bodies, and lines of climbers littering the top slopes of Everest. I would not be traveling to the Khumbu region where Everest resided; despite this, I still felt a sense of shame that my infatuation with the culture and landscape of Nepal was intertwined with a complex and potentially exploitative relationship. I was also plagued by less philosophical concerns. I had never spent an extended period of time outside of the United States, much less on my own. The ideas of safety, language barriers, and culture shock were foremost in my mind. I was traveling to Nepal during monsoon season, and the idea of pouring rain for two months was not much refuge for me, already weary from Indiana's prodigious humidity. 
The three days of in-country travel were vibrant, overwhelming, and depressing. On the Pokhara highway from Kathmandu to Pokhara, I saw countless scenes of poverty like I had never experienced before. Along the narrow and bumpy road sat thousands of shacks, the larger of which set up small shops hoping to attract the passing motorists with hand-painted Coca-Cola signs. Despite the ever-increasing scenery, it seemed that my worst fears about the influence of western tourism were confirmed. In one striking picture, I captured a massive billboard for a motorcycle company looming over a dozen people working in a small rice field. By the time I left my bumpy "Jeep" on the 6th day of travel, I was exhausted by the entire ordeal. Both of my large backpacks, weighing around 100 pounds, were taken from the jeep and thrown in a basket, which promptly was taken up by a woman in at least her 70s, wearing flip-flops. Despite my protestations to Raj, the project manager who I was traveling with, she began to slowly trek up the stone steps to Ghandruk, my final destination. As I walked along beside her, I felt the worst I would on my entire trip. After about an hour, we arrived at Panorama View Point Lodge, my stay for the next six-and-a-half weeks. I was immediately greeted by the project coordinators and volunteers. By the time I looked back, the woman was already walking back down.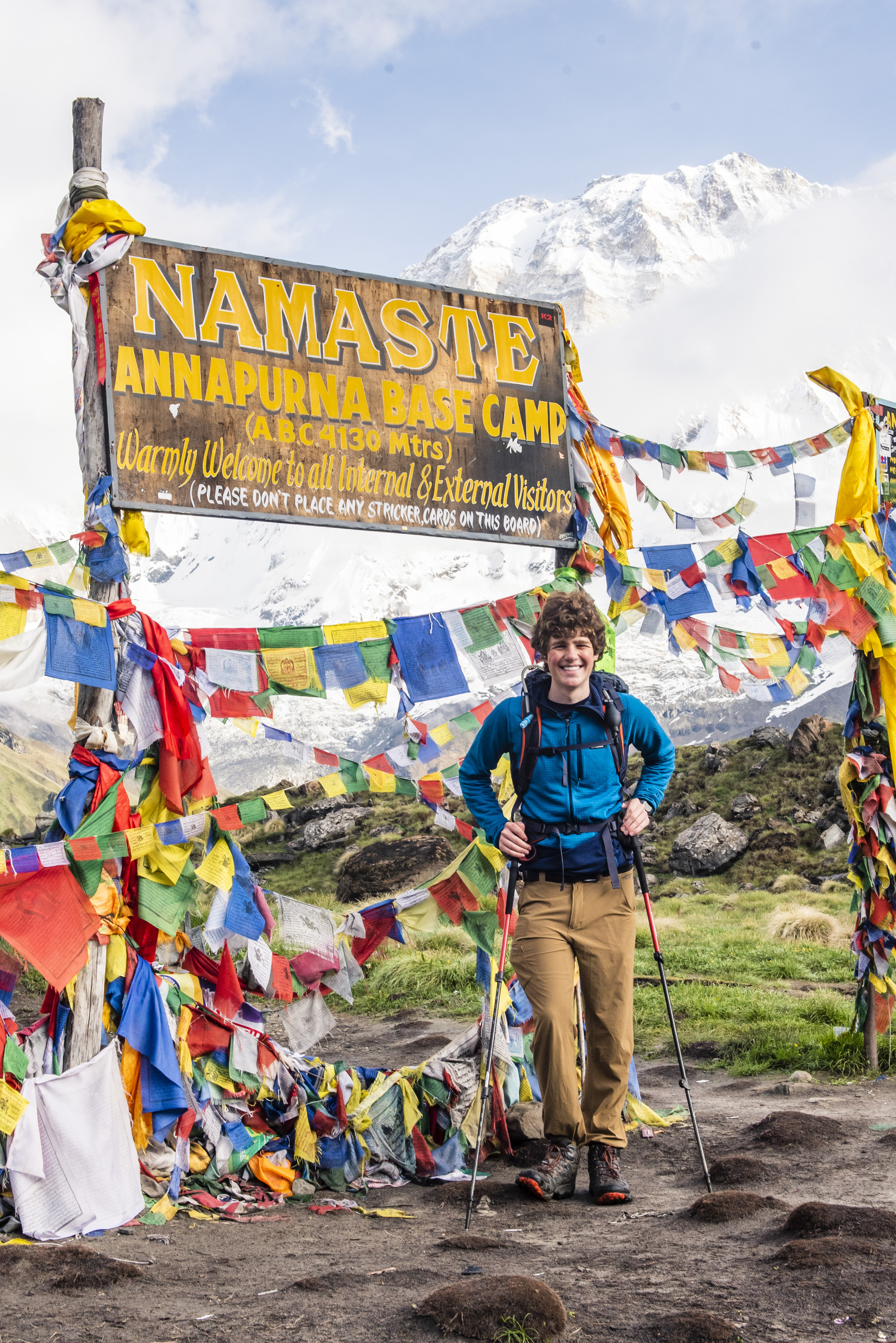 The next morning, the haze omnipresent during my travel lifted after rain the night before. Impossibly high above me lay the tops of Annapurna South, Himchuli, and Machapuchare. Thus began the actual internship that I had traveled to Nepal to participate in. I quickly accepted the schedule that governed the days and weeks spent in Ghandruk. Each day was characterized by a morning survey and an afternoon survey. The most common surveys catalogued bird and butterfly populations along defined routes around Ghandruk. Over time, I was able to identify dozens of species through a quick glance in binoculars. Halfway through my stay, one survey path was bulldozed for the construction of a dirt road to a town parallel to us on the mountainside. Directly crossing a stream, the new road was a stark contrast from the surrounding rainforest. From that point onward, we rarely saw birds on that path. While I did see the definite benefit to connecting another community to services, this was a real-time example of environmental impacts of the increasing infrastructure in the region. We also completed regular testing of water quality and streamflow metrics. As I had previous experience in field water science, I quickly became a leader in these surveys. While our equipment was not nearly as high-tech as I was accustomed to in my previous work, our ingenuity quickly resulted in an efficient and data-rich collection process. Besides these, other surveys included installing and managing wildlife cameras deep in the jungle, complex forest surveys over varied and thickly vegetated terrain, and amphibian surveys. I enjoyed the variation in different responsibilities, which allowed the work to not stagnate quickly. We were also able to participate in analysis from our fieldwork, which was helpful in demonstrating how our data was useful to the overall monitoring of the conservation area.
Many of the concerns that I had related to solo travel in a profoundly foreign country were unfounded. While rain was common in the afternoon, I was blessed with consistently stellar views to the mountains in the mornings. While I did pick up some Nepali as the stay continued, all of my fellow volunteers spoke English to some degree, as did the coordinators. Raj Gurung, who owned and managed the hotel, worked for both Projects Abroad and the Annapurna Conservation Area Project. He was the main interface between the international interns and the needs of the local government. We more directly interacted with Liz and Prahesh, the coordinators for daily surveys. My fellow interns hailed from many different countries, including Italy, England, Scotland, the Netherlands, Australia, and New Zealand. It was a nice surprise that my experience in Nepal also included learning about and interacting with many other cultures. Over time, I developed deep connections with not only fellow volunteers, but the family and coordinators I shared the lodge with. I often helped out Bashtun, the cook, to prepare lunch and dinner for the family and volunteers. He spoke very limited English, and I spoke even less Nepali. Despite this, we bonded over the music that both of us would play and my failed attempts to make traditional Nepali food. After surveys and dinner, leisure time was often spent exploring the village of Ghandruk or talking and playing cards in the common room. Cellular service and internet was highly dependent on weather, and often was inaccessible for days at a time.
During longer breaks in our working schedule, I was highly motivated to trek around the Annapurna region. The highlight of my trip was a four-day trek to Annapurna Base Camp. Another volunteer and I hired a guide, Suku, to take us on the trek. On the morning of the third day, we got up before sunrise for the last hike to the base camp. At the top, the panorama includes Annapurna I, which stands as the 10th tallest peak in the world. The knife-edge ridge of Machapuchare is also visible, yet off-limits to climbers because of its sacred status to locals. Even at 14,000 feet, the highlight of my experience, I still saw striking examples of manual labor; most notably porters carrying 20ft beams of wood up the same path I had trekked on. 
In many ways, my experience in Nepal was characterized by contradictions. I saw incredible kindness in incredibly harsh living conditions. I saw the positive influence of modern conveniences, but also the problems caused by this rapid push for modernization. This type of experience is hard to quantify or easily categorize. Despite this challenge, I believe strongly that it was a useful and beneficial internship for the Annapurna Conservation Area, Projects Abroad, and myself. My experience was complex because it reflected the state of the world; I relish any opportunity to grapple with the problems that face our global community today, despite their complexity and contradictory nature.