Research
Palliative Care Association of Uganda and Center for Hospice Care, Uganda
Summer Entrepreneurial Internships
Final Report:
This past summer, I had the opportunity to work in Uganda as an intern with the Palliative Care Association of Uganda (PCAU).  While the mission of this organization is "Palliative Care for all of Uganda," PCAU also runs a child sponsorship project called the Road to Hope program.  This child sponsorship program is for orphaned child caregivers and was the main focus of my internship. PCAU is located in Kitende, between the capital city of Kampala and Entebbe, and is where I spent a total of eight weeks.
I initially started working with one of PCAU's partners, the Center for Hospice Care, in Mishawaka, back in January 2019. I started as a research intern looking into other child sponsorship programs and policies. My goal was to try to learn from the successes and mistakes of other programs since the Road to Hope program is relatively young.  However, I also researched Uganda, in order to prepare for my time in Africa. Needless to say, I learned a lot about PCAU and various child sponsorship programs prior to my time abroad and I found it to be extremely beneficial.  Once in Uganda, my main role for the summer was to organize and improve the documentation process used for the children in their program. Specifically, I looked at the files of the children and tried to find a more organized system for the PCAU staff to use in order to keep track of all of the information they acquire on each child.  I accomplished this by designing many templates for various information collection purposes, creating an electronic file system for the PCAU staff, and contributing my own information to the files after completing field visits with children and their families.  While this was the main priority for my internship during my time in Uganda, I also presented my research, which I completed in the spring semester, to PCAU with the hopes of implementing some new ideas into their policy and program.   As a little side project, I also wrote stories on some of the children.  I used my experiences with the kids in the hope that PCAU will use the stories for the Road to Hope website that they plan to develop in the future. Altogether I worked on many different projects, but they were all geared toward the success of PCAU, either through their palliative care programs or the Road to Hope.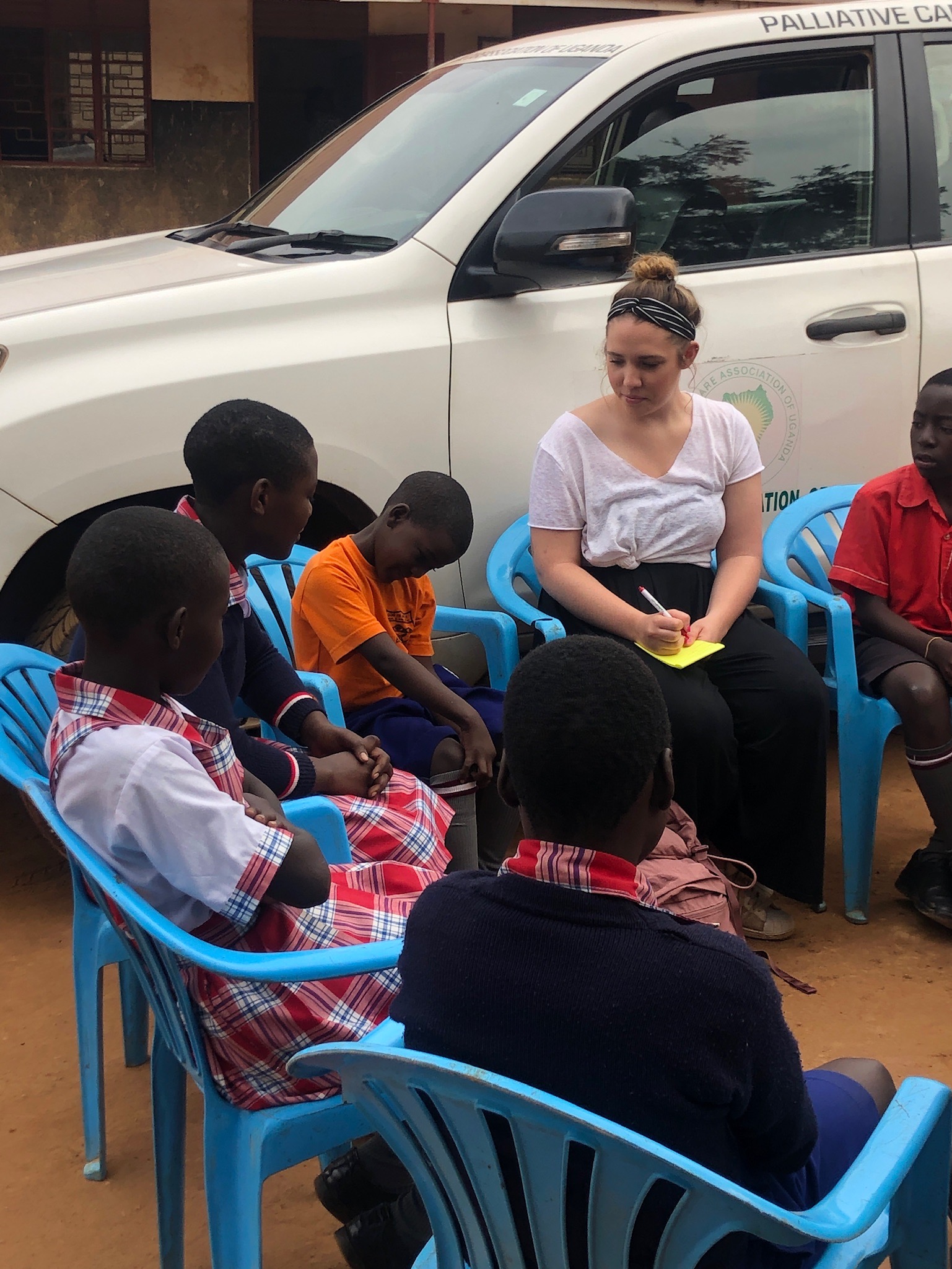 I had two separate weeks where I traveled to other areas of Uganda to work with the children of the Road to Hope program. I spent three days in Hoima at Little Hospice Hoima and the following week I spent two days in Jinja at Rays of Hope Hospice Jinja. On these two trips, the PCAU staff and I visited schools of children in the sponsorship program to check on them and see if there is anything that they needed. We also took this opportunity to speak with their guardians about their responsibilities in order for continued support from PCAU. Personally, I used these meetings to collect information on the children's families for a family tree project that PCAU had asked for my assistance on. These were my favorite two weeks of my two months in Uganda because I had spent so much time within the children's files that it was incredible to finally meet them and have a chance to interact. However, these were also some of the toughest weeks because seeing the conditions that many of the children were living in was very emotional.  I had read about their lives on paper, but there was nothing like seeing it in person. Words did not do it justice.
Overall, I think that PCAU will benefit from the work that I accomplished this summer. I went into this internship a little ambitious, and there was not enough time for me to accomplish everything that I wish I could have. However, I think that my initial research, combined with the work I put in in Uganda, will allow PCAU to not only remain more organized as they expand, but also give them the means to acquire for more sponsors when they desire to do so.
While this internship was not entirely geared toward medicine, I think that the lessons I learned and experiences that I had will help me greatly in this given profession.  First of all, I learned a lot about palliative care while in Uganda. For a practice that is so strongly stigmatized in many countries, I saw first-hand how truly vital this method of patient care is. Furthermore, I learned what it means to care for the whole patient.  Because many of the people living in poor and rural areas of Africa do not have access to curative treatment, palliative care is what they depend on for day-to-day survival. Within palliative care, the regulation of the patient's pain is a main priority. For many of the patients that are parents, PCAU has found that a main concern is often the fear of what will happen to their child once they pass on. In order to allow the patients to be at peace, PCAU's program allows for the care of some of these children. There are many factors that healthcare providers need to consider when treating a patient, and home life can play a major role in whether or not the treatment process is effective.  This is very important to understand in order to care for the whole patient. This internship also taught me about advocacy. In medicine, it should not be up to the patients to always advocate for themselves; the healthcare providers should take on some of this responsibility. I got first-hand experience with this each time I visited a school or home of a child. There were many scenarios where the party responsible was not taking initiative or putting in the extra effort that it takes to help a vulnerable child. This is often where PCAU and myself stepped in to talk and try to negotiate a plan for a way forward. I learned that advocacy is not always an easy and straightforward process because sometimes even the party that one is advocating for can be resistant. In these situations, I learned that it is important to keep the best interests of the individual at hand.
I have grown a lot through this opportunity and am very thankful to have the chance to spend a summer working with a program that I am passionate about. I believe that my experience in Uganda was life changing. I had the chance to meet and interact with so many incredible people that have given me a valuable new perspective on the mindset needed for proper patient care.