Research
Child Family Health International (CFHI), Argentina
Summer Entrepreneurial Internships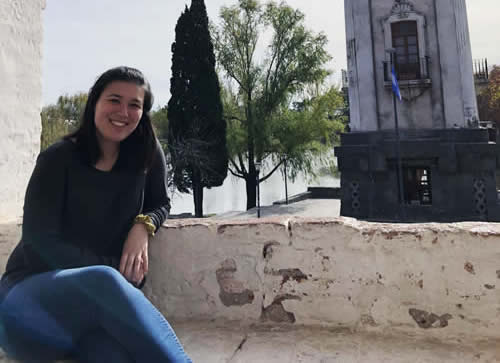 On Sunday, June 17…
The first weeks in Córdoba have passed extremely quickly! Between adjusting to the culture, speaking Spanish for most of the day, attending class and visiting the hospital, I have been constantly busy and exhausted. Although I was warned many times about being tired from speaking a different language and adjusting to the culture, I could not fully grasp that concept until I was here. The days in Argentina are very long - some people here wake up around 7am and do not go to sleep at night until well after midnight. There are four meals per day, and dinner is not eaten until (at the earliest) 10:00 PM. The length of the day and the meals here were definitely my biggest adjustments, and I am now accustomed to drinking more coffee than I used to and integrating a merienda (a snack eaten between 5-7 PM) into my day. Another significant adjustment here is the fluid time. I have learned that Argentinians value relationships over keeping a strict schedule, so something scheduled at 7:00 could start any time between 7 and 7:30. People also do not arrive early to events here, which was a change for someone who normally arrives 5 minutes early for everything.  Overall, I love living in Argentina. The culture, people, and food here are all lovely and I am greatly enjoying getting to know this country.
As for my internship, it is definitely unique from any experience I have had before and different from my expectations. I spend every morning in the public pediatric hospital for a few hours, and I rotate through a different service every week. It is a great deal of observation and I sometimes struggle to keep up with the medical terminology used when the doctors are diagnosing. I am learning a lot, and the doctors are very patient and generous with their time. They explain everything to me, usually after they have already explained it to the parents of the patient. As I become more accustomed to the language, however, I am at least able to chat a little bit more with the patients and physicians.
The other part of my internship, the Spanish and culture classes, have been very interesting. My Spanish classes are at the advanced level, meaning my class covers less grammar and mostly cultural competency. I am enjoying learning about how I can be both a culturally and linguistically competent physician in the future, and feel more prepared to spend time in Argentina as I learn more about the culture.
FINAL REPORT
What is the best way to provide high quality health to as many patients as possible? This summer, I spent eight weeks in Córdoba, Argentina as a clinical intern with Child Family Health International's (CFHI) "Hospital Medicine in Latin America" program discerning the answer to this question. Throughout the two months, I was able to shadow doctors, nurses, and residents in order to better understand the functioning of one of Córdoba's public hospitals, Hospital Pediátrico, and the Argentinian health care system as a whole. I also had the unique opportunity to take classes focused on the Spanish language, Argentinian culture, and comparison of public health issues in Argentina and the United States. CFHI's program has greatly broadened my understanding of global health and different types of health care systems, as well as helping me determine the type of doctor I want to become- how I will treat my patients, utilize resources, and comprehend illness.
This CFHI global health education program was two-fold: I was sent on hospital rotations in the mornings and attended a variety of different classes in the evenings, learning both in and out of the clinical environment. I chose to stay in the city's public pediatric hospital for the full duration of the eight weeks rather than switching to a new hospital halfway through, so I could obtain a very in-depth perception of that hospital and the majority of its different services. While shadowing in Hospital Pediátrico, I was able to observe orthopedics, the inpatient ward, surgery, the outpatient clinic, neurology, and the emergency room for a longer period of time, as well as doing day rotations in several other services. In each of these different services I was able to observe the practices of many different doctors, including how they treat and interact with their patients and their patients' families (since it is a pediatric hospital). In this setting, I saw incredible examples of patient-centered medicine and a hospital dedicated to the health of the community.
In Argentina's health care system, there is both a public and private sector. The public sector is fully funded by taxpayer money and can be accessed by anyone. The private sector, on the other hand, requires that the patient have health insurance (or "obra social"), and has more resources and money than the public sector. The majority of patients in the public hospitals are unemployed, or for a variety of reasons do not have access to an "obra social." This mostly unemployed patient demographic typically has diminished access to resources in the public system, as the hospitals typically do not receive a sufficient amount of funding to provide the resources one would find in a private hospital. For example, during my rotation in the inpatient ward I observed that there are not always the same resources given to each patient. There were complicated policies to determine which patients received more technology, private rooms, more intensive treatment and other resources, usually depending on the magnitude of the patient's condition or how contagious a disease was. Some patients had to be prioritized over others in this respect, and some were even turned away all together for lack of beds in the hospital. However, despite the lack of resources, the shorter amount of time allotted to each patient, and the low pay they receive, physicians at the public hospitals still manage to provide high-quality, patient-centered care to each person they see.
Throughout my rotations, I noticed that doctors at the pediatric hospital combined their knowledge and resources and worked together to give the best medical care they could. When I was in the outpatient clinic, there was an infant with a viral dermatitis, but the resident with whom I was working thought that the presentation of the rash was strange. By working together with the dermatology department, they were able to diagnose the patient and give a personalized treatment. Similarly, in the inpatient ward, there was a child who had been staying in the ward for two months because he was recovering from physical abuse by his parents. His aunt (who brought him to the hospital) had to work and could not spend all her time with him, but despite this he had a family within the hospital to watch out for him. All the doctors in the inpatient ward learned about him and his case and spent time with him, checking on his progress and playing with him. This patient, a boy with a great deal of fear, could be a regular child when he was with doctors and residents. Throughout my time in the pediatric hospital, I observed how the doctors worked together, communicated between services, and built trusting relationships with each patient, leading to high-quality care for each patient. It was truly inspiring to watch these physicians work, as they were true examples of the type of physician I hope to become.
Outside of the hospital, I also learned about various public health issues in my Spanish and culture classes. At least two times per week, I attended classes in the evenings in which we studied the Spanish language in a clinical or public health context. We used many Argentinian current events having to do with health care as case studies, such as abortion, vaccination, and organ transplant, and compared the Argentinian policies with the United States. We also read articles and watched many videos about Argentinian hospitals as points of discussion, talking about issues from sexual health to health information privacy in Argentina. From these discussions, I learned about many of the flaws of the Argentinian health care system, but also gained a better understanding of the community health emphasis in Argentina and how Argentina treats health care as a human right.
The highlight of my time in Argentina was my homestay experience. While in Argentina, I lived in an apartment with my hostess, a 28-year-old lady working as a business administrator, and one roommate from the program. I had such a fun time living in my homestay, as I was able to immerse myself in Argentinian culture and meet some locals from Córdoba. My Spanish improved most in this setting, and I felt like this was the experience in which I grew most in my understanding of Argentinian culture, politics, and everyday life. I absolutely loved my experience in my homestay, as it enabled me to both increase my understanding of both medicine and Latin American culture through this internship.
Through my experience with my CFHI internship, I expanded my understanding of Latin American health and culture, improving my cultural competency, linguistic proficiency, and understanding of health and health care. With the knowledge I gained from my experience, I will be able to give higher quality, personalized, patient-centered care to my future patients. I will also be able to be more culturally sensitive and better understand the background of Latin American patients, as well as speak to them in their own language. Additionally, I can share my global health knowledge with others, so that they may treat patients with the same understanding as I can. I am extremely grateful for this life-changing experience and my expanded perspective on global health.