Romero Work-in-Progress
Romero and Catholic Social Teaching (VIRTUAL)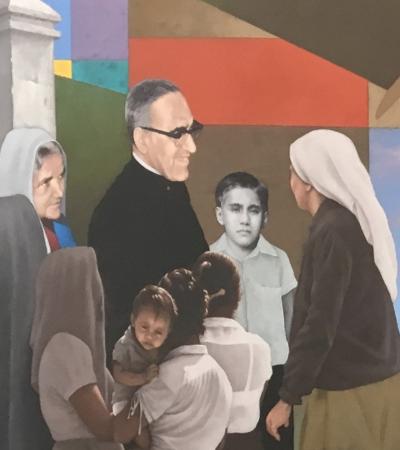 "The God who sweats in the street": Romero and the Option for the Poor by Edgardo Colón-Emeric, Irene and William McCutchen Associate Professor of Reconciliation and Theology, Associate Dean for Academic Formation, Director of the Center for Reconciliation, Duke Divinity School
In the introit to the Misa campesina nicaragüense, Carlos Mejía Godoy sings of a "God of the poor, a God who is human and simple, a God who sweats in the street." It is no accident that Óscar Romero cites this song on various Sunday sermons. For the archbishop, the poverty of El Salvador is best illumined by the poverty of the Savior. This presentation explores how the themes of the poor Christ, the church of the poor, and the way of poverty are integral to the preaching and pastoral practice of the Salvadoran saint. The option for the poor serves as a focal lens for Romero's theological vision because it is an option for the God who became poor. 
---
"Romero and Church Occupations" by Leo Guardado, Assistant Professor in the Department of Theology, Fordham University
Like all normative values, Catholic Social Teaching requires a nuanced engagement that corresponds to prudential decisions made in light of local and conflicted contexts. In the repressive violence of late 1970s and early 1980s El Salvador it was clear that the church needed to protect the life of those threatened with death, but the question of legitimate means remained contested. One particular phenomenon that served as a site of discernment for Romero was that of church occupations, especially the occupation of the cathedral. In tracing Romero's response to the forced occupation of the cathedral in San Salvador between 1978 and his death in 1980 we see that despite his verbal opposition to occupations, the phenomenon was key for Romero's reflections and clarifications on being a church that is distinguished but not separate from socio-political organizations. These insights reached greater doctrinal maturity in his third pastoral letter, but in his homilies and journal entries we encounter the more concrete development of his thinking as he creatively responded to, and dialogued with, the occupiers. Although his formal response to church occupations did not change by the time of his death, his practical response to the phenomenon leaves creative space for continuing to discern the place of the church in the socio-political struggle for life, and what place the socio-political struggle for life has in the church. I conclude by reflecting on how Romero's response to church occupations in El Salvador provides insights for contemporary church leaders in the United States who struggle to understand the essential role of churches as sanctuaries for displaced and persecuted persons.
---
Participation is limited to a small number of faculty and graduate students. Please register to be considered for participation. Preparation materials will be sent to confirmed participants prior to the session.