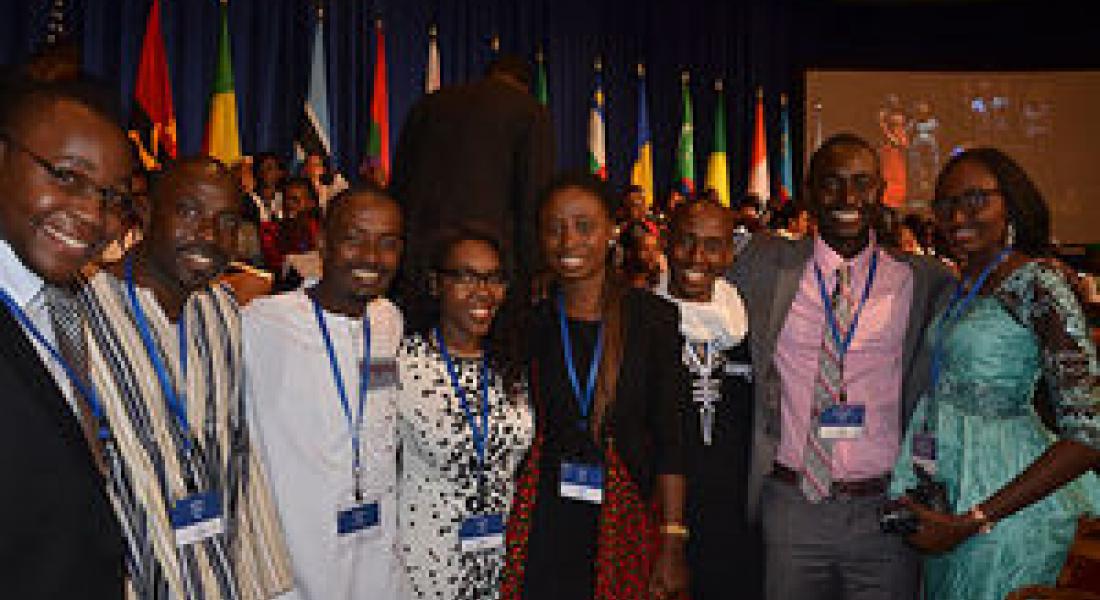 Prefacing the U.S.-Africa Leaders Summit convened by the U.S. Department of State this week, the Washington Fellows from Notre Dame and other host institutions came together last week for their own Presidential Summit in Washington, D.C.
The Young African Leaders Initiative (YALI) invited 500 young leaders from sub-Saharan Africa to receive immersive training by U.S. colleges and universities from June 16 through July 25. Notre Dame was among 20 top colleges and universities to host 25 YALI fellows and only one of seven universities, including Dartmouth College and Yale University, to host the Business and Entrepreneurship Institute.
The training program was led by the faculty and staff from the University of Notre Dame's Mendoza College of Business Nonprofit Executive Program, supported by the Notre Dame Initiative for Global Development ( NDIGD), the Kellogg Institute for International Studies' Ford Family Program in Human Development Studies and Solidarity, and the University's Engineering, Science, Technology, and Entrepreneurship Excellence Masters (ESTEEM) program.
"The Fellowship is a cornerstone of Notre Dame's longstanding relationship with a continent that faces great challenges—and great opportunities. As Notre Dame continues to expand its reach through its Global Gateways and other international partnerships, the YALI Fellowship also presents vital opportunities for Notre Dame to become an effective partner in the socio-economic transformation of Africa in a more concrete way," says the YALI-ND Institute Academic Director and Kellogg Guest Scholar, Peter John Opio.
Renamed the Mandela Washington Fellowship by President Obama, the Fellows converged in Washington, D.C. on July 27, 2014 for the Presidential Summit. Events began on Sunday evening with a welcome reception at the Smithsonian Museum of American History, with Assistant Secretary of State for Educational and Cultural Affairs Evan Ryan and Valerie Jarrett, Senior Advisor to the President for Intergovernmental Affairs and Public Engagement in attendance.
Tuesday provided time for Fellows, who had spent the six weeks prior across the U.S. at many different universities, to connect by country to plan and expand their professional networks. The day ended with remarks by U.S. Deputy Secretary of State Heather Higginbottom and Rajiv Shah, Administrator of the U.S. Agency for International Development (USAID). Shah spoke about the Global Development Lab, and new regional leadership centers that are being planned in various African countries.On Monday, U.S. Secretary of State John Kerry provided a warm welcome in advance of President Obama's town hall with the Fellows later that morning. The President addressed a wide variety of questions from the audience, including topics like the importance of good governance, gender equality, debt forgiveness, and the hard work of starting businesses both in the United States and in African countries.
Wednesday's keynote speakers were three of the U.S. Government's most powerful women in the Obama Administration; First Lady Michelle Obama encouraged African men to support and encourage the women around them for a stronger Africa, and National Security Adviser Susan Rice spent nearly two hours in dialogue with the Fellows to hear their proposals for the U.S.-Africa Leaders Summit. U.S. Ambassador to the United Nations, Samantha Power, closed the Summit by looking forward. She discussed the challenge of building and growing democracy in Africa and improving Africa's stability and security, and closed with words of encouragement for the hard work ahead.
Finally, in an address introducing the Washington Fellowship Program, President Obama said, "Africa's future belongs to its young people. We need young Africans who are standing up and making things happen, not only in their own countries but around the world." The Washington Fellows' U.S.-based training is only the beginning of a long-term investment in these young leaders and the University of Notre Dame looks forward to a continued relationship with the U.S. Department of State's program and its alumni.
After meeting President Obama during the Presidential Summit, Vice President for Research Dr. Robert Bernhard reflected on the program, saying, "Notre Dame was privileged to host these extremely talented future African leaders. Our Institute built upon our preeminent programs in leadership and entrepreneurial training. We were assisted, both financially and in our programming, by the IBM Corporation and the Coca-Cola Foundation. The YALI program at Notre Dame was a remarkable confluence of the strength of Notre Dame, our valued corporate partners, and Notre Dame faculty and students for the mutual benefit of future leaders in the developing world. It was a remarkable program that we look forward to repeating and growing."
Contact
Joya Helmuth, Outreach Associate, Notre Dame Initiative for Global Development, jhelmuth@nd.edu
Photos of President Obama courtesy of the White House Press Office
Originally published by Notre Dame Initiative for Global Development