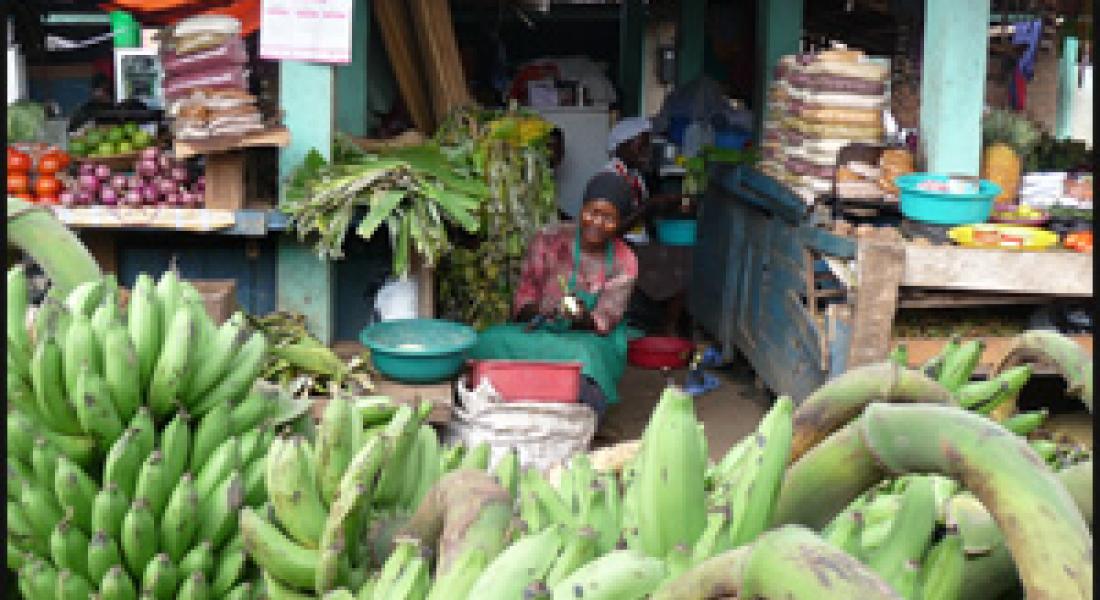 Involved early on, he is an expert on the progress of the collaborative project known as UPFORD—the University Partnership for Outreach, Research and Development. UPFORD has progressed as community members, more and more, see the improvements that can be achieved through its joint efforts, he says.
Ssemambo has served two terms as the secretary of the Parish Development Council, which oversees the parishs 12 individual village communities and the overall management of the UPFORD program in Nnindye.
Banana gardens take root
He recalls one of its first agricultural projects: banana plantations. After community members expressed an interest in growing bananas, UPFORD helped organize community demonstration gardens so that residents could learn new skills to take back to their own gardens. The long-term goal was to be able to sell bananas in markets outside Nnindye.
Initially, in spite of their interest in harvesting bananas, people neglected the demonstration garden he was involved with, he says, displaying minimal effort and interest. But the community-led effort began to grow as villagers observed the gardens new agricultural techniques lead to improved production and participants commercial success. 
We started with 12 farmers, rose to 20, and then up to 33, Ssemambo recalls. The project started to spread, with community members farming their own plots using know-how acquired in the demonstration gardens. For some community members, their land has become a source of income rather than solely sustenance.
We have become educated on how to operate a plantation from the very beginning, Ssemambo says. Even after UPFORD leaves, it activates us so we can go on.
Community leadership grows
In fact, the community has created a sustainable development solution in the banana gardens. In spite of the trainers departure at the completion of the formal demonstration garden project, the newly skilled community members have been able to continue to cultivate their banana crops using the improved techniques, whether on communal plots or their own land.
Today, 11 of the original community gardens are still going strong, with producers growing crops for profit. Other community members trained in the project have gone on to start their own gardens elsewhere.
Projects like the demonstration gardens have allowed the community to develop as it undertakes a variety of sustainable development projects. Since UPFORDs beginnings, Ssemambo has watched it expand beyond the agricultural sector to education, health, sanitation, and finance.
Initially, UPFORD had its share of challenges. Some community members expected to be passive observers throughout the process, Ssemambo says—but he has seen the program change. As UPFORD organized and actively placed responsibility in the hands of community members, they grew in trust.
Now, as the tangible and sustainable benefits of community-driven projects become visible, residents see greater value in investing in longer-term development projects.  
In the past five years, UPFORD, local government, and the community members themselves have worked cooperatively to implement projects that include:
According to Ssemambo, the communities are looking forward to continued change, as the benefits of the collaboration with UPFORD continue to bear fruit.
—Emily Strickland 15
February 2015