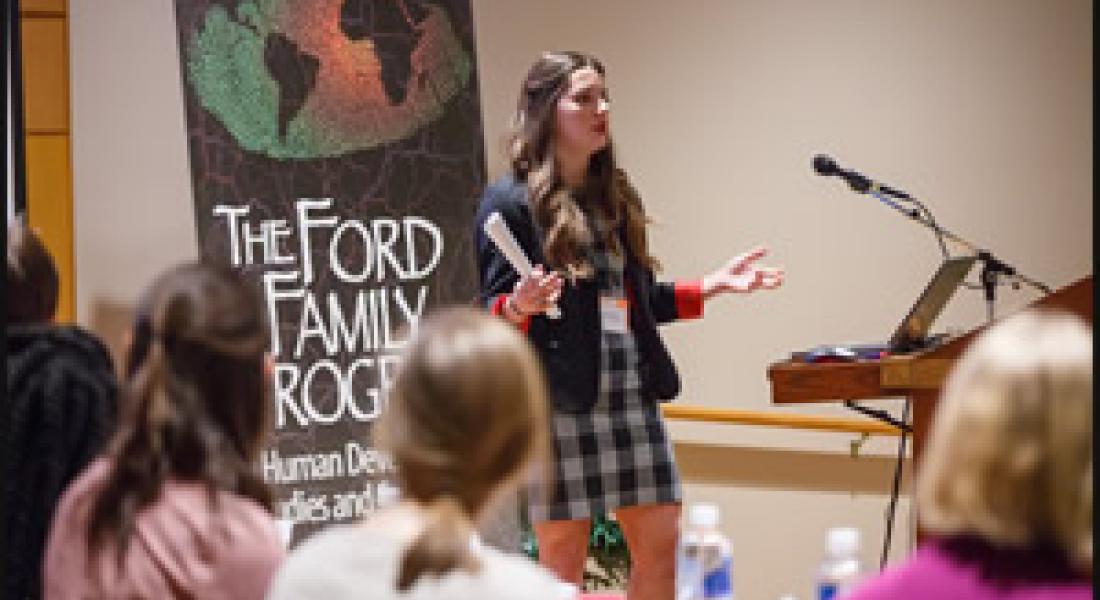 "Envision, Enact, Evaluate"—that was the theme of the 7th annual Human Development Conference (HDC) at the University of Notre Dame. Each year this conference brings together university students from across the country and the world to present their own research and open a student-led dialogue on holistic human development.
This year, the HDC gathered over 350 participants with 64 student presenters and 17 moderators to examine past trends in development, its current practice, and the future of development in the context of establishing the UNs post-2015 Sustainable Development Goals. The conference had a particular emphasis on human dignity and its implications for development theory and practice.
"We have to change the direction of the planet towards sustainable development," said keynote speaker Jeffrey Sachs, the director of the Earth Institute at Columbia University and special advisor to the United Nations Secretary General on UN development goals.
"That means we need a holistic and more sustainable approach that says that economic development must be socially inclusive and environmentally sustainable. Simply counting GNP can no longer be enough…our task is social justice."
He praised students for "the vibrancy of your presentations, your activity, your commitment, your knowledge, your know-how, and your moral spirit." Opportunities for dialogue like the conference remind us of "our commonality, our interest in the human fate, and our need for a moral framework," he said. "You are already rising to the occasion."
A passion for research and social change
According to HDC organizers, all Notre Dame undergraduates, students and universities play an essential role in examining global development challenges and initiating collaborative, multidisciplinary solutions. Harnessing their vision and research, students can become agents of real-world change moving forward, they contend—and the HDC is the perfect place to start.
"Presenting at the HDC was my most rewarding experience engaging with peers who share my passion for international development," says Erik Svedberg of George Washington University, who presented his research on refugee self-reliance in Uganda. "I was fascinated at the breadth and depth of the expertise of the participants—it was amazing to see the things that undergraduate researchers have been able to accomplish."
"The Human Development Conference was hugely successful in bringing together an impressive group of passionate students working to create a more sustainable world through their research and engagement with the field," said HDC cochair Chris Newton '15.
Other Notre Dame International Development Studies minors echoed that assessment.
"It was an incredible experience to present alongside scholars and researchers who had come from all over the US and even as far as Uganda," said Sean Hamilton '15, whose research focused on economic development in Ecuador. Hearing about the research from such diverse corners of the world really helped drive home the reason we all do this—to benefit all people.
The HDC was a fantastic opportunity for me to connect with an impressive group of people working to create a more sustainable world through research, study abroad, and academic engagement, said Emily Mediate 15, who presented research on HIV/AIDS in Uganda and took part in a roundtable on the role of human dignity in human development.
"Being able to present my own research, engage with my peers, and hear from experts such as Jeffrey Sachs made the experience both exciting and instructive," she said.
Hosted by the Kellogg Institute's Ford Family Program in Human Development Studies and Solidarity, the annual Human Development Conference is cosponsored by the Center for Social Concerns and SIT Study Abroad, a program of World Learning.