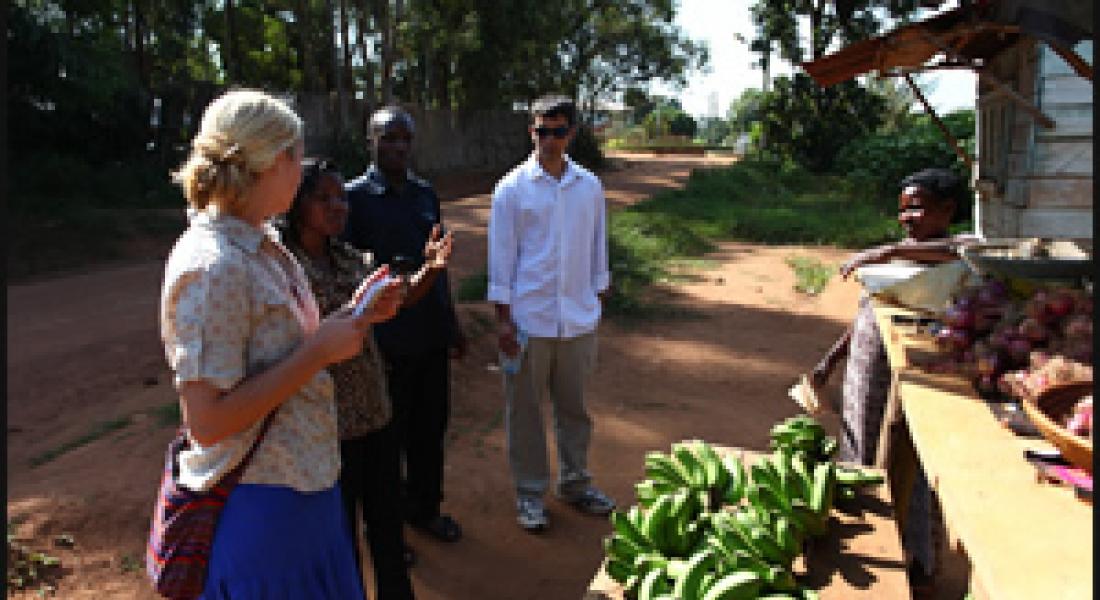 Katie Rose '13 and Matt Razzono '12 undertook Ford Program internships in Nnindye arranged through the Kellogg Institute's Internship Program. At the same time, in a collaboration at Notre Dame with the Gigot Center for Entrepreneurial Studies at the Mendoza College of Business and the Center for Social Concerns, the Ford Program hosted Annie Kotz '10 and Jordan Bergmann '11 through the International Summer Service Learning Program (ISSLP).
Bill Flavin '11, a biochemistry major, worked with the Ford Program in Nnindye to learn more about enteric and diarrheal diseases in a developing setting where extreme poverty poses severe challenges to basic healthcare.
Rose, a member of the first cohort accepted into the Ford Program's new academic minor in International Development Studies, spent much of the summer investigating the history of water interventions in Nnindye. The community has identified a shortage of accessible, clean water as one of their toughest challenges to development. Her work provides necessary background information for planning water interventions in the community.
Razzano worked with the Nkozi Agri-Business Training Association, researching cooperatives and people's attitudes towards them to help inform Nnindye's plan to establish demonstration banana farms in each of their 12 villages. Nnindye community leaders have faced some challenges in mobilizing the entire parish around the establishment of these farms. Matt's research and further discussion with the people is helping move the project forward. All 12 villages have now prepared the farms for planting and are only waiting on the rains to start.
"What I have enjoyed most about my summer with Ford is simply its approach to development...because it allows for the community to grow on their own, as opposed to us forcing our western policies and programs upon them," Razzano said.
Kotz and Bergmann both took the two-semester Microventuring Certificate Program offered by the Gigot Center to be eligible for their ISSLP placement. In Uganda, they worked with small business owners in the areas around UMU to develop progressive business plans.
During the summer, each of the four Notre Dame students teamed up with an undergraduate partner from UMU. Patience Arinaitwe, Henry Kakinda, Olivia Nabisenko, and Dennis Jjuuko were invaluable in helping the Notre Dame students make the most of their eight-week summer experiences in a new culture and language. The partnerships were also an exciting way to promote international student collaboration on significant community projects.
"I've been forced to confront the challenges of development head on," said Rose. "I didn't realize before how complicated the process is, how many cycles are in place that prevent growth from happening, and how difficult those cycles are." (Read more about Katie's experience below.) (link to article).
Student interns leave Uganda committed to a long-term connection with the issues that they learn about and are affected by, and they often return to the developing world to deepen their understanding of the many challenges of extreme poverty.