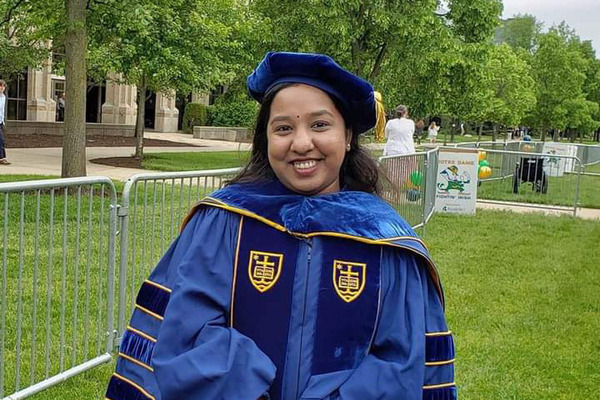 Kellogg PhD Fellow Pavithra Rajendran, a 2023 graduate of Notre Dame Law School's LLM Program in International Human Rights Law and an incoming JSD student, has won the Midwest Conference on Asian Affairs' Percy Buchanan Graduate Prize in the South Asia category.
Rajendran's paper, "Unveiling the Veil of Injustice: Human Rights Infringements in the Name of 'Culture': A Sri Lankan-Centered Analysis," looks at how cultural practices are often used as a shield to justify violations of women's human rights.
Rajendran spent time in Sri Lanka where she investigated and explored gender-biased cultural practices. She said her study aimed to shed light on cultural practices that perpetuate gender stereotypes and infringe upon human rights.
"Surprisingly, practices that do not cause physical harm but inflict mental trauma and anxiety on women and adolescent girls are often concealed and overlooked. This prompted me to initiate a research endeavor that critiques existing cultural norms," said Rajendran.
Rajendran worked on her research under the guidance of Christine Venter, professor and director of the Legal Writing Program at Notre Dame Law School. "Working with Professor Venter was an exceptional experience, especially since we shared a number of common academic ideologies," said Rajendran.
Rajendran will present her research paper at the 72nd Midwest Conference on Asian Affairs, which will be held September 29-October 1 at the University of Illinois Urbana-Champaign.
"I am deeply grateful to the organizers of the 72nd Midwest Conference of Asian Affairs for providing me with the opportunity to share my research and for considering the paper for this prestigious academic prize," said Rajendran. "Additionally, I extend my heartfelt thanks to my beloved professors at the University of Notre Dame, whose guidance and support were invaluable throughout this academic journey. I dedicate this paper to all the feminist scholars who have tirelessly advocated for equality, despite facing shame, lack of recognition, and insecurity."
Rajendran is a lecturer at the Department of Public and International Law, University of Colombo, Sri Lanka, and is an attorney-at-law of the Supreme Court of Sri Lanka. She teaches and researches feminist legal scholarships, comparative criminal laws, environmental law, human rights, and international humanitarian law. Additionally, she actively participates as the research consultant at several institutes through volunteering and invitations.
This story originally appeared at law.nd.edu.