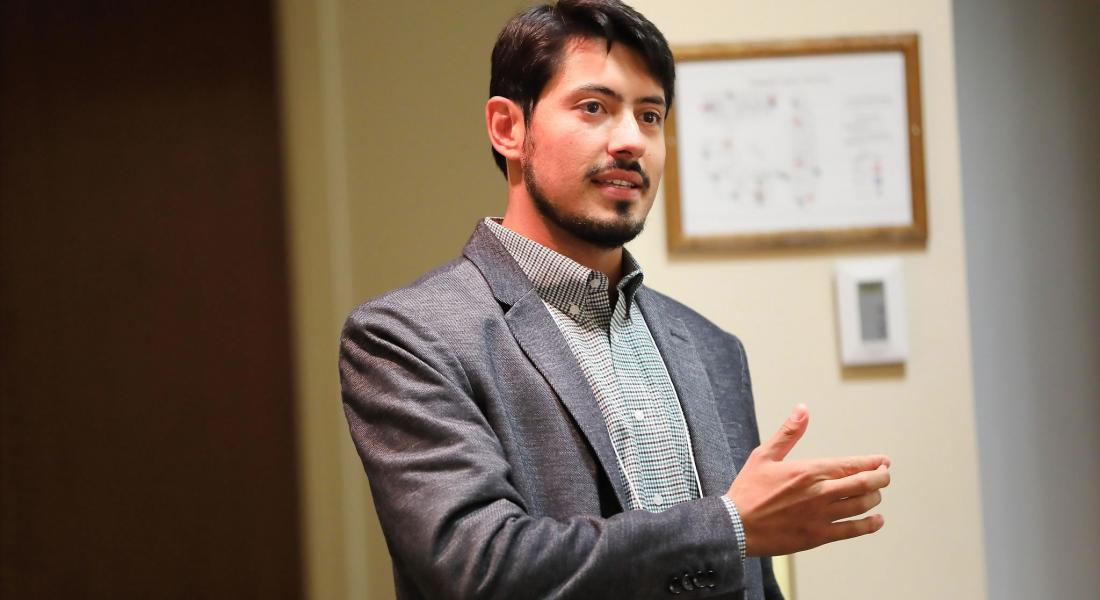 Andrés Felipe López Latorre is a Human Rights Law JSD candidate at the University of Notre Dame and a Dissertation Year Fellow with the Kellogg Institute for International Studies.  Previously, he received an LLB from the Universidad del Rosario in his home town of Bogotá, Colombia, then went on to earn an LLM in International Legal Studies and Comparative Law from Georgetown University.  Before coming to Notre Dame, Lopez worked at a Bogotá law firm and at the International Legal Affairs Office of the Colombian Ministry of Foreign Affairs.
How would you summarize your research?
My research is about the responsibility of corporations and other business entities for negative human rights impacts. Traditionally, human rights have been considered the exclusive responsibility of the state with very few implications for private actors, while corporations' only responsibility has been to produce profit. As a consequence, many victims of the human rights tragedies of the last decades, in which corporations had an important role, have not seen justice. This unjust situation poses a challenge for the entire international community, including the business sector. Unfortunately, the challenge has not been faced in a consistent way, leading to a proliferation of different responses that are, at times, irreconcilable. These depend on a set of underlying assumptions about the more fundamental question of why corporations have duties regarding other's human rights at all. In an attempt to answer this question, I propose a theory of corporate responsibility for human rights impact based on a dignitarian perspective of human rights and on the conception of corporations as human communities with an inherent responsibility toward the common good.
What attracted you to Notre Dame and the Kellogg Institute?
When I was deciding whether to stay at Georgetown to pursue my doctorate after my LLM or to change schools, I was invited by a professor to visit Notre Dame. That visit changed my whole perspective. I was immediately attracted to Notre Dame because of its Catholic identity, the sense of belonging and community I was able to witness before I even enrolled, and the outstanding faculty members, in particular at the law school.
Once I decided to study here, I learned more about other institutions at Notre Dame. I was attracted to the Kellogg Institute because of the interdisciplinary approach it has, the shared commitment among scholars of different fields to development and justice for the poor, and the competitive academic programs the Institute offers to assist graduate students, such as the Dissertation Year Fellowship.
What impact has the Kellogg Institute had on your research?  On your Notre Dame experience?
The Kellogg Institute has become my main way to connect with faculty members and graduate students beyond the law school and across academic fields. I have also benefited from the rich and diverse academic activities the Institute offers, such as seminars, workshops, and working groups. At the Kellogg Institute, I have also become part of a wonderful community of people that values not only my research, but also me as a person. And, thanks to the Kellogg's Dissertation Year Fellowship, I was able to finish my research this last year.
What are your post-graduation plans and what impact do you hope your research will have?
My plan is to go back to Colombia in order to contribute in the post-conflict process, now that the peace accords were signed between the guerrillas and the government. Although I would like to continue working in the academic environment, it seems that because of the situation in Colombia, my skills might be better utilized in a more practical position. One of my dreams would be to work at the forthcoming peace tribunal, but until it is established, I'll need to wait and see what happens in the coming months. In the long term, I hope to always be involved with university life, perhaps in teaching.  
I hope my research on business and human rights can inform the peace tribunal decisions about the responsibility of corporations for their participation in the armed conflict in Colombia and in the development of future regulations for corporations doing business in the country. Ultimately, I would love to teach somewhere on business and human rights and on human rights philosophy.