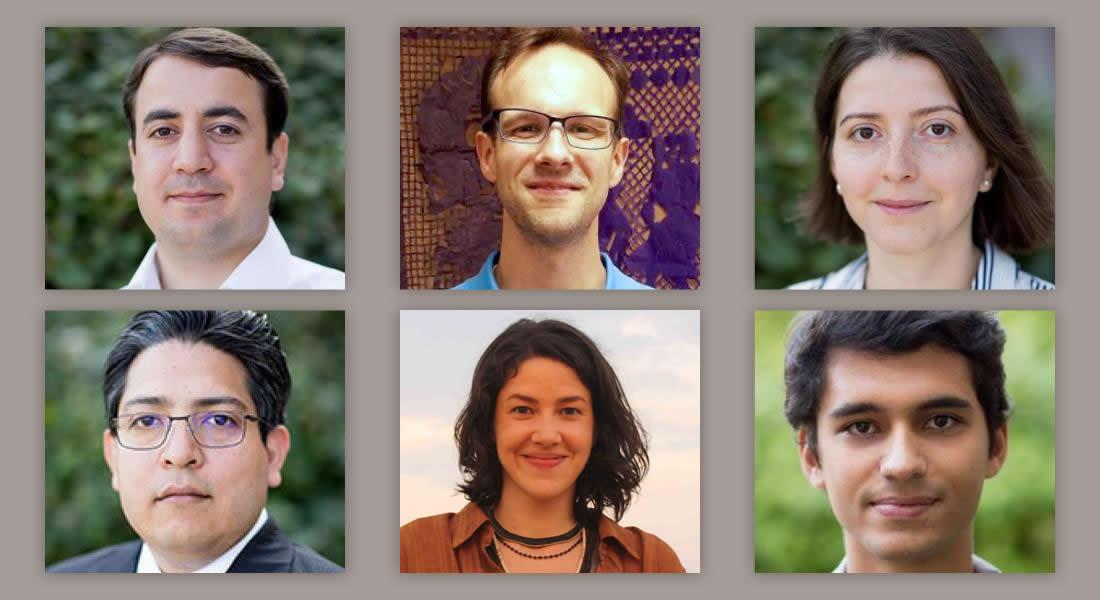 Nominations are currently being accepted for Kellogg Institute PhD Fellowships. This year's cohort of PhD fellows, based in a variety of departments across the University, exemplify the diversity Kellogg looks for to enrich the community of scholars that are foundational to the Institute. Devoting their doctoral studies to topics directly related to core Kellogg themes of democracy and human development, this year's fellows also represent a wide range of areas of study, backgrounds, and research methodologies.
Aram Derdzyan (economics) studies development economics, with his research currently focused on understanding loan/deposit currency choice in developing countries and the reasons for high levels of dollarization. Derdzyan is also working on projects to increase financial literacy among the rural population of his native Armenia.
"I plan to conduct a field study focusing on people struggling with financial institutions by over-borrowing or taking unnecessary risks—for example, foreign exchange risks," he says. "I highly benefit from communication and advice from [members of the Kellogg community], who share their experiences from all over the world."
Benjamin Garcia-Holgado (political science) studies political regime change and stability, social movements, and qualitative methods, with a particular focus on Latin America and Europe. From Argentina, he is also a recipient of the Notre Dame Presidential Fellowship.
"The Kellogg Institute is a unique place in the United States to conduct research on democratization, authoritarianism, and contentious politics," he says. "Its methodological pluralism and interdisciplinary perspectives are rarely present in other institutions."
"The possibility of learning and working with scholars such as Michael Coppedge, Gary Goertz, Aníbal Pérez-Liñán, J. Samuel Valenzuela, and Guillermo Trejo is a golden opportunity for me given my research interests."
Astghik Mkhitaryan (economics) studies development economics and macroeconomics. Before coming to Notre Dame, she was an economist at the Central Bank of Armenia, where she studied the impact of financial literacy trainings on participant behavior.
"I want to study the effects of the financial development of countries on different aspects of the economy such as growth and stability," she says.
At Kellogg, she is looking forward to sharing ideas and getting feedback from a wide range of fellow scholars. "Sometimes people doing research are so concentrated on one particular side of an issue that seeing the same issue from another angle is very helpful," she notes.
Jorge Ivan Puma Crespo (history) studies Latin America with a focus on the late Cold War period. From Mexico, he is the recipient of a Fulbright-García Robles grant.
"I wish to gain a deeper understanding of conflict and memory," he says. He plans to study non-armed Maoist groups in Mexico, Colombia, and Peru in the context of the global expansion of left-wing ideologies during the 1960s.
"The Kellogg Institute was one of the main reasons I chose to come to Notre Dame," Puma says. He is already involved with the Institute's Latin American History and Mexico Working Groups.
"I think being part of Kellogg expands the meaning of academia as an activity that goes beyond the walls of the University and reinforces the experience of collaborative work," he says.
Patrícia Rodrigues (anthropology) is studying the historical and anthropological bases for indigenous claims to territory and legal protection of archaeological sites and ecological resources in her native Brazil.
"I am interested in exploring cultural conceptions of time, space, and materiality, narrative means of representing those concepts, and how they relate to archaeological heritage," she says.
She is excited by the Institute's focus on democracy and human development and by its regular schedule of talks, works-in-progress, and working groups tailor-made to her research interests.
"Being a Kellogg PhD Fellow has helped me to meet researchers from several complementary fields of study, opening the doors for potential collaborations."
Luiz Vilaca (sociology) is interested in studying the role of actors in the policy process and the connections between state agents and social movements.
"I aim to investigate how, and under which conditions, bureaucrats develop commitments to causes and fight to change public policies and to create or transform institutions," he says. Previously, he investigated how public prosecutors developed commitments to defend indigenous groups in his native Brazil.
"I believe the Kellogg environment fosters interaction between scholars from different fields, providing us with opportunities to constantly challenge our theories and take our research to the next level," he says.
"Because my work talks to debates in sociology, political science, and anthropology, and because I focus on Latin America, the Kellogg Institute is the perfect place for me to grow as a scholar."
Kellogg PhD Fellowships are awarded to outstanding students in a variety of disciplines who are committed to the study and understanding of global issues. Recipients of these five-year fellowships are selected before their arrival to the University. Notre Dame academic departments can submit nominations for PhD Fellowships through March 1. This deadline also applies to applications for other grants open to Kellogg Doctoral Student Affiliates, including Research Grants and Dissertation Year Fellowships. Find more information about grants, eligibility requirements, and nomination procedures online here or contact Program Manager Denise Wright. 
The Kellogg Institute for International Studies, part of the University of Notre Dame's new Keough School of Global Affairs, is an interdisciplinary community of scholars and students from across the University and around the world that promotes research, provides educational opportunities, and builds linkages related to two topics critical to our world—democracy and human development.