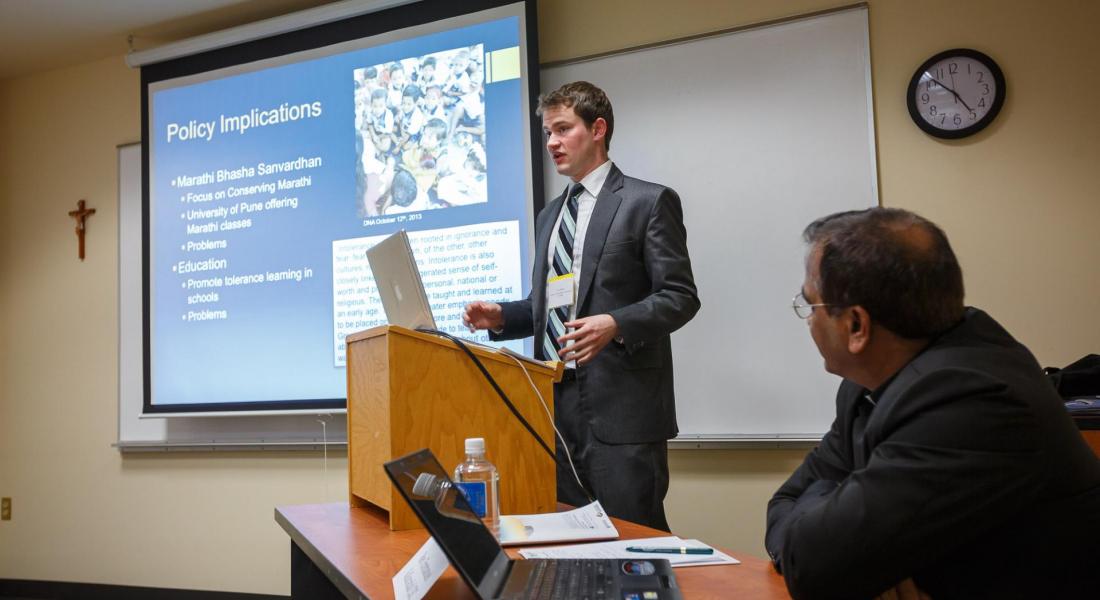 Since his sophomore year, Class of 2014 alumnus John Gibbons was fascinated with India and the diversity of culture that the country encompassed. He spent two summers in India while at Notre Dame and now, as a recent graduate, Gibbons has returned to the country as an American India Foundation Clinton Fellow.  
Gibbons said that participating in the Minor in International Development Studies helped him to receive the job in India. "I would not have gotten my fellowship without the minor. Through the minor I had the opportunity to take social enterprise classes with Melissa Paulsen and Frank Belatti and do consulting work for an NGO with Steve Reifenberg; these classes differentiated me from my competition and helped me get my current placement." In fact, Gibbons, who majored in Political Science and Chinese, said that many of the electives he took about development are directly related to the work he is doing in India.
In his fellowship position, Gibbons is spending ten months with a social enterprise called Babajob in Bangalore, India. Babajob serves as the largest job portal for informal and entry-level formal sector jobs in India by connecting people to services over the telephone. When Gibbons described the organization he said, "Babajob targets Bottom of the Pyramid users to aid them in finding better employment. The company was inspired by research that showed income diversification was one of the key paths out of poverty." At Babajob, Gibbons works to acquire grants and build partnerships. 
Moreover, Gibbons' fieldwork experience as part of his capstone project was crucial for preparing him to work abroad. He said, "Without the Kellogg Institute, I would not have had the opportunity to go to India multiple times.  This was crucial to my application because it gave the committee faith that I would be able to work for ten months in the country." 
Over his time at Notre Dame, Gibbons spent a summer in India as an intern with the Foundation for Sustainable Development and then the following summer, conducted research on ethno nationalism.  "Working on my capstone with Rahul Oka as my adviser and in Fr. Bob Dowd's class gave me more historical and cultural knowledge about the country that has been useful throughout my experience here."