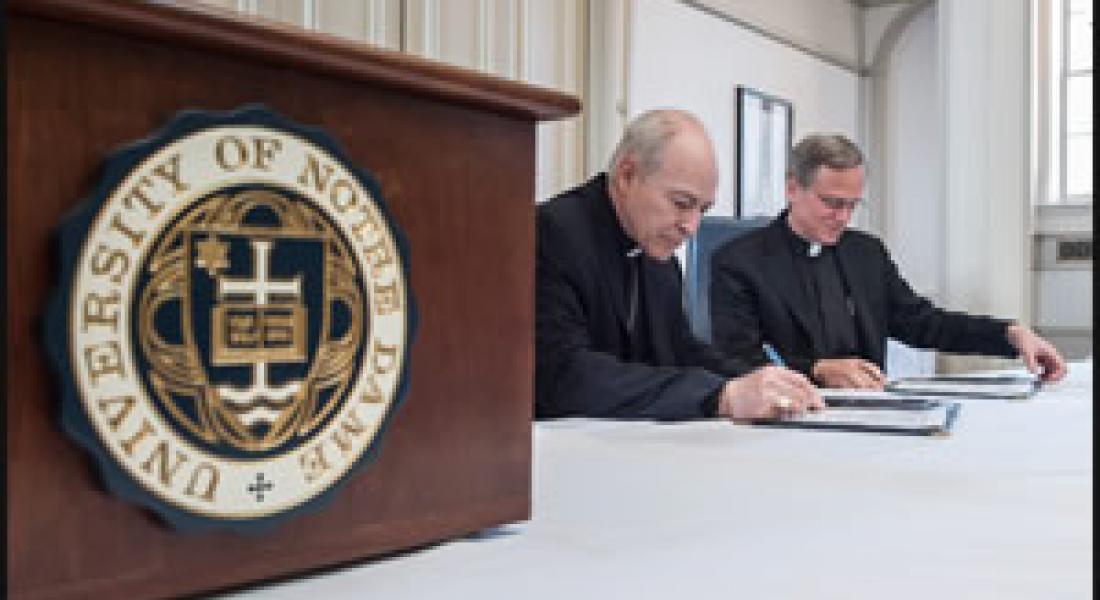 The University of Notre Dame and the Latin American Episcopal Conference (CELAM) have signed a "memorandum of understanding," pledging to cooperate in a range of initiatives in academics, social development, peace-building and institutional administration. CELAM includes 22 bishops conferences in Latin America.
Notre Dame's president, Rev. John I. Jenkins, C.S.C., and Archbishop Carlos Aguiar Retes of Tlalnepantla, Mexico, president of CELAM, signed the memorandum in a ceremony Tuesday (March 24) in Notre Dame's Main Building.
"In the Catholic Church, international community and cooperation are crucially important," said Father Jenkins. "What binds us together is deeper than culture and language, and this agreement will help Notre Dame bond more closely with the cultures, communities and institutions of Latin America."
The agreement establishes a committee of Notre Dame faculty and administrators and CELAM leaders to explore opportunities for collaboration and partnership on research initiatives, student and faculty exchanges, pastoral problems and opportunities, and development of best practices in administration.
Three Kellogg Institute faculty fellows are among those representing Notre Dame: Rev. William Lies, CSC, vice president for mission engagement and church affairs; Peter Casarella, associate professor of theology; and Steve Reifenberg, executive director of the Kellogg Institute. Chuck Lamphier, lead adviser for mission engagement and Dylan Reed, program director for global advancement, round out the committee.
"The agreement with CELAM is historic," says Casarella, who is currently conducting research at the Pontifical Catholic University of Chile. "The agreement allows us to partner with 22 episcopal conferences with the hope of building up a single, unified ecclesial identity in América."
"The CELAM offices in Bogotá will also provide us with potential partnerships. Kellogg's strengths in promoting human rights, democracy, and integral human development can hopefully provide new synergies for CELAM's work in these areas and in my area, formation, I also see great opportunities for collaboration."
"I see this new development as a wonderful chance for Notre Dame to broaden the international and intercultural dimensions of its academic work while also deepening its long-standing commitment to Catholic mission."
During the signing ceremony, Archbishop Aguiar expressed gratitude to Notre Dame for "helping us to unify and strengthen the communities and organizations of the Church," and said that such individual initiatives as this agreement were "like small streams of water which join other small streams until they become mighty torrents. Such torrents and currents give life to the whole ocean."
In his remarks, Father Jenkins thanked Notre Dame trustee Jose Enrique Fernandez and Monsignor Carlos Quintana, a 1981 Notre Dame alumnus, for beginning the conversation between Notre Dame and CELAM.