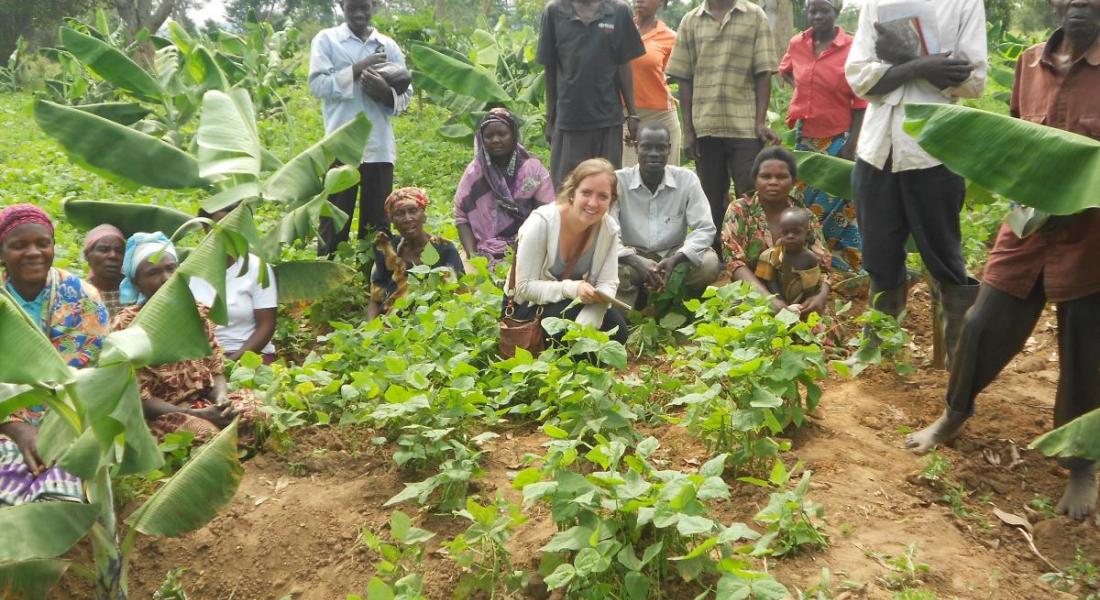 International Development Studies (IDS) minor Kristen Kelly '13, an anthropology major, spent the last two summers working with the Ford Program in Uganda, first studying rural agriculture on an Experiencing the World fellowship and then conducting research for her IDS capstone project. After graduation in May, she returned to Uganda to work with the Pathways Development Institute, a small NGO. Here's Kelly's reflection on her Ford Program field experience.
When asked about my past two summers of research in central Uganda, I close my eyes and transport thousands of miles away.
I hear wake-up calls from the harmonic serenades of wailing babies and chattering birds. I feel the stickiness of my sweat from a long day of interviews in the villages under the hot equatorial sun. I taste the sweet juiciness of a fresh mango as it drips from my mouth, down my hands and arms. I hear lots of laughter—including my own—as I attempt to introduce myself in Lugandan for the hundredth time. (Even if I never got it right, it was always worth sharing the smiles.)
I recall the overwhelming beauty and warmth of a country with some of the most welcoming people and breathtaking landscapes I have ever encountered. Most of all, I sense that enduring spark of inspiration—stemming from no memory or experience in particular—which continues to fuel my passion to work in the field of international development.
During the summers of 2011 and 2012, I lived and conducted research amongst the people of the poor rural villages of Nnindye Parish. Working closely with the Ford Program, I sought to understand the process and challenges of Nnindye's community-driven development program, initiated in partnership with nearby Uganda Martyrs University.
Culminating in a senior thesis project, my research focused on the female experience throughout the process of participatory development. I explored women's crucial role and potential for affecting positive change in their community, which I believe calls for the inclusion of effective gender planning in the development agenda.
My experiences in Uganda have been nothing short of life altering. Witnessing the marginalization of life in Nnindye was both unsettling and inspiring. I am now pursuing several opportunities to continue work in Africa.
Though I do not know the specific path my career will take, I know I want to spend my time listening to the softest, most vulnerable voices of the extremely poor, advocating for the attainment of their human rights and their ability to live a full and dignified life.
—Kristen Kelly '13, Spring 2013