From July through September 2022, Kellogg Doctoral Affiliate Syed Eisar Haider (sociology) traveled to Pakistan, on a Kellogg Institute Graduate Research Grant to conduct research for his project, "Local Expressions, Global Arenas: Ritual and Culture in the Arba'een Pilgrimage in Iraq". Upon his return, he sent the following summary of his work.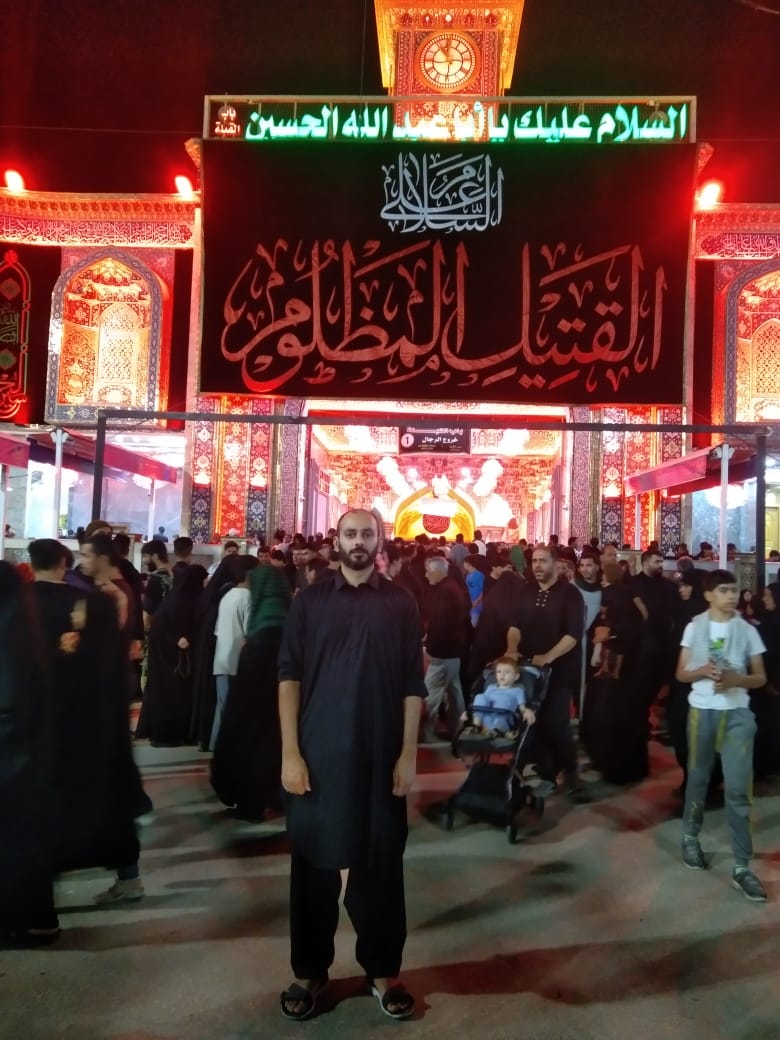 Over the span of 11 weeks (July – Sept 2022), I conducted fieldwork in Islamabad, Pakistan to study the everyday practices of Pakistani Shia Muslims preparing for the Arba'een pilgrimage in Iraq. With the support of the Kellogg Institute, I performed the two-week Arba'een pilgrimage in Iraq along with 22 Pakistani pilgrims in September 2022. Kellogg's generous support complemented the funding awarded by the American Institute for Pakistan Studies (AIPS) and the Society for the Scientific Study of Religion (SSSR). My ethnographic research centered on the observance of the Shia mourning rituals, observed annually during the Islamic month of Muharram. I conducted semi-structured interviews with pilgrims, group leaders and clerics to understand their perspective on the pilgrimage and the nature of a successful pilgrimage. My research investigates the evolving nature of religious practice in a globalized world. I asked pilgrims about how they performed their local Shia mourning rituals and what they expected to do in the site of pilgrimage. I seek to understand how the Arba'een pilgrimage is seen as one ritual and how Pakistani pilgrims perform their unique local mourning practices in this global sacred space.
Arba'een is the largest annual religious gathering in the world, with this year's attendance estimated at 21 million[1], the highest recorded attendance in two decades. Arba'een, which mean forty in Arabic, commemorates the fortieth day after the martyrdom of Imam Hussain, the grandson of the Prophet Muhammad and the third Imam for Shia Muslims. As a Pakistani Shia Muslim, I participated and observed the annual mourning rituals in Islamabad for a period of 39 days. In my fieldwork in Islamabad, Pakistan, I observed Pakistani Shias observing the mourning month of Muharram in imambargahs (Shia places of worship) located in various neighborhoods across Islamabad. I attended the majalis (gatherings in Shia mosques and imambargahs to mourn the martyrdom of Imam Hussain), participated in processions, matamdari (chest beating) and nohakhwani (reciting eulogies). Using my network of family and friends, I was able to interact with Shia Muslims from different ethnic and socioeconomic backgrounds. I met with potential pilgrims, interviewed them about their ideas of the pilgrimage, their local practices and their preparation for the trip. In the process, I prepared for my own pilgrimage which I performed in Iraq in September 2022. I spent 14 days in Iraq performing the pilgrimage rituals in Iraq and performed the 84-km foot pilgrimage between the cities of Najaf and Karbala. The data I gathered during this research trip forms the basis of my dissertation work.
Arba'een signifies Shia Islam's persistence through challenges of terrorism and religious reconstruction in modern times. In my discussions with other pilgrims and my reflections on being a pilgrim myself, it is evident that Shia Muslims are actively using global institutions to mobilize pilgrims to sacred sites and reconfiguring religious practice to accommodate the growing scale of the Arba'een pilgrimage. Pakistani pilgrims go to the site to not only represent themselves as Shia Muslims but also as Pakistanis; pilgrims can be seen reciting nawhas in Urdu and Punjabi throughout the pilgrimage. While Pakistani Shias face threats to mourning practices in Islamabad from militant organizations, they find peace and security in the millions of Shias gathered in Karbala. Shia religious clerics encourage participation in the Arba'een, but they cannot control the nature of practice during the pilgrimage. I heard pilgrims articulate religious practice as devotion and love to Imam Hussain. Pilgrims unite in the emotion of the Arba'een, but they retain their agency in terms of language, bodily expression, and dynamics of ritual performance.
Globalization may have a homogenizing and centralizing effect on religion as central religious authorities try to gather religious practitioners around the world through increased mobility and communication. My data points to the liberating aspect of globalization, which empowers practitioners to express themselves on the global stage as they see improvement in indicators of human development. My data seeks to shed light enduring power of religion in a globalized world, as globally aware Shias leverage global institutions to organize religious practice. This has implications for scholars of religion, culture, globalization, social movements, migration, and urban policy. I express my gratitude to the Kellogg Institute for supporting my dissertation work and enabling me to make a contribution to my field.
---
[1] https://www.aljazeera.com/gallery/2022/9/17/millions-of-shia-pilgrims-mark-arbaeen