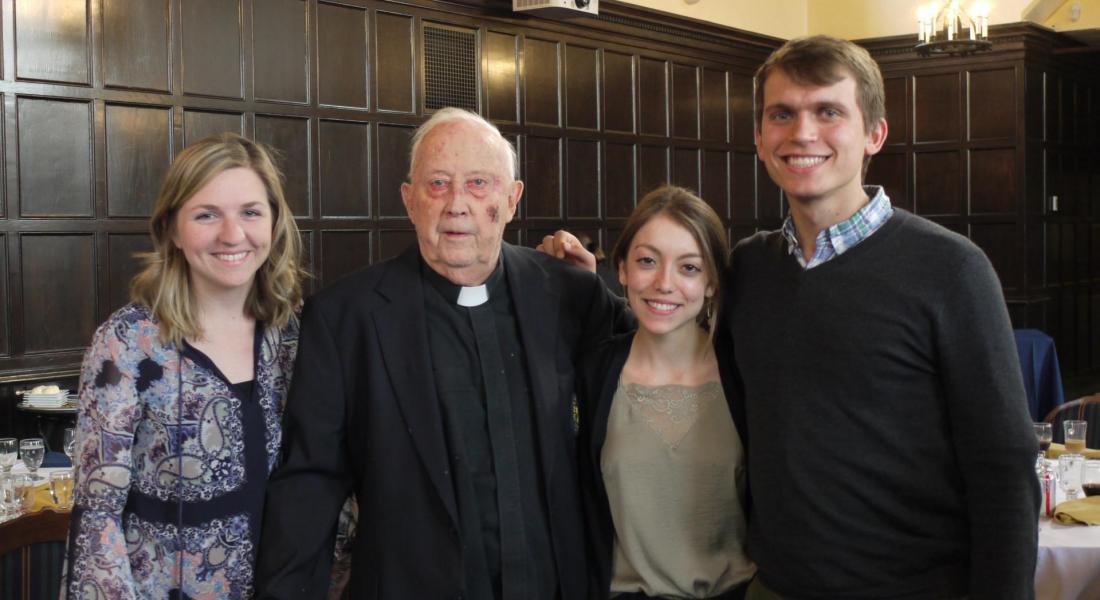 The Kellogg Institute for International Studies'Latin American North American Church Concerns (LANACC) has announced the winners of the Rev. Robert S. Pelton, CSC, Annual Essay Contest.
The contest honors Pelton, who founded LANACC, and recognizes original papers on topics related to the Catholic Church of Latin America and ecclesial collaboration between the North and South. Pelton is a faculty fellow emeritus at Kellogg who retired in 2015. He has advocated for social justice, Church renewal, and recognition of Saint Archbishop Óscar Romero. 
LANACC Director Peter Casarella said most of the essay contributors wrote about places they had visited, "but these were not the usual research reports." 
"In some cases, the research grew out of an accompaniment of a people and a change of heart that took place while the student was living in Latin America," he said. "That's a very gratifying process to witness and confirms for me the lasting importance of reverse mission, that is, bringing the fruits of what one has learned while studying abroad back to the US in order to plant a new seed in the soil of this land."
The content of the essays also showed that many of the students were committed to the Church in its global expanse, he added: "It's a thrilling and sometimes personally life-changing experience to see that Catholicism is bigger than the parish in which one was raised. I could sense that some of these students might have had an experience like that."
LANACC serves as a bridge between the Catholic Church and the academy, promoting the exchange of ideas and practices between North America and Latin America and the Caribbean. 
Casarella said the contest was expanded this year to include contributions on Latinos in the US, who "contribute in a vital way to global Catholicism because their lives integrate the local terrain of US society and politics with the world stage of Catholic faith and struggles for justice."
The contest winners are: 
Marissa Griffith
First Place - Undergraduate Category
St. Oscar Romero and Evangelization
Francesca Patti '19 (IDS Minor)
Runner-up - Undergraduate Category
Wellbeing of Mexico City Pepenadores: Evaluating the Role of the Catholic Church and Faith
Megan Wilson
Runner-up - Undergraduate Category
La Virgen de Suyapa: Reina, Patrona y Símbolo de Esperanza deHonduras
Isaac Kimmel
First Place - Graduate Category
Death Rises in Mexico: Political Upheaval and Religious Innovation
John M. Hogue
First Place - Alumni Category
El Compromiso Político de la Iglesia Chilena