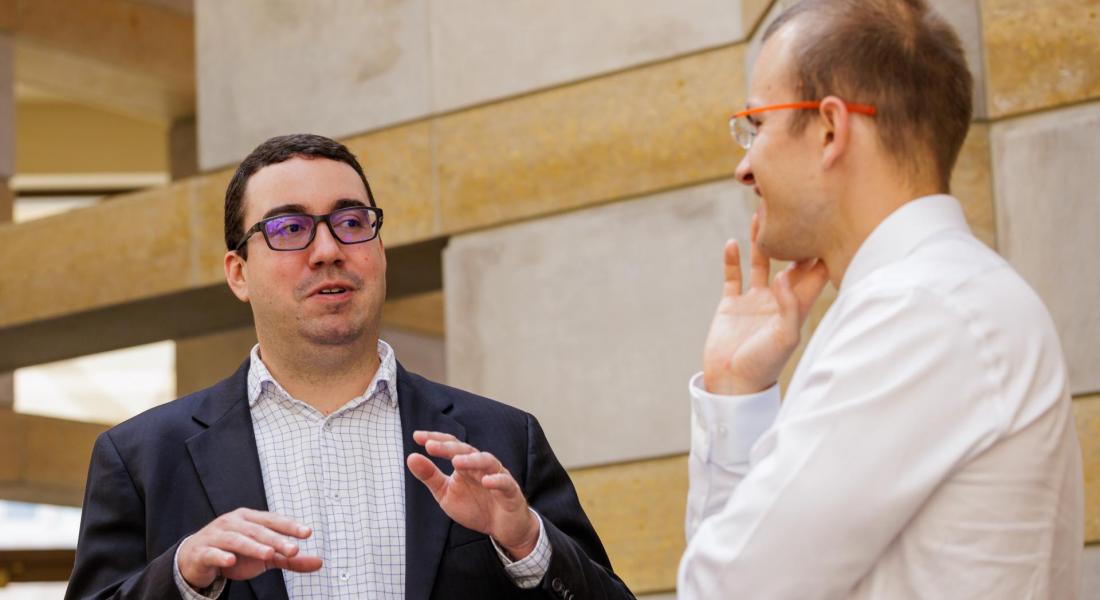 Every year for the past 40 years, the Kellogg Institute for International Studies has welcomed a select group of scholars and practitioners from around the world into its competitive and widely-respected residential Visiting Fellowship program. Each visiting fellow adds to and benefits from Kellogg's legacy and community, experiencing a productive, flexible, and self-directed academic year focused on advancing their research, collaborating with other scholars, and engaging in related academic pursuits.
"It's one very impactful year for visiting fellows and for the students and scholars they interact with," says Assistant Director Denise Wright who manages the Visiting Fellowship program. "These fellows – especially the postdocs – really bring a fresh perspective and add greatly to the discourse on democracy and human development."
Interdisciplinary Approach to Research
Visiting Fellows Vitor Martins Dias and Vladimir Chlouba say they've  benefited from the many research resources and collaborative opportunities available to them as visiting fellows, especially being able to present their research and participate alongside a diverse group of visiting fellows, faculty fellows, research affiliates, and guest scholars.
"When I presented my paper in a work-in-progress seminar, there were people from several disciplines – political science, global affairs, environmental science, peace studies, and sociologists of course, given my field," says Dias, a postdoc who studies how the urban poor mobilize against climate injustice, specifically in two cities in Brazil's Amazon: Belém, where he grew up, and Paragominas. "This was very helpful for me to learn what I'm doing that sounds promising, but also the limitations of my own work. Having such a broad audience is such a unique experience here at Kellogg."
Chlouba, a postdoc who studies traditional political systems in sub-Saharan Africa, agrees that the feedback he received on his research from the Kellogg community was valuable. He's working on two papers and a book focused on the relationship between early statehood and current attitudes towards democracy in Africa.
"We often tend to focus on our own narrow specialization to the point where we miss some of the things that are really interesting about the work," he says. "I may think this one thing is really interesting because I know the literature and all these little details of it, but somebody who doesn't know the literature might actually discover new things."
Launching Careers
Since Chlouba recently completed his PhD in the Department of Political Science at The Ohio State University, he also spent some of his fellowship time applying for and interviewing for jobs. He says that being immersed in Kellogg's interdisciplinary community helped him secure a faculty position at the Jepson School of Leadership Studies at the University of Richmond.
"I'm moving from this interdisciplinary environment to another context that's going to be very similar in that way," says Chlouba. "Learning how to communicate the research for an audience that's not just political scientists is a skill I improved here at Kellogg that was crucial for getting the job."
Chlouba also credits the Kellogg community for helping him prepare for interviews and presentations by providing feedback and advice from their own experiences.
"Here there's opportunity to talk more about how the job process works with people who just did it five years ago," he says. "Having that resource is very useful."
Additionally, his teaching experience at the Keough School of Global Affairs helped make him an attractive candidate.
"When you're applying for jobs, you can say, 'I've taught here,' – Notre Dame is obviously a good school, and that's something that they like," he says.
Dias, who recently completed his doctorate in the Department of Sociology at Indiana University Bloomington, also spent some time applying for jobs.
"The setting here is excellent for recent PhDs," says Dias. "It's been great in terms of time management. I knew I was going to teach in the spring, so I concentrated on doing my research and sending things for review in the fall. I was also looking for a job – and I got one! I've accepted a tenure-track position at Butler University."
Formerly a practicing lawyer, Dias will work as an assistant professor in Butler's Sociology and Criminology Department. 
Community & Environment
To help them make the most of the year, visiting fellows are provided with spacious offices, on-site IT support, personal library services, and personalized networking recommendations. 
"It's a pretty intimate program," says Dias. "You are not in such a large environment that you have to figure out how to navigate yourself. Here, the staff is fantastic, they help us meet people. We even received a list that the Kellogg staff prepared before we arrived of people with whom we should chat or talk about our work."
Beyond academics, Kellogg invites its visiting fellows to participate in Notre Dame's vibrant campus life, providing access to events, green spaces, exercise facilities, and other campus amenities.
"I'm here with my wife and daughter. We've found it very welcoming on a family level," says Chlouba. "This place retains human warmth and human connection that you don't always get at a huge university."
Visiting Fellows also have access to medical insurance benefits and convenient subsidized campus housing. 
"The non-academic aspects of the fellowship are actually undersold," says Dias. "I literally live in the same building where I'm working. As a recent PhD, this is very helpful for a variety of reasons. I knew the position here would be temporary, so finding a place to live for one academic year is always challenging, as all grad students know. Having subsidized housing, an apartment here, to know where I was going to live from the very beginning – it helps you save money and takes away stress."
Kellogg's Visiting Fellowship program has been designed to thoroughly support and engage scholars, and provide them with all they need to focus on the big questions.  
"We're very thoughtful about the details of our programs. We want our postdoctoral visiting fellows to feel at home on a personal and professional level," says Aníbal Pérez-Liñán, Kellogg director and professor of political science and global affairs. "By joining us here at Kellogg, they are stepping into a research institute built on 40 years of distinction and joining a supportive international community of scholars from many fields who are advancing critical research around democracy and human development, all in service of the common good."