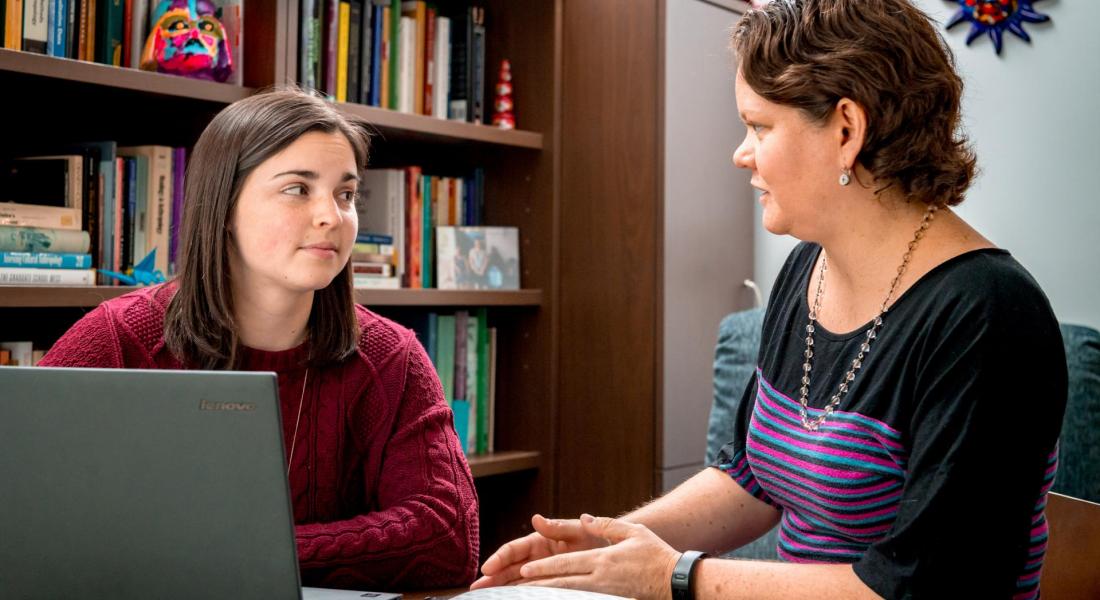 The summer after her sophomore year at the University of Notre Dame, Lauren O'Connell '18 found herself working in a hamlet in the Peruvian Amazon so small it couldn't even be found on a map.
With no cars and just a few dozen families, it was a far cry from the large Atlanta suburb where she grew up. But her study of the region's medicinal plants – through an Experiencing the World (ETW) fellowship, one of several Kellogg Institute programs for undergraduates – would nudge her toward a career in public health.
So did a close partnership with Kellogg Faculty Fellow Vania Smith-Oka, her advisor in the Kellogg International Scholars Program.
"ISP is probably the best thing I ever did," said O'Connell, an anthropology and pre-health studies major and Latino studies minor. The program gave her the research skills she would need to thrive academically, and helped her build relationships with other students passionate about having an impact in the world and with Smith-Oka, who guided her through research first in South Bend and later in Mexico.
"Creating a relationship with a professor can be really hard," she said. "ISP really sets you up to find a mentor, to find somebody to work with you through the entire research process.  
"To watch a talented researcher do her job – it's a once in a lifetime opportunity. Getting that front seat into research is so rare."
O'Connell initially planned to become a doctor, but after arriving at Notre Dame found she didn't enjoy her science classes. Instead, she gravitated toward public health, with its focus on wellbeing that encompassed culture, family, personal experiences, and environment.
She learned about Kellogg as a freshman from older students in GlobeMed, a club on campus for those interested in global health, who told her that it was the place to be for someone with her interests. 
Her ETW fellowship took her in 2016 to Huapo, Peru, where she lived on a coffee and cacao co-op, studying medicinal plants and their role in bridging the gap between traditional and Western medicine.
The experience challenged her preconceptions about traditional medicine.
"I thought that people there depended on medicinal plants, or they exclusively believed in traditional medicine," she said. "But they see it as a Band-Aid, a solution until they get health care as we know it. It was a temporary fix."
She was paired with Smith-Oka through ISP as a sophomore to help with the anthropology professor's ongoing research on the education of medical students in Mexico.
Smith-Oka said she's watched O'Connell take a growing leadership role in the project over the years, which included a research trip to Puebla, Mexico. O'Connell also spent time there in a study abroad program.
"I think her semester in Puebla really transformed her," Smith-Oka said. "Before, she wasn't 100 percent sure of what abilities she had. I think going to Mexico really solidified what she knows, what she can contribute, and how to put it all together."
Smith-Oka said the Kellogg ISP is unique because it lets students see the arc of a long-term project: "I don't know of any other program on campus that's similar to ISP."
It's also a way for faculty to connect with students.
"I love mentoring undergraduates," she said. "I love catching them early in their careers at Notre Dame, when they're freshmen and sophomores, and helping them figure out what they want to do and how to get there."
Holly Rivers, associate director at the Kellogg Institute, said the number of faculty interested in partnering with an undergrad through ISP has tripled in recent years, in part because they recognize that it draws top students who are reliable and can ease their research burden.
Many also value the opportunity to influence a younger generation.
"They value the mentorship relationship with a student," she said. "It's rewarding in making a contribution to students' lives and helping them find the right direction for themselves."
For example, O'Connell said Smith-Oka taught her that instead of pursuing large, abstract ideas, she should be specific and pointed in her research if she wants to make a difference in the world.
"I've learned what you can do and how you can make a tangible contribution to the field," she said.
O'Connell plans to pursue a master's in public health. But first, she'll spend a year in Chiapas, Mexico's poorest state, working with Compañeros En Salud (Partners in Health), making her the fifth consecutive Notre Dame graduate to do so with support from the Kellogg Institute.