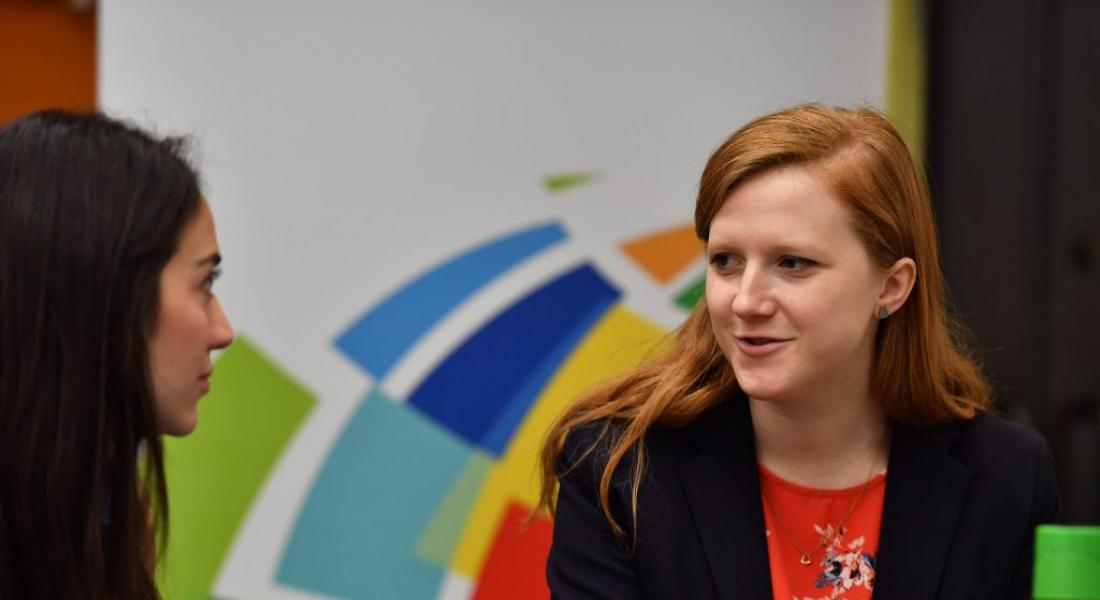 Members of the Keough School of Global Affairs Class of 2019, the school's first graduating class, are now employed in a variety of rewarding positions in diverse fields. Among them is Caroline Andridge, one of three former students in the sustainable development concentration who received fellowships from the Kellogg Institute for International Studies.
Andridge now works at USAID's Office of Food for Peace in Washington, DC, and said she gained skills through the master of global affairs program that are critical to her current position: "I experience several direct connections between my current work and the training I received at Notre Dame."
Keough School graduates work in a range of public, private, and international and domestic nonprofit organization sectors, demonstrating the versatility of the master of global affairs degree.
The other Kellogg fellowship recipients from that class are Sofía del Valle, who received the Raymond C. Offenheiser Fellowship and works at Oxfam, and Dorcas Omowale, who works at Goodwin Simon Strategic Research, an independent opinion research firm.
Read more about the members of the Class of 2019 and their employment outcomes here and learn more about Andridge's job at USAID below.
Impacting food security policy
As the US policy coordinator within USAID's Office of Food for Peace, Andridge focuses on congressional engagement, policy analysis, and risk management and oversight related to food security programming in humanitarian crises.
"Knowledge of the policy-making and appropriations processes and food security programming, along with the ability to work under pressure and build strong working relationships across the office, has been critical to meeting tight deadlines," Caroline said.
Caroline learned about global food security through a directed readings course with Kellogg Faculty Fellow Ray Offenheiser, the William J. Pulte Director of the Pulte Institute for Global Development and an associate professor of the practice at the Keough School, and her Integration Lab project with Oxfam America exposed her to issues related to food security and global supply chains. From Kasey Buckles, the Brian and Jeannelle Brady Associate Professor of Economics at Notre Dame, Caroline learned to interpret econometric models applied to policy, a skill that has been "even more helpful than I imagined," she said. Finally, a Notre Dame networking opportunity over spring break introduced Caroline to a senior staff member at Food for Peace.
"I'm grateful for the education and encouragement I received at the Keough School," Caroline said.
This story was first posted at keough.nd.edu