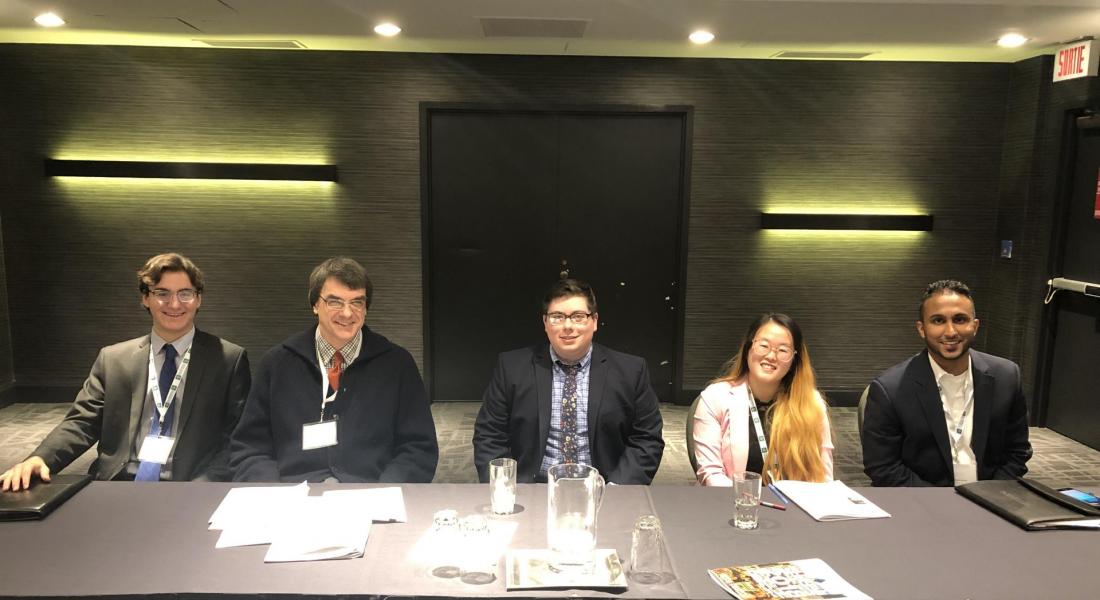 Kevin Angell, a junior in the Kellogg International Scholars Program (ISP), recently presented his research studying missionaries' democratic impact at the 50th Northeastern Political Science Association's Annual Conference. The conference, held from November 8-10 in Montreal, Quebec, brought together scholars from across the United States and Canada to present works related to the theme of "50 Years of Change," that is, how and why the world looks different than 50 years ago.  Angell, a political science and economics major whose ISP advisor is associate professor of political science Andrew Gould, presented "Missionaries, Mechanisms, and Democracy," a paper which employs data from the Varieties of Democracy Project to evaluate previous claims that Protestant missionaries aided in democratic development across the non-Western world. 
Angell's conference presentation detailed the results of the highly quantitative work that Angell and his co-author, associate professor of political science Jeff Harden, conducted to study proposed mechanisms by which missionaries could have promoted democracy. The work examined the pathway proposed by scholars such as Robert Woodberry, namely, that missionaries promoted democracy by way of increasing three mechanisms: education, printing, and civil society. According to Angell, he and Harden found that, "of the three theorized mechanisms, only education was empirically supported and accounted for at most half of the observed impact." Angell and Harden argue that, based off of this evidence, the causal pathway between Protestant missionaries and democracy is not what is conventionally believed and call for additional theorizing to explain the observed effect.    
Angell said that the opportunity to present "Missionaries, Mechanisms, and Democracy" was extremely valuable as he prepares to continue his academic research and progress towards a career in academia. While Angell had presented his paper previously at Notre Dame, he said that presenting it at Northeastern Political Science Conference provided feedback from political science professors who were experts in the paper's subfield. "Prof. Harden and I have received feedback on our paper before," Angell explained, "but hearing new perspectives from fresh readers with different perspectives provided us with input that will help us as we work toward our goal of publishing this paper."  
In addition to presenting, Angell also attended talks by experts working on extremely topical papers including one that sought to explain the impact of economic shocks on political disaffection in the United States by examining evidence from Western Europe. "Being in Montreal," Angell mentioned, "the Northeastern Political Science Conference had a heavy presence of Canadian scholars, who study American politics in a more comparative fashion and thus offer a very different and enlightening view."  
Overall, Angell said that receiving Kellogg funding to present and attend the Northeastern Political Science Conference was only one piece of how Kellogg has assisted him with his research. According to Angell, the idea for the paper grew out of a project he worked on for Prof. Gould through ISP, a project that also helped Angell develop many of the skills he needed to conduct his research.