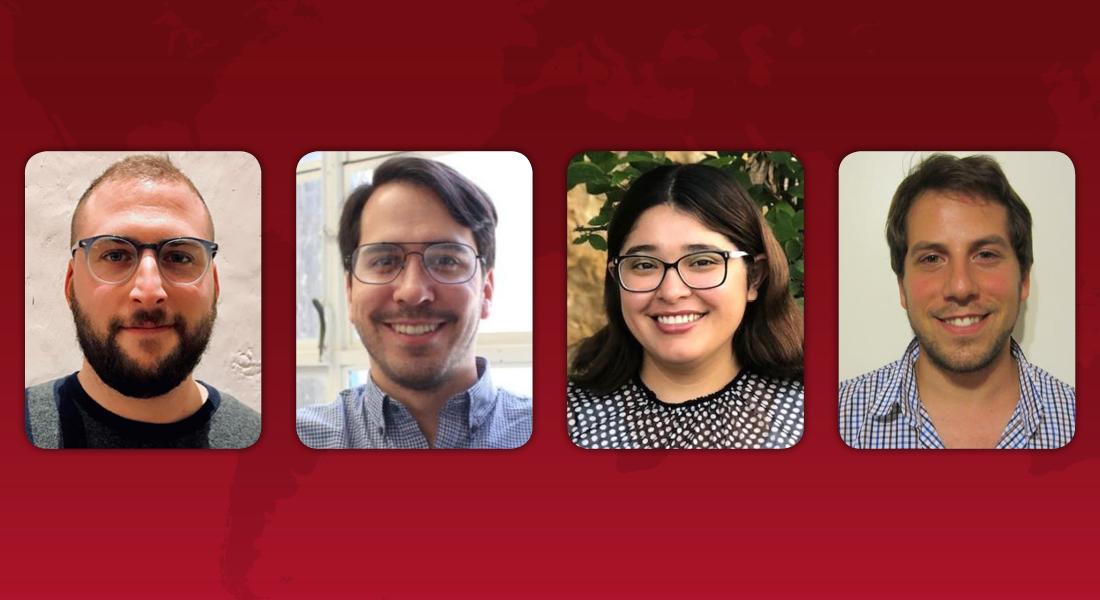 The Kellogg Institute's newest PhD fellows include a human rights activist who defended political prisoners in Venezuela and a historian studying the activism of mothers whose children disappeared in Mexico's Dirty War. 
The four fellows – three of whom are from Latin America – represent the Institute's commitment to furthering study in its core research areas of democracy and human development. 
"We're investing in the next generation," said Denise Wright, manager of visiting fellow and graduate student programs. "These are bright young scholars who have a commitment to the priorities of the Institute and to scholarly excellence." 
The PhD fellowship program recruits top scholars in a range of disciplines and, unique to Notre Dame, funds a full five years of study. It is the Institute's longest-running program for graduate students. 
The Institute's 2018-2023 fellows are: 
• Tomás Gold, sociology. He studies political sociology, social movements, cultural sociology, and transnational sociology, with a focus on Latin American social movements and contemporary activism. He is currently involved in a comparative study of anti-corruption frames within contentious episodes in Latin America. 
Gold received an MA in political science from the Universidad Nacional de San Martin and a BA in political science from the Universidad de Buenos Aires, both in Argentina. 
• Bernardo Pulido Marquez, law. His research at Notre Dame focuses on inadmissible restrictions on political rights, such as the right to run for elections, and how those restrictions impact democracy. He has defended political prisoners and opposition leaders in his native Venezuela, where he has taken part in the movement to reestablish the rule of law. He has also worked as a claimant lawyer in actions before the Inter-American Human Rights System and within the United Nations system. 
He earned his law degree from the Universidad Católica Andrés Bello in Caracas and a master in the science of law from Stanford Law School. 
• Carolina Santillan, history. A native of Los Angeles, she specializes in Latin American history, culture, social movements, and gender studies. She is studying the political and human rights activism of Mexican women whose children vanished during the Dirty War of the 1970s-80s, when the government is suspected of torturing or executing more than 1,200 people. 
She earned a BA in Spanish and Latin American studies from California State University, Fullerton and a MA in Latin American studies from California State University, Los Angeles.
• Natán Skigin, political science. His research lies at the intersection of comparative politics and political economy, and focuses on political regimes and redistribution in developing countries, dictatorships, regime transitions, and civil conflict. He has studied the conditions under which political parties and electoral coalitions hold primaries, particularly in Argentina, and analyzed legislators' success in Latin America's multiparty congresses. 
He received an MA in political science from the Universidad Torcuato Di Tella and a BA in political science from the Universidad de Buenos Aires.