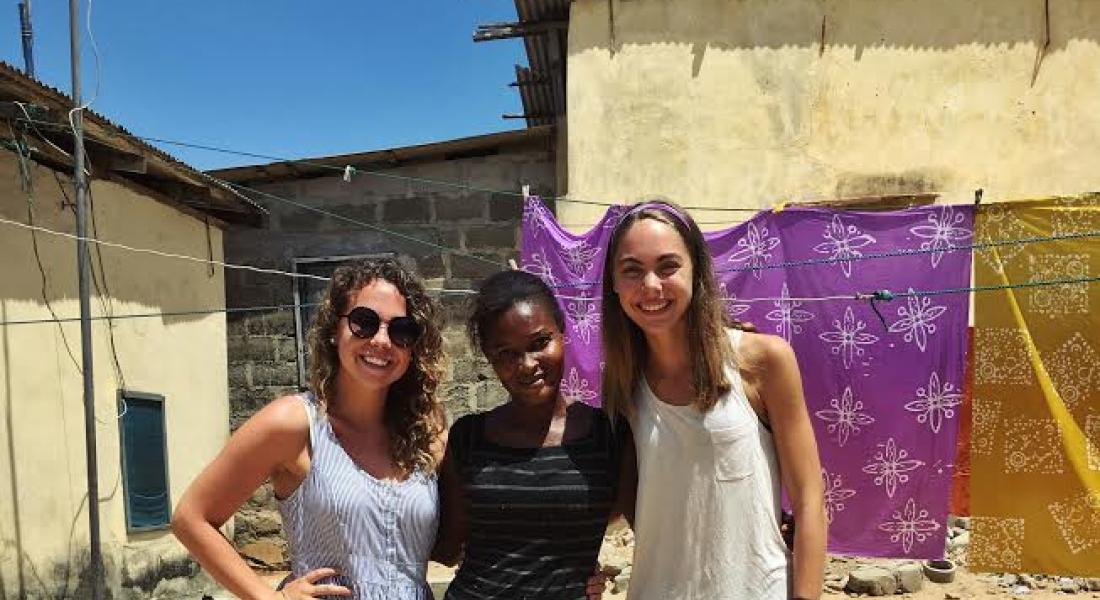 Katie Eilert '18 (marketing)
On Tuesday, June 7th…
Annie Richelsen '18 (marketing/peace studies) and I have settled in well to our new temporary home in Cape Coast, Ghana. We had a great time working with the Google team in the capital city of Accra for a week and are grateful to Global Mamas co-founder Renae Adam for giving us such a warm welcome into Ghana and into her own home. At the same time, we were ready to leave the busy and at times overwhelming city of Accra for the much quieter town of Cape Coast!
After being here at the volunteer house for a week and a half, I think we're both pretty acclimated and comfortable with living here. The house is very cozy and accommodating, with an elderly night guard and a housekeeper that keep things running smoothly. At the house, Annie and I are staying in a room together and also spend a lot of time with the others living there.
At the office, we have been coming up with social media content, taking pictures from our daily life in Ghana and relating them to Global Mamas and the volunteer experience (as an ongoing project). We created a colorful staff board for the office and are also going to mock up a book display for the Accra office. Because Global Mamas wants to better utilize YouTube, we're starting to collect submissions for a past volunteer/intern experience video. Our first week here, the ladies toured us around Cape Coast and we also attended a batiking workshop with one of the Mamas -- where we dyed our own batik fabric design, with a lot of help! We've met a couple of Mamas who've come to the office, but we hope to go out and visit them all as part of our ongoing projects and "Meet the Mamas" media content. We can't wait to interact with them more!