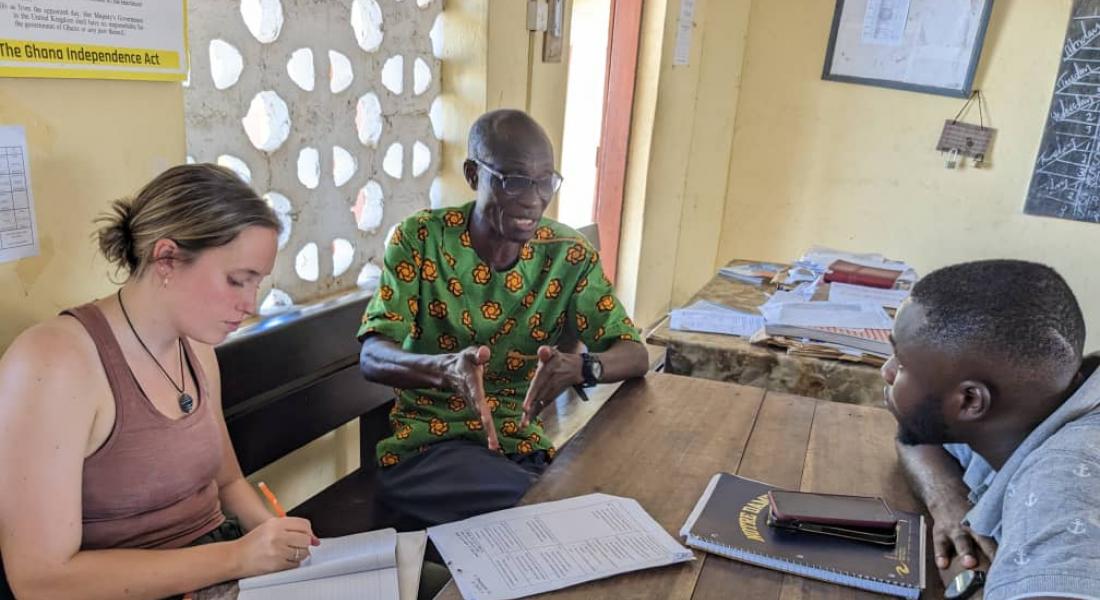 Kerry Conneely '24 (environmental engineering) was funded through a Kellogg/Kroc Undergraduate Research Grant to travel to Ghana to work on her project, "The Impact of Climate-Accelerated Flooding on Sanitation Infrastructure and Community Wellbeing in Coastal Communities in Ghana".
I am doing well and have settled into life in Ghana. The first five days or so were definitely very tough learning what and where to eat, how to do laundry, falling asleep without AC, and walking around not knowing anyone, but I have met people in my dorms, begun working with the research institute, completed my first site visit and 11 interviews for my project, and am learning how to live in this culture!
In terms of research, I am working with two research assistants at the university who give me local expertise and help coordinate interviews in my communities. Last Monday, I went on a day trip to Opetekwe, one of the three coastal communities, and we conducted 11 interviews. My next trip is Wednesday, where we will hopefully get about 12 more interviews in Mumford, a different coastal community. In the meantime, I have been transcribing my notes from the interviews and prepping for the next visit. I also am sitting in on classes with the institute that pertain to my research topic, like "environmental sanitation in emergency situations."
In terms of exploring Ghana, I went to the art market and mall in Accra and last weekend took a three-day trip to Mole National Park where I went on a couple safaris to see elephants, baboons, antelopes, and enjoy the beautiful nature. I also explored Tamale and went to an art market, contemporary art museum, went to the general market, and tried the fruit from shea trees. I loved this trip and am glad I was able to make my way up North. Since I found that I have a good amount of free time, I am joining some of the activities and tours offered by "Ghana to the World", a program in the International Programmes Office, so that is going to fill up my non-research time with cultural immersions and is a great way to meet more people. I also joined the swim team at the university and am competing in a swim meet on Saturday!