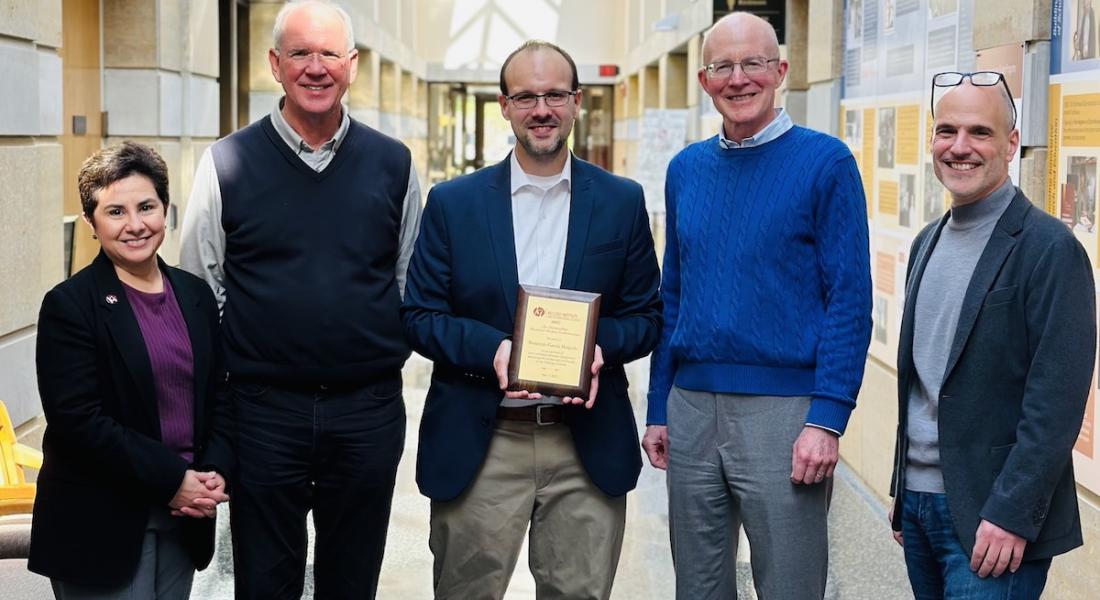 Kellogg Institute PhD Fellow Benjamin Garcia Holgado was honored with the 2023 Kellogg Institute Award for Outstanding Doctoral Student Contributions May 3 at the Institute's year-end celebration.
Carrying a monetary prize of $500, the annual award recognizes a Kellogg doctoral student affiliate for outstanding contributions to the intellectual life and community of the Institute.
Garcia Holgado is a doctoral candidate in the Department of Political Science whose research agenda focuses on regime change, populism, judicial politics, Latin American politics, and qualitative methods. 
He was nominated for the award by six Kellogg faculty fellows and fellow doctoral student affiliates: Michael Coppedge, Scott Mainwaring, Tomás Gold, Isabel Güiza-Gómez, Natán Skigin, and Jacob Turner.
"Benjamin's long-standing engagement with the Institute, development of an independent research agenda, and collaboration with faculty members and doctoral students make him an excellent candidate for this prestigious recognition," shared Coppedge, professor of political science.
Garcia Holgado has been a highly active member of the Kellogg community since he came to Notre Dame in 2017. He is a frequent participant in the Comparative Politics Workshop and Kellogg's Work-in-Progress seminars, and he has been active in events organized by the Democratization Research Cluster and others. Recently, he organized a virtual seminar featuring Jean Cohen's work on hybrid regimes. 
This semester, Garcia Holgado has co-led the new Kellogg Institute podcast Global Stage, which he proposed as a means of further disseminating academic and policy-related work on democracy and human development conducted by the Kellogg academic community.
His dissertation investigates how the sequence and timing of populists' attacks against democratic institutions contribute to explaining the extent of democratic erosion. By comparing Venezuela, Ecuador, Colombia, and Argentina and using multiple primary and secondary sources, it shows that populist leaders in control of the executive can erode liberal democracy's components when they begin to either co-opt or neutralize apex-courts early on.
"Benjamin's dissertation significantly contributes to enriching our understanding of the institutional conditions under which executive powers erode democracy and judicial arrangements that protect democracy against populist leaders," said Mainwaring, Eugene P. and Helen Conley Professor of Political Science.
Garcia Holgado has worked closely with Coppedge, Mainwaring, and Kellogg Director Aníbal Pérez-Liñán, publishing several articles and book chapters in well-known outlets. His article "Why Democracy Survives Presidential Encroachments: Argentina since 1983," which will be published by Comparative Politics (with Scott Mainwaring), explains the conditions that enable and prevent presidents who were initially freely and fairly elected from successfully overrunning democracy. He also published a book chapter entitled "The Weakness of Illiberal Regimes" in the Routledge Handbook of Illiberalism (with Aníbal Pérez-Liñán), which argues that illiberal leaders succeed in enfeebling liberal regimes by gaining control over the government, capturing autonomous state institutions, and conquering independent civil society. 
Both works offer theoretical arguments and employ qualitative and mixed methods to advance salient questions on populist executives' plans on weaking liberal regimes and judicial strategies to build up an institutional wall against populist executives.
Garcia Holgado has accepted a tenure-track position at the University of Delaware, where he will be an assistant professor beginning this fall.
"We were so pleased to present this honor to Benjamín, who really embodies exactly what the award is meant to recognize – outstanding contributions to the intellectual community and the research agenda of the Kellogg Institute," said Denise Wright, assistant director of the Kellogg Institute who manages programming for affiliated graduate students. "I couldn't be more proud of all he's accomplished in his years with the Institute."