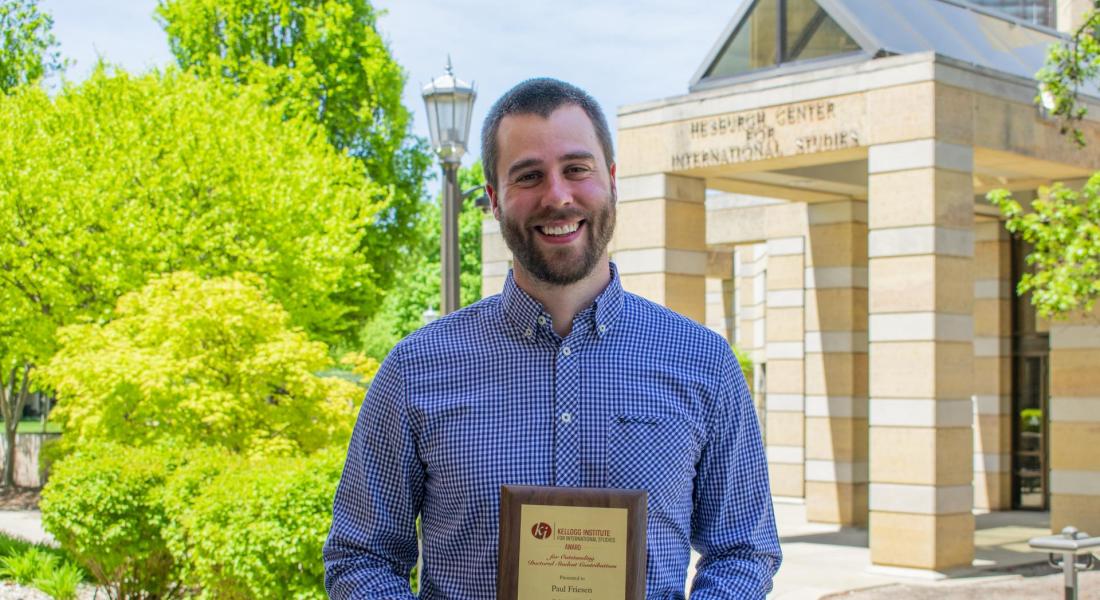 Kellogg Institute Dissertation Year Fellow and PhD Fellow Paul Friesen was honored with the 2022 Kellogg Institute Award for Outstanding Doctoral Student Contributions May 5 at the Institute's year-end celebration.
Carrying a monetary prize of $500, the annual award recognizes a Kellogg doctoral student affiliate for outstanding contributions to the intellectual life and community of the Institute.
Friesen is a doctoral candidate in the Department of Political Science whose research centers broadly around democratization, with special focus on political parties, elections, and political behavior in Sub-Saharan Africa.
He was nominated for the award by each of his dissertation committee co-directors, Kellogg faculty fellows Jaimie Bleck and Michael Coppedge, both of whom cited Friesen's outstanding scholarship and active community-building in their letters of recommendation.
"In his six years at Notre Dame, he not only has an outstanding publishing record and is a great colleague and teacher, but he also truly epitomizes a good community member," writes Bleck. "He creates synergies among scholars on campus and works to bring academic discussion and debate into the real world."
"Paul does research on the theme of democracy in a way that also has implications for human development," states Coppedge, commenting on his fit with Kellogg research themes. "He is making us reevaluate party identification and political behavior in Africa."
Friesen's dissertation research focuses on partisanship in Botswana and Zimbabwe. Two excerpts from it have been published or are forthcoming in two refereed journals, Democratization and Party Politics.
"His collaborative spirit is illustrated by his broad range of co-authors," states Bleck.
Friesen has worked with faculty members on a book chapter, working papers, and special projects. Additionally, he has carried out research with a large number of current and former graduate students, mostly Kellogg doctoral affiliates.
He currently has six peer-reviewed publications, with an additional solo-authored paper under review with the Journal of Politics, one of political science's top journals. The latter previously won the John Sullivan Award for best graduate student paper in the field of elections, public opinion, and voting behavior from the American Political Science Association.
Friesen also has published in top academic blogs, including Mischiefs of Faction, Monkey Cage, Huffington Post, and the Conversation. And his teaching skills were recognized with the Kaneb Center's 2020 Graduate Student Teaching award.
"Paul is a familiar face around Kellogg, always participating in lectures, seminars, community events – he really appreciates and takes advantage of the wealth of opportunities available to him," comments Denise Wright, assistant director of the Kellogg institute, who manages the Institute's graduate student programs. She also notes his active role with Kellogg's Comparative Politics Workshop, where he served as its coordinator in 2017-18, and that he serves as a mentor to early-stage PhD students. 
Friesen holds a Master of Public Policy degree with a specialization in international development from Michigan State University. He previously was a development professional and political analyst at the National Democratic Institute for International Affairs on the Southern and East Africa team. He also has served as a research assistant for the Afrobarometer and Varieties of Democracy projects.