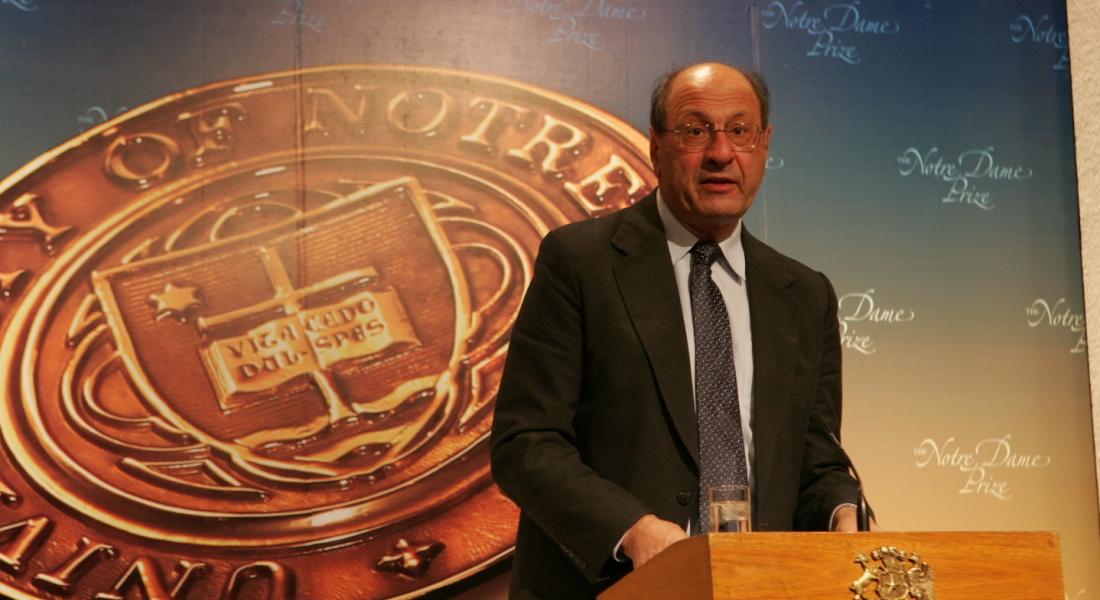 José Zalaquett, a Chilean attorney, human rights advocate, and former visiting fellow at the Kellogg Institute for International Studies, died Feb. 15 after a long illness. He was the 2009 recipient of the Institute's prestigious Notre Dame Prize for Distinguished Public Service in Latin America.
Zalaquett, a professor of human rights at the University of Chile's Law School, was known for his opposition to the Augusto Pinochet regime. After spending 10 years in exile, he was appointed a member of the National Commission for Truth and Reconciliation in a newly democratic Chile. His writings on transitional justice have since informed similar efforts around the world.
Zalaquett was the 2013 Hewlett Visiting Fellow for Public Policy at the Kellogg Institute. He was awarded the 2009 Notre Dame Prize in recognition of his advocacy work in Latin America; the prize recognizes "the efforts of visionary leaders in Latin America to promote the welfare of the region by strengthening democracy and improving the quality of life of its citizens."
"Relentless in his search for truth and justice, (Zalaquett) drove us to work together on the basis of dialogue, mutual understanding, and respect towards others. His profound ethical strength facilitated rapprochement among different sectors, even among those who had been engaged in intense political struggles and other battles," said Edmundo Perez-Yoma, former vice president of Chile.  
The prize carried a $15,000 cash award with an equal amount donated to a charitable organization recommended by the recipient, thus advancing the work the Prize honored. In 2009, the University of Chile's Center for Human Rights received the matching award. 
According to Amnesty International, Zalaquett, who was known as "Pepé," served as chair of the organization's International Executive Committee and later as its deputy secretary general.
He was a former president of the Inter-American Commission on Human Rights of the Organization of American States, the recipient of a MacArthur Foundation award, and held an honorary degree from the University of Notre Dame.