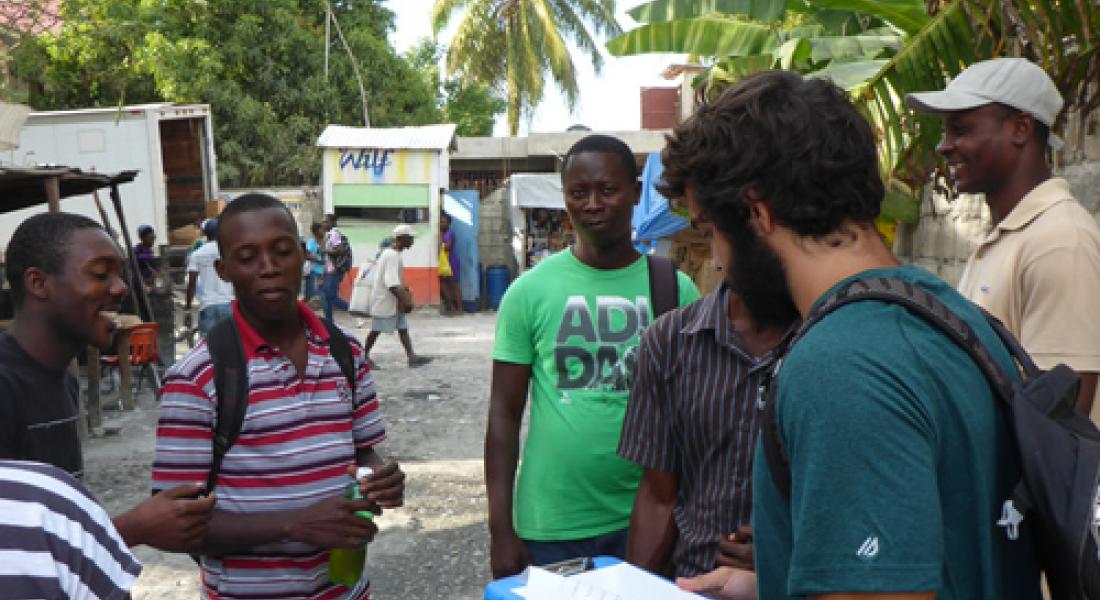 Financial Literacy Program Implementation
Christianos Burlotos '18
In January of 2017, I traveled to Léogâne, Haiti to implement a piloted form of Engineering2Empower's (E2E) new Financial Education Program and collect observations and data for future modification and widespread application of the project. I have spent the previous year researching financial literacy education in the developing world and building a curriculum of worksheets to guide Haitians to financial security and home ownership, so I was very eager to test my materials.
Each morning I worked with Notre Dame senior Charlie Geary and E2E employee and Léogâne native Edson Jean to translate and contextualize worksheets produced last spring and prepare discussion questions. Each afternoon we held a focus group with six or seven local representatives of E2E's Innovation Club. Edson thoroughly explained the instructions and led them through the associated worksheets and human-centered design-thinking activities. 
During the first focus group, participants completed a Sample Income and Expense Tracking Activity, in which they read through a paragraph about a fictional woman's life over the duration of two weeks and categorized and recorded her income and expenses on a provided worksheet and responded to personal and comprehension questions. They then listed all sources of income during the past week and recorded last week's expenses (by memory) in the form of a categorized ledger. From these activities, I was able to gauge the participant's ability to do basic monetary mathematics and categorize expenses. I was very impressed when the students began to work together to teach a fellow participant who arrived late and needed help catching up, as this showed both strong potential for future team-based activities and proved their thorough understanding of the material. 
On the next afternoon, the participants numbered expense categories in order of personal importance then presented their list to the class with logical explanations. After examining the results and listening to their reasoning, I was able to draw several conclusions about the importance of community, appearance, and communication in their culture. For example, many prioritized clothes and housewares not because they wanted to be perceived as high members of society, but by claiming that if they are wearing dirty or torn clothing or do not have a neat home, people think they are "crazy" and not part of the community. This information will be extremely useful as we move forward to strategize ways Haitians can adjust their financial behaviors. The participants also completed a personal financial assessment, in which they listed current savings, receivables, and debts and answered multiple-choice questions regarding repayment and collection plans. This was the first time any of the participants had listed this information all in one place, and they agreed that it was a scary process. The data revealed to me the intertwined lending and borrowing complexity of the participants' financial lives.
In the third focus group, participants were introduced to the concept of a personal financial support group (sipo, in Creole) and collectively and individually brainstormed potential members. Common answers included pastors and neighbors/friends who were deemed morally reliable and financially stable. Then, we held a Smart Money Discussion, in which teams of participants brainstormed plans to save money on common expenses such as food, clothing, and housewares and presented results to the group. Teams also answered strategic questions regarding income enhancement and designed and performed live skits demonstrating ways to prevent friends from removing money from savings accounts for non-emergency purposes. These tasks sparked creativity among the participants and revealed local strategies for managing finances while on a tight budget, such as buying and selling livestock or investing in the sale of elementary goods. Surprisingly, the concept of romance was raised twice in the skits, and the prevailing theme stated that women prefer men who own homes and would sacrifice jewelry or concerts, for example, to raise a family in a physically safe home.
During our last afternoon, teams of participants went into the local market to identify three particularly successful venders, record personal observations regarding the vender's business, and interview customers and the venders themselves. The main goal of the activity was to build a list of promising business techniques for entrepreneurs looking to sell in the markets.
The data and observations from this trip will be directly and immediately used to reform and modify E2E's Financial Education Program. I anticipate the completion of a Personal Financial Workbook in early 2017. Such a book will include modified versions of the aforementioned worksheets as well as others regarding entrepreneurial skills and personal emotion-harnessing strategies. It will also include charts for tracking income, expenses, debt, receivables, and savings for the remainder of 2017.