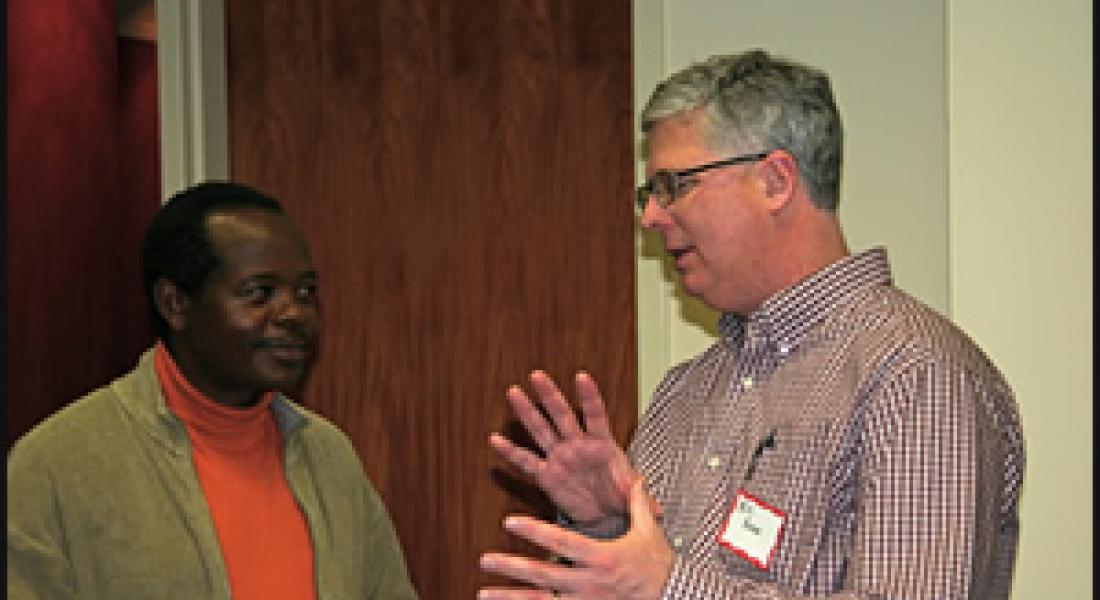 This was Evans' first trip to Uganda and while it certainly impacted him personally, it also stimulated his interest in the work of the Ford Program and the integration of research into community development projects. "It is hard NOT to be changed by a visit like we took to Uganda. The trip generated a wide range of emotions and helped clarify for me the direction the research of the Ford Program should take."
Evans met with local partners such as Catholic Relief Services and the Millennium Villages Project to learn about their work and to explore avenues for partnering on research projects. Most importantly, Evans spent time at our partner institution, Uganda Martyrs University (UMU), meeting with faculty and staff to discuss possible avenues of collaboration in research. Together, they visited the community of Nnindye where Notre Dame and UMU are working together to implement community investment projects and carry out research.
In the wake of the trip, Evans reflected, "There is clearly a lot of work to be done in Uganda and the Ford Program is poised to help play a part in the development of this country. These trips to Africa are helping shape how we should proceed and what investments we can make."
"Our goal is twofold. First, we want to make a difference in the lives of those most in need. Second, and at the same time, investments must be made in a way that one can learn from the exercise. What investments can be replicated? What projects can be successfully scaled up to meet the greatest need?
"These goals require deliberate action on our part but most importantly, they require constant interaction with people in the villages of Nnindye. A holistic approach to development necessitates that our efforts meet their greatest needs and this can only be done with the input from the villagers themselves."
In his own work, Evans's principal interests are in applied microeconomics, labor economics, the economics of education, public finance, industrial organization, and health economics. He is widely known for the use of state-of-the-art econometric techniques to analyze health and education outcomes and the policies used to improve them. The editor of the Journal of Human Resources, he is also a research associate of the National Bureau of Economic Research and a member of the National Advisory Committee for the Robert Wood Johnson Foundation Health Policy Scholars Program.