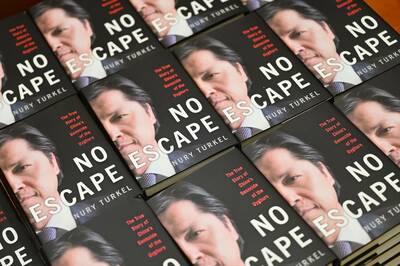 Notre Dame Law School's Religious Liberty Initiative hosted "The Uyghur Genocide & Threats to Religious Liberty: A Conversation with Commissioner Nury Turkel" on October 10. The event was co-sponsored by the Kroc Institute for International Peace Studies, Kellogg Institute for International Studies, Klau Institute for Civil and Human Rights, Liu Institute for Asia and Asian Studies, and Notre Dame's Political Science Department.
Uyghur-American attorney and human rights advocate Nury Turkel sat with Professor Stephanie Barclay, director of the Religious Liberty Initiative, to share details on China's hostile treatment toward Uyghur Muslims in Xinjiang; the genocide's technological, political, and economic effects on the international community; and small, yet impactful actions that students and the general public can take to support the Uyghur people. Turkel also elaborated in great depth on issues pertaining to freedom of religion and freedom of speech that have arisen as a result of the systemic cleansing of the Uyghur community.
Barclay kicked off the conversation by introducing Turkel, author of the recently published book, No Escape: The True Story of China's Genocide of the Uyghurs. Born in a re-education camp at the height of China's Cultural Revolution, Turkel has played an integral role in amplifying the voices of the Uyghur community and calling upon the international community to take proactive steps to combat the ongoing genocide, which is now in its sixth year.
"I've seen how Commissioner Turkel is really effective in working across party lines and reminding people how religious liberty is not a partisan issue; it's not a political issue. It's something that is core to what it means to be human," Barclay said.
In May 2020, Speaker of the House of Representatives Nancy Pelosi appointed Turkel as a Commissioner to the U.S. Commission on International Religious Freedom. In September 2020, he was named one of the TIME 100 Most Influential People in the World. And, in June 2021, the Religious Liberty Initiative honored Turkel with the first Notre Dame Prize for Religious Liberty. He has successfully supported and represented over 150 Uyghur political refugees with their asylum applications in the United States. Currently, Turkel is working with the Notre Dame Religious Liberty Clinic students on an amicus brief in Argentina, advocating for the rights of Uyghurs in China.
His unwavering commitment to raise awareness of the atrocities faced by the Uyghur people draws from personal experience. Turkel's father was sent to a forced labor camp in the 1970s, while his mother was sent to a re-education camp, where she was beaten and suffered immense pain giving birth to Turkel while being held in captivity in China. 
The last time that Turkel saw his mother was in 2004, when he obtained his juris doctorate degree from the American University Washington College of Law. Now, Turkel has been sanctioned by China for speaking out against the country's human rights abuses. He is unable to visit his mother in China, and she cannot leave the country to see him or meet her grandchildren in the United States either. "I do not think that I will see her again in this life," Turkel expressed. 
He described the re-education camps in detail, noting the disturbing and striking commonalities between the plight of the Uyghurs and that of Nazi Germany. "Based on the United States Government estimate, since late 2016, the Chinese government has locked up anywhere between 2 to 3 million Uyghurs in industrial-scale concentration camps that the world has not seen since the Holocaust era," Turkel said. Upon conducting research for his book, Turkel observed that the conditions are "horrifyingly similar to what the Nazi regime did," from forced labor to forced separation of families. In fact, as of 2022, 800,000 Uyghur children have been separated from their family members, which Turkel described as a "genocide against children." Children are being brainwashed and forced to dissociate themselves from their biological parents.
Similarly, Uyghur women are being controlled; they have been subject to forced sterilization and sexual violence. In his book, Turkel refers to China's widespread abuses as a "war on Uyghur women," who are given pills to control their emotions, even after they are sexually assaulted. Now, China is allegedly developing brain-control weaponry to paralyze and control people.
"Re-education is essentially human re-engineering," Turkel said. "Re-education is a euphemism," Barclay expressed, to which Turkel agreed.
In addition to large-scale psychological and physical violence and displacement faced by the Uyghur community, Uyghur Muslims in Xinjiang are facing religious persecution. "Abrahamic religion and communist ideology are not compatible," Turkel stated, characterizing the two as "ideological competition." Today, China is facilitating a project to rewrite the Quran and Bible to reflect socialist values.
"Freedom of religion goes in the face of Communist ideology … China sees the Uyghur community as a threat. There is a disloyalty concern, as well as political unrest," he said.
As China perceives religion, particularly Abrahamic religion, as an "existential threat," the country has forced Uyghur people to contradict their faith in multiple ways. "In April 2017, the legislative body … essentially criminalized 48 behaviors: growing a beard, wearing a religious outfit, praying, keeping a prayer mat or religious text, adhering to holidays, refusing to smoke or drink," Turkel said. Moreover, some places of worship have been turned into theme parks. He also cited an example of a cemetery for the Uyghur being demolished and turned into a site for a hotel project.
Amid repression of the Uyghur Muslim community, China is engaging in "digital dictatorship" to monitor every aspect of Uyghurs' lives. The country is perfecting its authoritarian approach by utilizing new digital tools of oppression; the Uyghurs are forced to put a QR code on their doors and to surrender their phones in certain areas to be scanned. In addition, China has downloaded the purchase history of several Uyghur people.
China is already exporting surveillance technology to authoritarian regimes, enabling governments around the world to monitor and restrict their citizens' access to data.
"I'm afraid that if we do not push back, if we don't take this seriously, our privacy, our freedom, our way of life will be threatened by this new norm that China is creating," Turkel said.
Toward the end of the event, Turkel encouraged the attendees to be cautious of products made in China, specifically cotton products. He explained that 80 percent of cotton exported from China is farmed by Uyghur forced laborers in Xinjiang, and many of these cotton products are sold in the United States. 
Marie Valdez — a second-year student at Notre Dame Law School — reflected on some of the key takeaways she got from the discussion, stating, "I also valued the advice Mr. Turkel offered about being more mindful about our decisions as consumers, reminding us that our decisions about what we buy have the potential to influence political and economic forces abroad." 
Last year, the Uyghur Forced Labor Prevention Act was signed into law by President Joe Biden. The act aims to hold American companies accountable and prohibit imports made by forced labor into the United States of products made in Xinjiang. Turkel played an integral role in calling on Congress to pass this legislation.
Michael Walker — also a second-year student at Notre Dame Law School — was one of the attendees who found the recent event with Turkel powerful and eye-opening. "Religion, and the freedom to practice your faith freely, is limitless in value. Justice and peace are the fruits of religious belief. To protect religion is to protect humanity," Walker said.
The plight of the Uyghurs has affected global communities in both subtle and overt ways, including the National Basketball Association. As an avid basketball fan, Walker was inspired to attend the event after the Chinese repression of the Uyghurs garnered widespread media attention from a tweet by former General Manager of the NBA's Houston Rockets, Daryl Morey, and LeBron James' criticism of Morey. During the event, Turkel briefly spoke about the relationship between the NBA and the Uyghur crisis, noting that professional basketball player Enes Kanter and Morey have both lost their jobs for speaking out against China.
The Uyghur crisis has catalyzed international responses that address the genocide and uplift and strengthen the Uyghur community, particularly in the form of education.
"I would like to aid in efforts to educate others about the Uyghur genocide. I have actually already shared the recording of Mr. Turkel's talk with friends and family," Valdez stated. "The main takeaway I got from the discussion was that there is a real and significant need for more education about the genocide. I believe that if more people truly understood the gravity of the situation, more action would be taken."