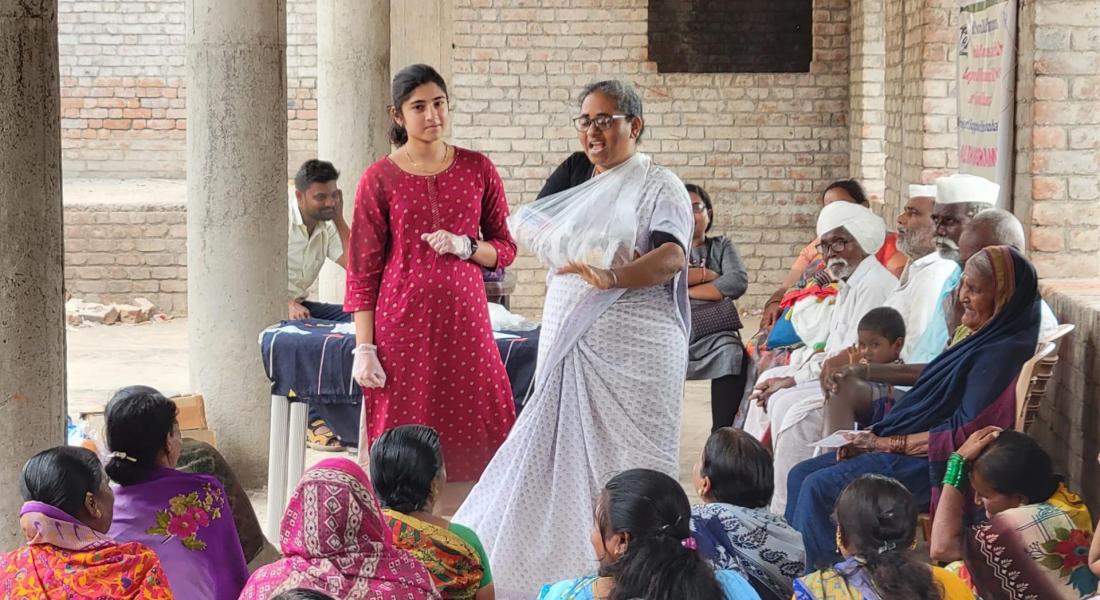 Rachael Thumma '26 (neuroscience and behavior) was funded through an Experiencing the World Fellowship to travel to India to work on her project, "Bijapur Emergency Medicine Education Project; India".
These past two weeks have been incredibly eye-opening, surprising, emotional, and fulfilling. Though I prepared myself to be surprised, I went in thinking I knew what I would see and experience. I had experienced small villages in India, how different could this be? Turns out it can be very different! Upon my arrival, I had two days to adjust to the timezone and the work that will be done, as well as start spending some time with the orphans. After that, we set out to the first village for the health education and awareness camp. The nuns of the convent have actually partnered with the local Jesuit priests and a medical coordinator from Doctors without Borders to develop a program that connects all of the villages/slums in the districts and brings health education and basic check-ups to all of the people in the area. During my month here, I have been added as a part of this program and travel with the team to each village and teach first aid/emergency medicine. I also help with their checkups by taking blood pressures (it's electronic so I just put it on and write the numbers). After each camp, we spend a little time talking with villagers and especially community health coordinators in charge of that area. During this time I have also given the health coordinators (if the community has one) a copy of my curriculum in Kannada so they continue to spread awareness and educate with it. Each village is in the same Bijapur District but due to poor road conditions and India's infamous traffic travel does take quite a bit of time. If we are able to come home earlier, I try to spend some time speaking to the orphans in English (to help them learn) and helping them with some of their homework. Many times though, we will be out for 11 hours at a time! We have decided to hold only two sessions at each village because that usually is able to cover everyone who is able to come (those that work the fields and work switch out to come to the lessons for either session). As such, we were able to help five villages already and I have additionally taught my first aid lesson to a community support group of HIV patients last Sunday, educating a total of just over 400 people already!
The nuns at this convent are so absolutely wonderful. They have been treating me with the utmost love and care. One of the nuns (Sr. Amala) is a wonderful cook and makes all of our meals from fresh ingredients! Sr. Shanthi is an absolute superhuman. As I watch her care for all the orphans like her own children, while simultaneously caring for each of her patients, while simultaneously handling all the financials of the center/convent, and also accompanying me to the health camps each day. I am filled with nothing short of awe. She is a joyous, loving person at all times and is definitely one of the best role models I have had the opportunity to meet.