Research
When 'Number Two' is Public Enemy Number One: A Study on How Women Experience the Consequences of Open Defecation in Rural North India
Kellogg/Kroc Undergraduate Research Grants
Adviser: Susan Ostermann
Final Report:
This summer I had the privilege of spending eight weeks in the state of Haryana, India. I spent my time there conducting surveys in two rural villages in the city of Sonipat. The surveys were designed to answer questions related to the problems that open defecation can cause for women. Open defecation is still practiced by over one billion people worldwide, with over 600 million in India. Open defecation can lead to many health problems, most specifically fecal-oral diseases such as cholera and polio. I spent the summer learning more about why some people still do not have toilets and how women in particular are affected by the practice. I chose to focus my study on women because most of the previous studies on the subject are not gender-specific and women are at greater risk due to the practice of open defecation, especially during pregnancy. This summer gave me the opportunity to learn directly about the many barriers to ending this practice.  My time in India as a whole was very rewarding, but I did experience some challenges in both my research and in adjusting to being abroad in a developing area.
When I arrived in India in the middle of May, I knew I had a place to live and questions to ask, but there were still so many things that I did not know. I had spent over six months planning this trip and I had been well supported along the way, but I still felt unsure about how everything would come together. I did not know what villages I would be surveying. I did not have a translator. I had not been able to get a phone and SIM card. As much as I had prepared, I still felt fairly lost during that first week. No matter how confident you are in your ability to adapt, there will always be an adjustment period. It was lucky that the week I arrived, Dhiraj Mehra, a Notre Dame alum and director of the ND Mumbai Global Center, was in Delhi leading an orientation for two Notre Dame students doing an internship. He was kind enough to invite me to many of the activities he had planned for these students. Thanks to Dehraj I was able to get an Indian SIM card, learn more about transportation, engage more with the culture in and around Delhi, and overall become more comfortable with my surroundings. If I had not been given this opportunity, I do not think the summer would have gone as smoothly as it did.
The first major task that I faced when I arrived was determining in which villages I would conduct my surveys. I was looking to work in two villages, one where they had more progressive views towards women, and one where they had more traditional views towards women.  Information about these rural villages is not easily accessible, which made selecting  locations difficult. I was granted access to 2011 census data about the villages and that was where I discovered a variable that I could differentiate between the villages. The census data included literacy rates broken down between males and females. I noticed some villages that had extreme discrepancies between the two groups' literacy rates. I decided to choose one village with male and female literacy rates that were closer to each other and one village with a larger difference in literacy rates. I was hoping that these literacy rates would be indicative of the type of educational opportunities women were given in relation to men and therefore correlate to the general attitudes the villages held about the status of women. My observations in the villages supported the presumptions I had made based on this data.
I was able to start surveying in the villages at the start of my third week in India. I had been able to find a student at Ashoka University that I could hire as a translator. Her name was Simran and she was an invaluable resource for me throughout my research. Not only was she an excellent translator, but she also provided me with insight into different cultural norms and customs that are not easily googled. After getting to know each other, Simran and I traveled out to our first village, Badzipur Saboli. Badzipur Saboli is a medium-sized village (~4000 people) with a difference between male and female literacy rate of a little under 13%. The village is located fairly close to the highway that runs through Sonipat. There is a trend that villages close to the highway are more developed. There are a few large factories outside of Badzipur Saboli which employ many in the area. The majority of people are Jat which is an Other Backward Caste (OBC) while a minority are in the lower caste level of Scheduled Caste (SC). I spent three weeks in Badzipur Saboli and I was able to survey 50 women from different households. I had hoped to do more surveys in this amount of time, but we were only able to be out in the villages in the morning hours because the afternoon sun made it too hot to safely be outside for long periods of time.
The last three weeks were spent in Memarpur. Memarpur is also a medium-sized village (~2500 people) but the difference between male and female literacy rate is around 25%, one of the largest disparities in Sonipat. The village economy is based mainly on agriculture. Most families in the village who are in OBCs own their own land that they farm. Members of SCs do not typically own farmland and work as laborers for those in higher castes to make a living. The Saini caste holds all of the political power in Memarpur, while members of other castes, especially Muslim castes, have little influence in the community. During my three weeks in Memarpur, I was also able to complete 50 surveys.
My first observations in each village showed the difference between how women are treated. In Memarpur, if a man approached us while I was surveying a woman, she would pull up her headscarf to completely cover her face. If it was a male relative who approached she would often tell us to ask him any questions we had left and she would go inside her home, leading to an incomplete survey. In Badzipur Saboli, if a man were nearby the women would not change their demeanor or appearance. The men who approached us were more intrigued as to why a foreigner was in their village, while in Memarpur the men were more concerned as to why I was only talking to the women and worried about what was being said. It was also more common in Memarpur for me to be asked questions about why I did not yet have a husband or kids. All of these observations can be further used as evidence to show that Memarpur was less progressive  in its view towards women than Badzipur Saboli.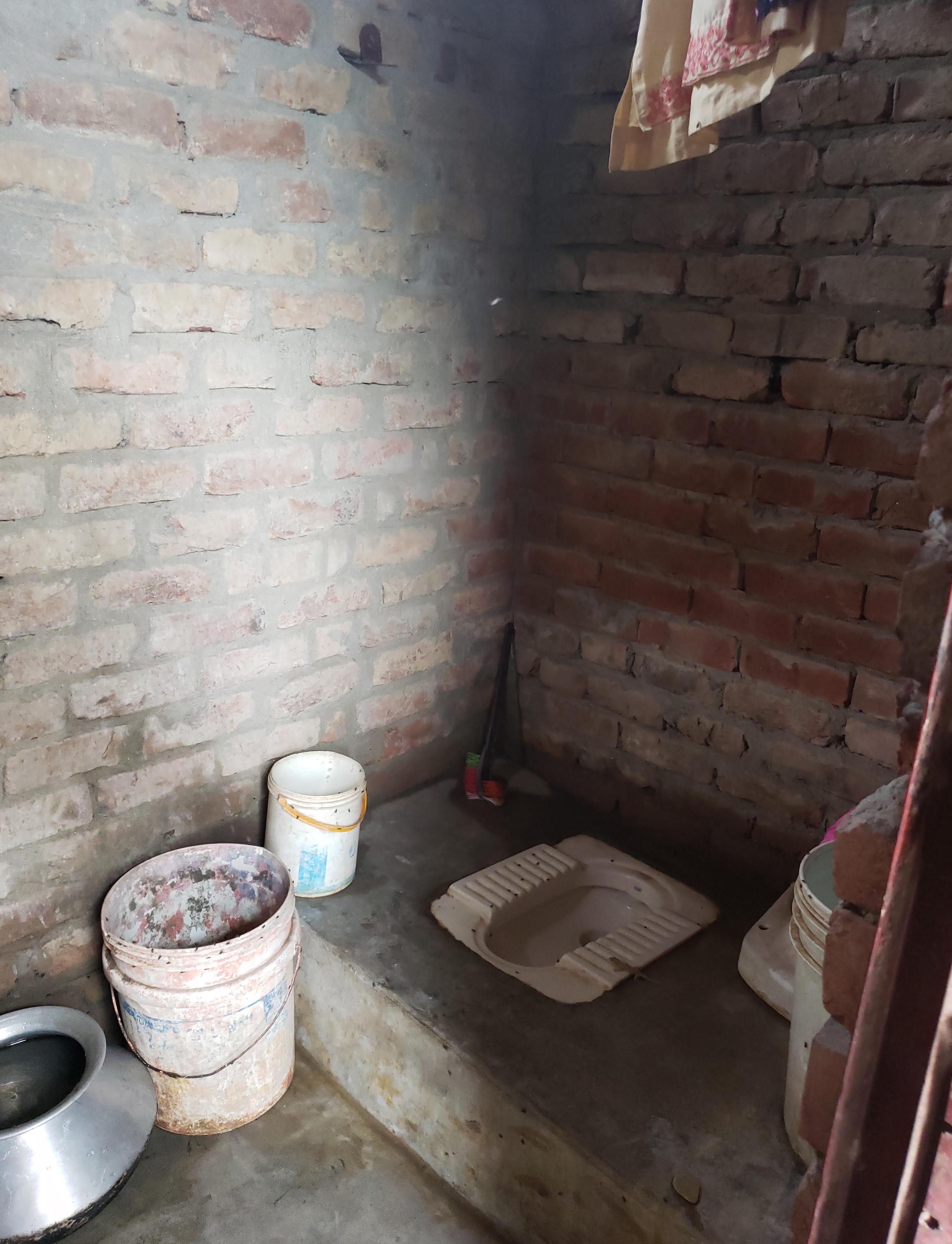 There was a clear difference in open defecation rates in Badzipur Saboli and Memarpur. In Badzipur Saboli, 24% of the women surveyed had practiced open defecation in the past year and of those women, 14% practiced open defecation every day. Memarpur had much higher rates, with 55% of women having practiced open defecation in the last year, and 39% of those women doing so every day. In Badzipur Saboli it was mainly women from the lower SCs that practiced open defecation and did not have access to a latrine, while in Memarpur women were spread across different levels of castes but were primarily not a Saini, part of the group with political power. Memarpur also had higher rates of symptoms related to open defecation: 49% of women compared to 32% of women in Badzipur Saboli. On average women in Memarpur said their defecation habits cause them stress to higher degrees than the women in Badzipur Saboli. These results could be related to the fact that Memarpur is less developed and provides less economic opportunities than Badzipur Saboli. These results do act as support for my original hypothesis that women would be more affected by open defecation in areas with less progressive views towards women.
One key difference between the problem of open defecation in each village relates to how the caste system plays a role. In Badzipur Saboli, most people who are Jat, the higher caste in the village, would say that everyone had a latrine in the village and no one practiced open defecation. When we talked to women from lower castes, we learned that these women did not have latrines and had no choice but to openly defecate. It is hard to know whether the women who told us everyone had a toilet were purposely misleading us or if they simply paid no attention to those in lower social classes and did not know. In Memarpur, people without toilets came from different levels in the caste system but were mainly in an outgroup from the community leader, a Saini. It became clear that all help coming from the leader was disproportionately helping Saini families. The complexity of the open defecation problem is only made more intense when caste plays a role.
At this point, I have only done a preliminary analysis and still have a large amount of data to analyze. I am currently working on a semester-long capstone paper that will fully cover everything I learned through my surveys and observations. I will be submitting my project for presentation at the Human Development Conference, held at the University of Notre Dame in the spring. I will also be sharing my research with the faculty I collaborated with at Ashoka University in the Trivedi Centre for Political Data. This summer would not have been possible without the support of my advisor, Professor Susan Ostermann, the faculty at the Trivedi Centre, especially Hem Nath Mishra and Priyamvada Trivedi, and my translator Simran Saini. Overall this was an incredible experience and I was able to learn more than I ever could have predicted about an issue I have become very passionate about in the last year and that affects so many people worldwide.