Research
Preconceptions in Health Care: Analyzing Power Dynamics in Physician-Patient Social Relationships of Ghana
Kellogg/Kroc Undergraduate Research Grants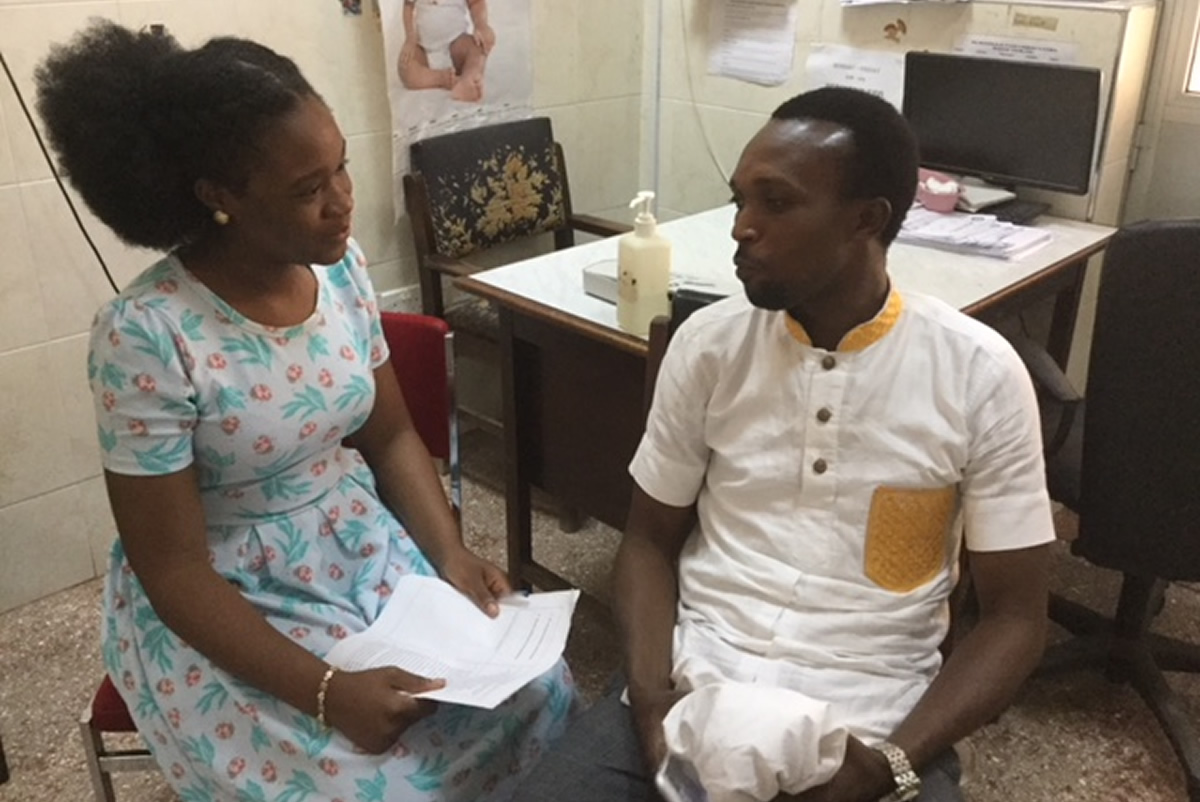 On Saturday, June 16…
It is interesting to see how much has changed and what I missed the first time at Komfo Anokye Teaching Hospital (KATH). I initially thought that consultations only took place on Mondays and Thursdays, but it turns out that they occur every day of the week besides Friday. I also planned to interview physicians before patients, and as a result of how busy they are I was only able to recruit four doctors during my first week.
The research assistant that KATH gave me suggested going ahead and interviewing patients and observing consultations before interviewing the doctors. I thought about this and how it would change my initial plans for analyzing my data and organizing my data, but then I figured it was a good idea and I implemented his suggestion. 
So far, I have had a wonderful time interviewing. It is meaningful when participants laugh, get angry or sad, and are willing to share additional information that I did not even ask for. From the length of the interviews and the amount of details and stories that participants are willing to share, I can tell that the topic is one that troubles both doctors and patients. 
One thing that I have been complaining about is what I perceive to be a lack of organization for the consultations. Nurses do not know which doctors will be in for the day, patients are not given an appointment time, it is first come-first serve, doctors do not know which patients they will see for the day until the patient comes in (the doctors get the patients' folders as the patient comes in and they have to go through their folder before beginning the consultation). It makes it a bit hard for me to plan in advance, organize, and prepare things, but I have learned to just go with the flow. I now have a better understanding of why patients are given that name - "patient". Doctors bring up some of these issues and frustrations during the interviews, and I have asked why don't they just push for change and they say that is just how it's always been, and I find that attitude to be very interesting. 
It is also very important that I keep reminding myself that these structures/procedures are probably the way that they are for a certain reason, and so if it bothers me then I have to learn why things are the way they are before trying to make any suggestions. That is what I think the essence of conducting research is: gaining of better understanding of why things are the way they are in order to be better informed for action and change. I have to keep reminding myself to remain in a position of humility because I am here to learn and hopefully, one day, I can use what I have learned to advocate for what I am passionate about.
Final Report
Having explored the impact of religious language on physician-patient interactions in Ghana last summer, I decided to return and study what most participants described as the disproportionate power dynamics and the miscommunication that exists between physicians and patients. This summer, being funded with a Kellogg/Kroc Undergraduate Research Grant, I sought to explore how physician and patient preconceptions of their relationship affect the power distribution and patient satisfaction of care in physician-patient interactions of Ghana. Ultimately, I wanted to understand which preconceived thoughts existed, in order to identify how the healthcare system is portrayed by Ghanaians, to set up a foundation for determining what efforts can be taken to make that portrayal more attractive in order to increase the use of health services by Ghanaians.
I interviewed 30 patients and physicians at Komfo Anokye Teaching Hospital in Kumasi, Ghana, hoping to learn more about their expectations of the roles that physicians and patients play during consultations. I used vignettes in conjunction with these interviews to help elicit the preconceptions that each participant has regarding the physician-patient relationship.  I then observed power dynamics during ethnographic observations of consultations in order to compare the attitudes and perceptions of the participants with their actual behaviors.  After the consultations, I interviewed patients a final time to determine their satisfaction of care using questions from the Patient Visit-Specific Questionnaire developed by Davies and Ware.
I hypothesized that physicians who preconceived the physician-patient relationship to be more reciprocal would tend to be less paternalistic during interactions. Similarly, I hypothesized that patients who preconceived the physician-patient relationship to be more reciprocal will participate more actively during interactions and have a greater satisfaction of care. My findings suggested that preconceptions on reciprocity and how they correlate to behavior varies depending on the interaction. A very interesting recurring theme found in the interviews was how the stress of consultation day for both patients and physicians affects their views about each other. Among the many factors contributing to the stress of consultations, one of the most common factors that patients described was the length in waiting time and one of the most common factors that physicians described was the doctor-patient ratio.
Despite having already conducted research at Komfo Anokye Teaching Hospital, I did not anticipate facing the challenges that I encountered during my fieldwork experience. It was interesting to see just how much had developed since the previous year and to notice how much I had missed during the last year. These changes required me to be flexible with my methodology and strategize efficiently when things did not go as planned during the data collection process. For example, I originally planned to interview physicians first and then interview the patients that they consulted. However, due to the busy schedules of physicians and the manner in which patients were assigned to physicians, I realized that my original plan would not be feasible. Instead, I interviewed patients first, kept record of which physician they saw, and then scheduled interviews with those physicians. Despite facing challenges such as this during the research process, I enjoyed learning how to be adaptable, communicate efficiently, and maintain a humble and optimistic attitude.
Another challenge that I faced included discerning the role of the researcher. As mentioned before, consultation day is stressful for both patients and physicians alike. As physicians and patients brought up some of the issues and their frustrations about consultation during the interviews, and as I observed much of what they were describing, I was tempted throughout the period of my study to immediately begin providing suggestions. I found that it was very important for me to keep reminding myself that these structures and procedures were probably instituted for specific reasons. This realization further compelled me to delve deeper into learning why things are the way they are before trying to enact change. That is what I believe is the essence of conducting research. Through research, we are to gain a better understanding of why things are the way they are in order to be better informed for action and change. I had to keep reminding myself to remain in a position of humility because I was there to learn and, hopefully one day use what I have learned to advocate for what I am passionate about.
Despite the many challenges that I faced during the course of research, I also enjoyed many rewards. It was very meaningful to me when participants were willing to place trust in me and share their personal heartfelt stories, insights, and views. These allowed me to gain a richer understanding of healthcare in the Ghanaian context. I came to understand some factors thatmost Ghanaians consider to be the most important in cultivating quality healthcare, and these are things that I will focus on as I continue to progress towards a career in global health, contributing towards efforts in meeting the needs of patients in all areas of their healthcare experiences.
I thank Kellogg immensely for providing me with the opportunity of further enriching my understanding of what is at the core of true sustainable development: recognizing human dignity. My Kellogg experiences have left me with the important lesson that we can only make great contributions to human development once we value the inherent value of each soul and humbly enter into the lives of those with whom we wish to collaborate.
Adviser: Paul Ocobock