Kellogg at LASA2020
Doctoral Student Affiliate Luis Schenoni, former Doctoral Student Affiliate Sean Braniff, and coauthor Jorge Battaglino (University Torcuato Di Tella) will receive the 2020 award for Best Article on Defense, Public Security and Democracy by the Latin American Studies Association (LASA) for their article "Was the Malvinas/Falklands a Diversionary War? A Prospect Theory Reinterpretation of Argentina's Decline." Read more...
Schenoni will also receive the award for Best Paper on Political Institutions, his second LASA prize. Read more...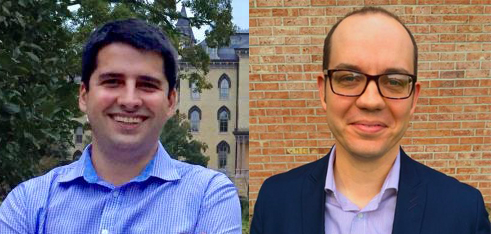 Listed below are current Kellogg Institute scholars participating in this year's virtual LASA2020 Congress.
 
Wednesday, May 13, 11:00am to12:45pm
Panel: Latinoamérica: Fuerzas Armadas y relaciones cívicomilitares en un entorno desafiante
Kellogg Doctoral Student Affiliate, Luis L. Schenoni (Presenter)
Paper: Revisiting War and State Formation in Nineteenth-Century Latin America
Wednesday, May 13, 1:00pm to 2:45pm
LASA Section Panel: 150 años después: huellas, silencios y signos en torno de la Guerra de la Triple Alianza (1864-1870)
Kellogg Faculty Fellow, María Rosa Olivera-Williams (Session Organizer)
Wednesday, May 13, 1:00pm to 2:45pm
Roundtable: Hispaniola Studies and Améfrica-Ladina: New Research Directions
Kellogg Faculty Fellow, Karen Richman (Session Organizer)
Wednesday, May 13, 5:00pm to 6:45pm
Panel: Religión y Participación Política Conservadora en el Perú
Kellogg Doctoral Student Affiliate, Omar C. Coronel (Session Organizer and Presenter)
Paper: El contramovimiento conservador en el Perú: la emergencia de una nueva sociedad civil
Thursday, May 14, 9:00am to 10:45am
Workshop: Las Obras completas de Rubén Darío y su Archivo digital: vinculando mundos, saberes y disciplinas
Kellogg Faculty Fellow, María Rosa Olivera-Williams (Presenter)
Thursday, May 14, 11:00am to 12:45pm
LASA Selection Roundtable: The Politics of Institutional Weakness: Lessons from Latin America
Former Kellogg Faulty Fellow and Visiting Fellow, Daniel M. Brinks (Session Organizer)
Kellogg Faculty Fellow, Aníbal S. Pérez-Liñán (Presenters)
Thursday, May 14, 11:00am to 12:45pm
Panel: Emisarios, diplomáticos y misioneros de la Revolución: Redes transnacionales de la revolución en Latinoamérica durante el siglo XX
Kellogg Doctoral Student Affiliate, Jorge Ivan Puma Crespo (Session Organizer, Chair, Presneter)
Paper: "Cristianos por el Socialismo en Torreón" Latin American Network of Radical Catholics and the Diocesan Priest Involvement with Maoist Politics in northern México
Thursday, May 14, 1:00pm to 2:45pm
Panel: Engineering Modern Mexico: Technology Transfers and Political Change in Porfirian and Revolutionary Mexico
Kellogg Faculty Fellow, Ted Beatty, (Presenter)
Paper:  Engineers, Mexico, and the Globalization of Expertise, 1870-1930
Thursday, May 14, 3:00pm to 4:45pm
Panel: La comunicación audiovisual y la memoria transmitida
Kellogg Doctoral Student Affiliate, Ruth N. Solarte Gonzalez (Discussant)
Kellogg Faculty Fellow, María Rosa Olivera-Williams (Presenter)
Paper: Tango y cine: la complejidad del imaginario nacional a través de la cultura popular
Kellogg PhD Alumnus, Santiago M. Quintero (Presenter)
Paper: Archivos de (Pura) Sangre: Capitalismo, cine y monstruosidad
Friday, May 15, 9:00am to 10:45am
Panel:  Escenas de traducción en las literaturas de Améfrica Ladina (I)
Kellogg Faculty Fellow, María Rosa Olivera-Williams  (Chair)
Kellogg Doctoral Student Affiliate, Ruth N. Solarte Gonzalez (Presenter)
Paper:  Vestigios del flâneur y la ciudad letrada en la figura del narrador-traductor de 'La virgen de los sicarios' de Fernando Vallejo
Friday, May 15, 11:00am to 12:45pm
Panel: Escenas de traducción en las literaturas de Améfrica Ladina (II)
Kellogg Faculty Fellow, María Rosa Olivera-Williams  (Chair)
Kellogg Doctoral Student Affiliate, Ruth N. Solarte Gonzalez (Discussant)
Friday, May 15, 11:00am to 12:45pm
Panel: Long-Run Perspectives in Latin American IR
Kellogg Doctoral Student Affiliate, Luis L. Schenoni (Session Organizer)