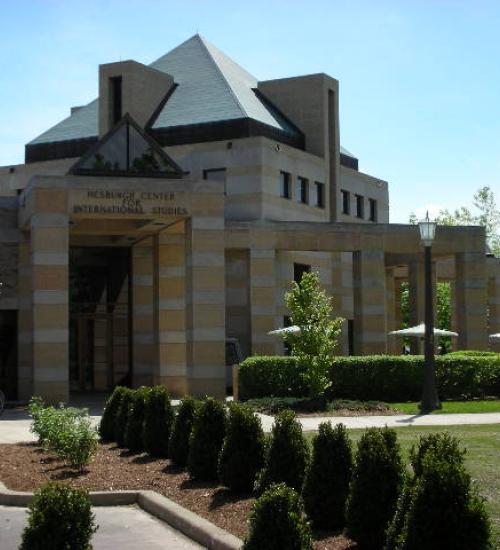 Grants for Notre Dame Faculty
Course Development
The Institute offers funding for Notre Dame faculty members to expand undergraduate course offerings in areas related to the Kellogg research agenda.
Course development grant proposals are first screened by Kellogg academic program staff.  Proposals are then reviewed by the Kellogg grants committee, an interdisciplinary committee of faculty fellows.  Accordingly, applicants should make sure that the importance and originality of the course are clear to someone outside the applicant's discipline.
Proposals will be evaluated based on the following criteria:
Relation to Kellogg core research theme(s) of democracy and/or human development
Potential for contribution to the undergraduate curriculum at Kellogg
Potential student demand for the course
Extent to which it will meet existing needs or address gaps in the curriculum
Potential for attracting new students to Kellogg undergraduate programs and/or international studies
Extent to which the course will build on traditional Notre Dame strengths or emerging areas of expertise
Multidisciplinary makeup (for team taught courses)
Overall quality of the proposal including professional presentation (e.g., spelling, grammar, and accurate budgeting)
Budgetary appropriateness (i.e., the requested expenses are justified as necessary)
Allowable Expenses
Funding is available to develop courses during the summer before offering them during the subsequent calendar year. (For example, a course developed during summer 2019 must be offered by the end of calendar year 2020.)  Awarded funds may be used during the summer development phase or to enhance the course the first time it is offered. Funds not encumbered by the close of the semester in which the course is first offered will be returned to Kellogg.
Funding is available for a variety of project costs, including but not limited to the following:
PERSONNEL - Includes faculty stipends and research assistance.
TEACHING MATERIALS - Includes books and computer software (but not hardware).
TRAVEL -  Includes faculty or visitor travel expenses such as airfare, ground transportation, and lodging. Note that funds are not allowed for student travel.
Funding Amount
A maximum of $4,000 is available per grant, including a summer stipend of $2,500 for an individual faculty member, or $1,500 each for two faculty members developing a team-taught course. Up to $1,500 may be budgeted for supplementary funding to be used during the summer development phase or to enhance the course the first time it is offered.
In all cases, final determination of the amount awarded is at the discretion of the grants committee and will depend on their assessment of the specified needs in the proposal, budget, and justification.
Applicants must notify the Kellogg Institute of any funding received from another source; the Institute may adjust the award accordingly. No duplicate funding (that is, funding for the same purpose) is allowed.
NEW in 2018: All applicants must use the online portal for proposal submission and complete all requirements listed therein.  
Proposals are evaluated three times per academic year by a faculty grants committee.
Submission deadlines for the 2018–19 academic year:
Monday, September 24, 2018
Monday, January 28, 2019
Monday, April 8, 2019
Applicants are encouraged to contact Managing Director Sharon Schierling (1-8524; sschierl@nd.edu) to discuss proposals prior to submitting for committee review.
The complete application will require:
A brief abstract (150 words)
A full description of the project which clearly identifies:
- the international educational goals
- its relation to the thematic priorities of the Kellogg Institute
- how it will contribute to the Kellogg undergraduate curriculum
- the connection between the course and applicant's academic work or educational goals
- teaching methods and materials to be used
- the department(s) in which course will be offered
- proposed level of the course
A course development timetable
A list of other sources from which the applicant is or will be requesting funding
A letter of support from department chair or chairs in the case of team taught courses
A short bibliography
A detailed line-item budget (see budget template below); and
A narrative budget justification that provides an explanation of the need for each line item in the budget and indicate whether Kellogg support is being requested for specific line items.
NEW in 2018: All applicants must use the online portal for proposal submission and complete all requirements listed therein.
To view a tutorial on the online portal, please click below.