Research
Uncoordinated Health Networks: Exploring Gaps in Healthcare for Mexico City Garbage Dump Dwellers
Experiencing The World Fellowships
Mexico - 2017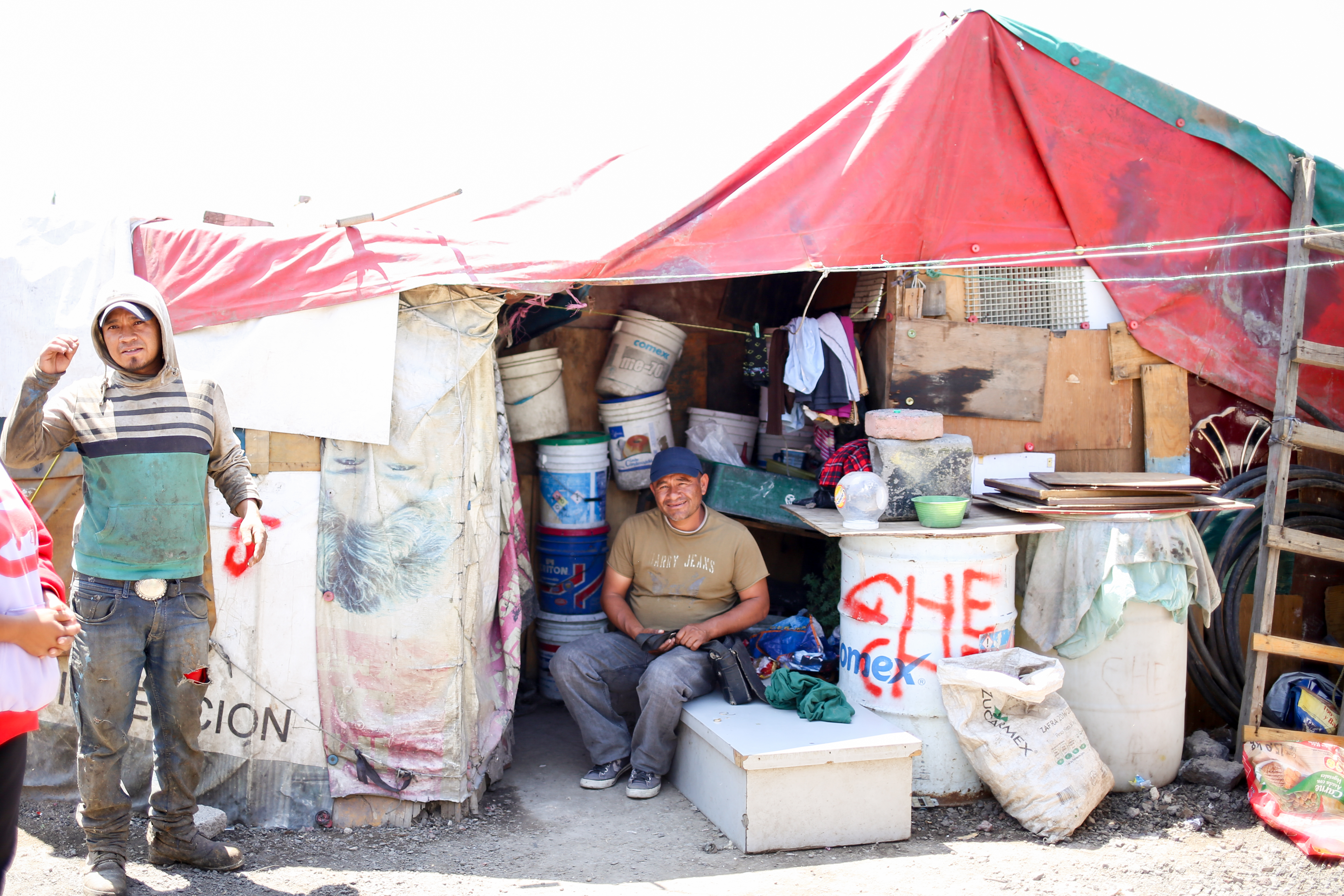 Though I had sampled bits of the world before in various travel destinations, my Experiencing the World (ETW) fellowship research period allowed me to "experience the world" in a deeper, more personal sense –to understand and appreciate a place in its complexity. I had visited Mexico twice before this summer, and while I considered my time serving families in a garbage dump perhaps more authentic than the typical Cancun resort, I still knew only one limited piece of a multi-faceted country. A nation of contrast, Mexico pulsates with culture and beauty that juxtapose, yet do not negate, its also prevalent poverty and corruption. Throughout the course of my research, I encountered more real-life nuances such as this, not only broadly within the scope of Mexico, but also in my individual journey.
Stemming from my two prior medical mission trips to Mexico City's Nezahualcóyotl garbage dump, I designed this summer's research as an exploratory project to set the stage for a more extensive capstone study during the summer of 2018. I paired a specific focus on the lack of continuous healthcare with the more general aim of gauging the most pressing issues of the communities living there. With six weeks divided into two stages, I began my research interviewing and observing middle-aged men and women of the Nezahualcóyotl dump, and afterward interviewed both medical and non-medical volunteers who administer to their needs. Though I had spent months of long days and nights preparing my research plans and enduring several rounds of revisions for the Institutional Research Board (IRB), in the end, I still had to accept the impossibility of being fully prepared to live and work abroad. I ultimately had to board the plane to Mexico with certain loose ends and insecurities, trusting that they would resolve on the ground. Fortunately, my plans did continue to align to form a valuable project.
The beginning presented especially difficult obstacles. During the first week, I had to prepare for the possibility of foregoing interviews in the garbage dump, as I was waiting for the IRB to approve my request for an oral consent process, and the ever-volatile nature of life in the dump could also have compromised my access to interviewees. Although I had requested and attained permission from the dump leaders several months in advance of my project's execution, I had to approach them once again when I finally arrived to confirm I still had the green light. To my relief, both dump leaders welcomed my efforts, and the IRB approved my request for oral consent the day before I was scheduled to begin interviews, thereby lifting large obstacles to realizing my research goals. At long last, I could now begin conducting what would be meaningful and informative interviews. 
During my three days in the dump, I successfully met my goal of interviewing nine people who work and/or live among the trash (colloquially " pepenadores"). Each interview helped me form a more comprehensive understanding of their lives, particularly regarding their access to healthcare. Over time, the injustices of their living situation became increasingly clear. Already locally perceived beneath Mexico City's general poor, these families live in huts constructed from trash without immediate access to potable water, electricity, or clean food. These conditions leave them vulnerable to serious health issues, including gastritis, infections, organ failure, and diabetes; yet few access Mexico's supposedly universal Seguro Popular healthcare. Teens and adults work long days, and sometimes nights, wading through mountains of garbage to sort plastics and recyclable materials. They average perhaps a dollar per day, although no one really knows how much they make. Sometimes they cannot even work because garbage trucks will not deliver fresh loads of garbage in the rain, which comes every evening during Mexico City's rain season from June through September. Though the recycling system thrives as one of Mexico's most lucrative businesses, amassing billions of dollars each year, powerful lords possess most of the gains, while the system's hardest working members are grossly underpaid. Thousands still choose to work in this unjust system as a pepenador because of the constant demand for their work, as well as the flexibility of independently worked hours. Many also find comfort in the work's familiarity, as their families have been living there for generations.     
In addition to these hardships, my experience in the dump emphasized an important contradiction. Opposing the popular conception, the families living among the trash transcend their living environment; though surrounded by constant destitution, suffering does not define their individual, or even collective, character. Rather, it only captures one factor influencing their complex lives. Several of the men and women I encountered during my three days there shocked and humbled me with their openness and trust as they shared their own deep, and often painful realities. Many responded to my fairly broad questions with specific accounts, ranging from health issues, abuses, and lost children to hopes and faith. Concluding my time in the dump, I carried all nine people's stories with me as I entered the next stage of my research, feeling their weight and realizing their elucidative value.
I spent the second, longer stage of my research transcribing my recordings and interviewing volunteers from a local university. Called "Integra Anahuác," the student-run university group operates several different programs to meet various needs in the dump. In addition to sharing stories they had heard during their time serving, the volunteers provided insight into both the Mexican health system and the social class structures that effectively "seal the ceiling" for Mexico's poor by feeding the conception that they are inferior persons. These destructive perceptions impact their views of self-worth and bar them from integrating into society outside the dump. What is more, the government's intentionally blind eye toward their existence and the fact that many lack legal citizenship further demote the dignity of the pepenador lifestyle, exposing families to horrors including kidnappings, rape, and scant access to resources.
Though most volunteers focused on the oppressive factors at the dump, some also shared stories that illustrated the possibility of attaining more dignified life and work in the dump. Surprisingly, these stories did not entail men and women leaving their lives among the trash for other occupations. Instead, the volunteers relayed stories of people drawing strength from things beyond their physical surroundings, such as their faith and values. Their ability to see beyond the immediate and think forward seemed to transform their sense of self-worth, enabling them to make simple, yet profound life changes, such as ensuring education and safety for their children or continuing to work with an elevated level of endurance and even happiness.
A surprisingly strong theme across all interviews, each volunteer held these issues of social identity and self-worth above all other needs of the people living in the dump, consequently leading me to recognize the profound importance of empowerment through dignity. Thus, although I began my research project focusing on gaps in medical care, I intend to shift my future research to study this question of dignity, with its practical, long-term value and implications.
Looking retrospectively at the start of my research, I had entered Mexico uncertain about my project, worrying about imposing my own agenda and feeling selfish in doing so. Yet, as people participated and shared their own stories, I came to realize that their contributions confer a new value to my work that extends beyond my own experience or agenda. This six-week stretch taught me invaluable lessons for my future as a researcher and individual; in addition to learning the true source of a project's worth, my initial uncertainties and reliance on other people's participation highlighted a humbling balance-point necessary for independent work: as I progress along my planned course of action, I cannot always realize every task single-handedly. Rather, I must often rely on the contribution of others to open doors for me and later have the clarity and courage to step through.