Research
WorldTeach, Casablanca, Morocco
Summer Entrepreneurial Internship Program
WorldTeach
Casablanca, Morocco
Summer 2017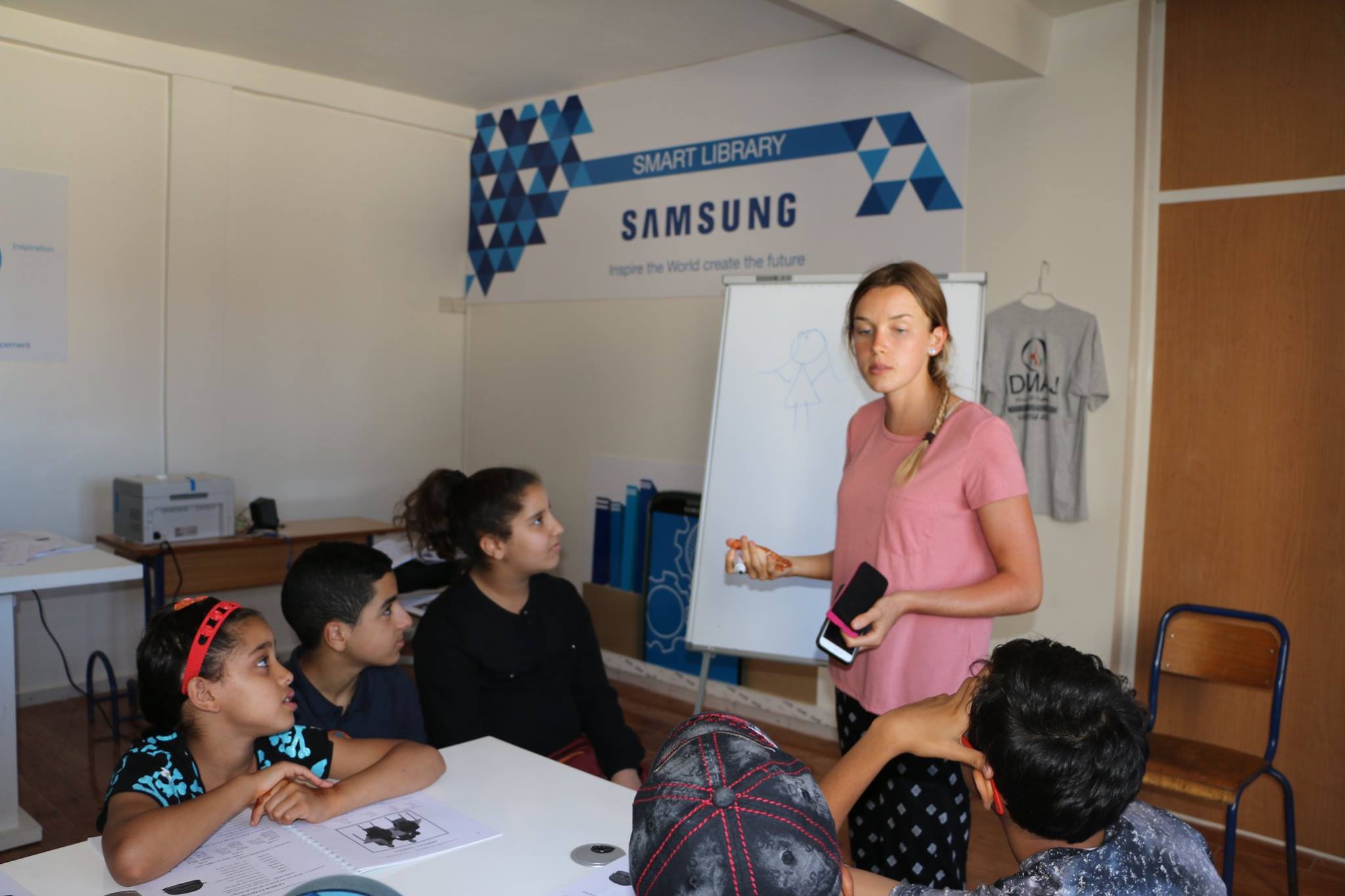 During my internship through the WorldTeach Morocco program, I was a volunteer teacher for a center located in Sidi Moumen, an impoverished region and former shantytown of Casablanca, Morocco. This Sidi Moumen Cultural Center, founded and run by the Neighborhoods Association IDMAJ, was created in response to the growing threat of terrorism as a safe and nurturing place for youth to come to form community, acquire new skills, receive tutoring, and engage in other various activities. Neighborhoods Association IDMAJ emphasizes the need for youth to form relationships not only with their peers but also with older, successful students who can serve as role models and positive influences on their lives. IDMAJ's director Mr. Mazoz works hard to bring many international volunteers to the center in order to expand the perspectives and worldviews of those who visit the center since these students do not have the financial means to visit other nations. Not only is the center a place for youth to come together, it is also a place for women in the community to learn sewing, cooking, and other skills as well as to offer each other support and friendship through daily life hardships.
At the center, my role was to teach English classes, lead a choir group, and assist in planning and managing various other activities such as roundtable discussions on current issues, sports games, and dancing. I taught two English classes to very beginning students everyday of the week for an hour each; to younger elementary aged students in the morning and to older high school students in the afternoon. I also was often called in to substitute for other volunteer teachers in their classes ranging from beginning to advanced English levels. As a choir director, I led a group of twenty students for an hour session twice a week; we sang through warm-ups, learned the American National Anthem, and sang along to popular American songs. Additionally, I organized a roundtable discussion, in which ten of the older students at the center and I discussed the rise of Islamophobia, women's rights in Islam, and current political affairs both in America and Morocco. Furthermore, I participated in other discussions between the American and Moroccan volunteers in which we exchanged opinions about culture, religion, and politics. Finally, I helped out with events such as our weekly Friday talent shows, visits from other American schools and government officials, and various performances. I was at the center from 10:00am-5:00pm every weekday throughout my eight week volunteer program as I submerged myself in all aspects of the center to become an integral part of its operations.
I believe that I was a successful volunteer at this center because I was able to effectively teach basic English even to my weakest students. I also formed lasting relationships with my students and other Moroccan volunteers at the center. Prior to this internship, I had never before taught, let alone teach English to a very beginning level class. There was a formidable language barrier between my students and me. However, I rose up to meet this challenge by devoting time to preparing for my classes and designing a curriculum that introduced my students to pertinent English vocabulary that they could use in real life scenarios. I only had eight weeks with my students, so I needed to decide which vocabulary would be most useful and how best to teach these new words to my students. Thankfully, I have intermediate Arabic and French skills, which meant that I was able to provide direct translations for most of the English words I needed to teach. However, I did not know how to translate some of the words into my students' language; consequently, I had to revert to a combination of charade's gesticulations and Pictionary drawings in order to get the meaning across. My students appreciated my, at times silly efforts to help them learn English, and I observed that my humor helped my students to feel more comfortable in the classroom and to better remember the vocab. When I first started teaching, my afternoon class was about fifteen students; however, by the end of the eight weeks, my class was over thirty students who all squeezed into my small classroom. The director of the center informed me that many of my students had recommended my class to their friends because I was able to directly translate to both Arabic and French and spoke English slowly and clearly enough for them to understand. As a result, my class size increased considerably and some of my afternoon students even started coming to my morning class as well in order to learn more English. This was so meaningful to me since it truly showed that I was making an impact in these students' lives who were so extremely eager to learn English in order to better their opportunities for future careers and educational experiences. My hard work and dedication actually made a difference.
As I mentioned, I believe that my students at the center did largely benefit from my English classes. By the end of my teaching experience, I was able to hold small conversations with my students whereas before we could only nod at each other and say hello. The center benefited from my commitment to planning and leading various activities as I contributed to expanding the opportunities available to participants at the center. Likewise, I believe that I also gleaned a lot from this volunteer experience, both in teaching my students and interacting with members of the local community. Because I have never taught before, each day was a learning process in which I largely improved my personable, organization, leadership, adaptability, and communication skills. I taught students who were close to my age, which meant that I needed to assert myself as a teacher without acting in a condescending or belittling manner towards my students. I formed strong relationships with both my students and my host family, and I believe that these relationships will carry on through online platforms such as WhatsApp and Facebook.
My Moroccan experience opened my eyes to a culture that was completely different than my own; this was the first time I have ever visited another country let alone live there for a significant period of time. I lived in an impoverished Muslim community that opened my eyes to other belief systems and world perspectives that I would not have been exposed to back at home or at Notre Dame. I learned so much about the Moroccan culture and Islamic philosophies; plus, I was able to further develop my language skills in Darija (the Moroccan dialect of Arabic), Fus'ha (classical Arabic), and French. I will never forget all of the people I met while I was there, and I hope that my students will continue in their English studies so that they may have greater opportunities in employment and education. I am so honored to have been able to impact their lives in this manner. Insha'Allah (hopefully) I will return to this beautiful country again!