Research
Foundation for International Medical Relief of Children, Bududa, Uganda
Summer Entrepreneurial Internship Program
Foundation for International Medical Relief of Children
Bududa, Uganda
Summer 2017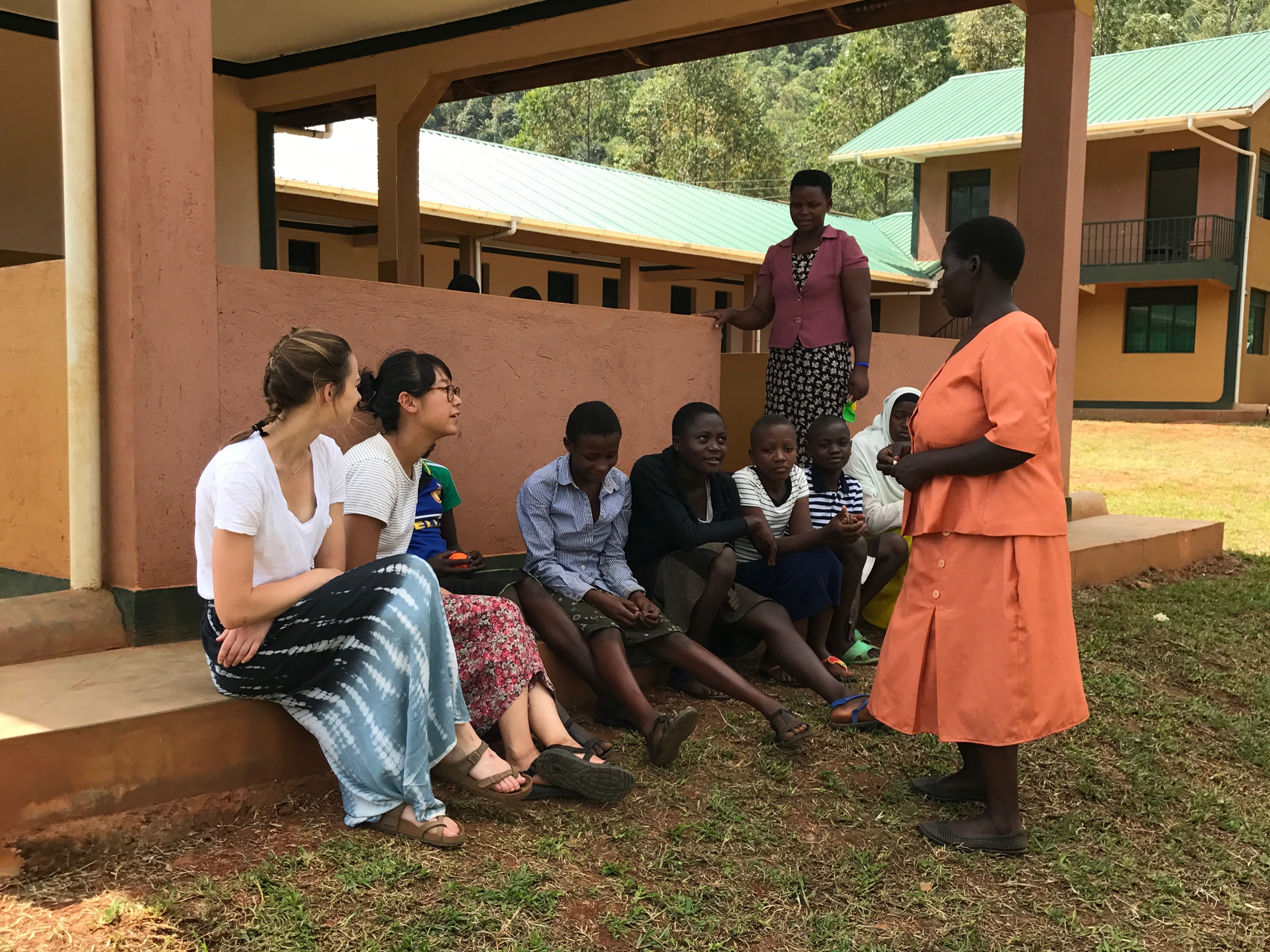 This summer, I spent eight weeks in Bududa, Uganda, volunteering as a fellow with the Foundation for International Medical Relief of Children (FIMRC).  FIMRC is an American non-profit organization that operates in nine different locations around the world with the goal of improving healthcare for families in developing countries. Bududa is a rural region of Uganda, often called the "forgotten district" due to the government's laissez faire approach to an area so far from the urban capital.  As a result, I had the opportunity to observe firsthand many disparities—magnified—between American healthcare and that of an under-prioritized region of a developing country.  Healthcare in in this part of Uganda is primarily accessed through free clinics across varying levels. FIMRC operates what is classified as a Health Center Level III. Essentially, this designation indicates they provide basic care and prescriptions, as well as some laboratory testing and are staffed with a clinical officer and registered nurses. 
Last spring, as I further researched Bududa and developed a plan for my internship this summer, I came up with a few goals for my experience. I aimed to experience and learn about the standards of patient care in Uganda and observe the quality of care; to elucidate the relationship between care and/or lack of care and the well-being of mothers; and to establish and grow my patient interaction skills.  I was also curious about how I would feel and perform in the environment.  I had an unspoken goal of being composed and managing any fear and discomfort of the unknown.  I planned on accomplishing these goals by shadowing in the clinic and working in outreach and education to develop my own approach to preventative care, while adjusting my approach to find one of maximum effectiveness.  Through shadowing and accompanying the Ugandan staff on home visits, I hoped to build a rapport and trust with members of the community.  Overall, I was determined to have an experience in Uganda that would educate me about healthcare in a developing country, therefore shaping my opinions about the field more broadly and in contrast with our own system of care in the U.S.
I worked primarily in the maternal healthcare unit, as I am particularly interested in obstetrics. One of my main responsibilities was accompanying the maternal outreach coordinator on her excursions into the community.  Bududa is a mountainous, rural region with a single main road.  Many of the smaller roads are only accessible by foot, so motorized transportation is sparse.  It is a challenge for many mothers, whether they are far along in their pregnancy or have a newborn, to simply have physical access to healthcare.  Kadija, the Ugandan maternal outreach staff member, and I would hike quite a few miles into the hills to visit the homes of such mothers. I would give a brief education on care, often focused on nutrition or proper breastfeeding habits, while Kadija translated. We would evaluate the mother's health, talk with her about how she was feeling, and encourage her to reach the clinic when she goes into labor.  If we were visiting a home with a newborn, we would check for common signs of infection or pneumonia, offer guidance on post-natal care, and refer the mother to the clinic if necessary.
Inside and outside of the maternal ward, I observed the level of personal investment that clinicians hoped to feel with their patients. On our hikes, Kadija and I would often miss lunch or work past her hours of pay because there was a mother just twenty minutes farther up the mountain—after we had already visited many others. Kadija gave women her personal cell phone number and was a sort of mentor to many of the younger pregnant teens with whom we met. When these women followed our advice and visited the clinic in person for their antenatal care, Kadija showed true warm emotion and clearly had pride in her role as a professional caregiver. Through this experience, I was given a wonderful appreciation for compassionate care and the effort necessary to truly care for patients holistically.  At first, I focused on the unique surroundings, but it did not take long for me to realize that the warmth and emotions connected to providing this truly valuable care transcend culture, economy or geography.  
Through this education, I also learned to adapt my approach with individuals to find one of maximum effectiveness.  The main challenge I noticed early on in the maternal unit was that women are somewhat embarrassed to admit they do not understand something or are confused by the medication they are taking. They will rather pretend to understand, but then continue their habits. Or, if they struggle with understanding the need for folic acid pills and iron supplements, they will simply not take the medication, rather than asking for help. So, I altered my approach to attempt more of an interactive setting during educational talks. For example, when I discussed building a nutritious meal with protein, carbohydrates, and vitamins, I would then challenge each of the mothers to pretend to build a nutritious dinner. We would talk about the benefits of a healthy diet, but also about the many options they have to prepare a balanced meal, with rice, beans, cabbage, posho (a starch made of cornmeal), milk, and/or tomatoes.
Many of the clinics in the Bududa village are government-funded and run, as opposed to the FIMRC, which operates as a non-governmental organization (NGO.)  I learned through interactions with patients and the many quality Ugandan staff that there are drastic systematic issues with these government aid clinics. For example, Ugandan healthcare is advertised as free of charge, but often healthcare workers in government clinics will only diagnose a patient for free. Some of these workers refer patients to their own drugstores in town —which may far exceed the budget of the local population.  This creates a very serious issue of trust between the community and the clinics.  This is something my clinic understood and worked hard to overcome.   I saw everyday how FIMRC strove to connect with its patients to build understanding and trust in the truly no cost care they provide.  At least in this instance, I saw a clear benefit of a valuable role played by a well-organized non-government organization (NGO).
Despite the far superior and preferable care that this particular NGO offers, I was initially shocked with their minimal resources. For example, the clinic does not have an ultrasound machine. It is common in Uganda, even in the government facilities, to not have one—the head midwife, Sarah, was not even trained to use an ultrasound during her midwifery diploma.  To me, an ultrasound would seem like a fundamental and necessary tool for prenatal healthcare.  In Uganda, and other developing countries, they find other resources to accomplish similar diagnoses. I learned from the midwives how to palpate the abdomen to determine the delivery date as well as the position of the fetus. We could tell from this whether the alignment was suitable for a traditional delivery, or whether the mother would have to be referred to the government hospital for a cesarean section. We also used a metal tool, shaped like a cone, that when held to the abdomen of the mother would amplify the heartbeat of the fetus. I was surprised by these developments and how such knowledge comes without what I considered to be a basic necessity—an ultrasound. 
I was challenged by experiences like this to think critically before I labeled a particular clinic or region as "resource-poor" or "underdeveloped."  I soon noticed that this way of thinking must extend beyond just applications to healthcare. My favorite quote from a Ugandan staff coordinator at the clinic, Richard, is: "Some people, they look at our country, and they say it is poor. Me, I look out, and all I see is green."  This summed up my experiences this summer incredibly well.  While, as a developed country, we frequently characterize Uganda as a "poor" region, I firsthand noticed the ways that the community appreciates their resources, their greenery, and their ability to adapt. It is easy to look at facts and data, and diagnose a region such as Bududa as resource-poor. There is no question that in many ways it is poor.  But, at least in terms of healthcare, I left my eight weeks feeling confident that providing quality healthcare is a result of adaptation to one's resources and to the magnitude of need in the community.  Thus, I prefer to describe a resource-poor area such as Bududa as caring and resourceful, two essential elements to quality care. 
My expectation for this summer was that I would get far more out of my experiences, intellectually and emotionally, than I could possibly give to the people or to the clinic. I arrived highly motivated to help in any way I could, but I tried to also be realistic about my capabilities and the situation. The FIMRC facility in Bududa is a self-sufficient clinic, operating efficiently and successfully with highly capable local staff. I had much to learn and I was blessed to have learned quite a lot.   However, I departed Uganda trusting my relationships with the organization and the staff at the clinic were meaningful, personal, and mutually beneficial.  I worked closely with the midwife as we altered our approaches with a goal of increasing the effectiveness of preventative care. Accompanying Kadija on outreach, we extended healthcare access beyond the walls of the clinic and in doing so helped inform the community of the benefits of the clinic and provided valuable information to improve pre- and post-natal care. I was frequently given feedback by the women we visited that they so appreciated the time that FIMRC volunteers and staff devote to their patients, and as a result these women promised to refer friends and family from their villages to seek care at FIMRC.
My experience in Uganda challenged me immensely and changed me in ways I am sure that I cannot yet fully appreciate.   My goals for the summer were focused on personal growth and education from experiences.  Upon arriving in Bududa, I was struck by what appeared to be suffering and clear poverty. It was so unlike anything I had ever experienced that my initial thoughts were less about my goals and more about the people and the community.  My views quickly changed, however, as I came to appreciate the resourcefulness, joy, and love of this wonderful community. I was welcomed almost instantly into the friendships between staff members, which allowed me to push past my own, initially ignorant perceptions, to open myself up to a summer of truly extraordinary experiences and deeply personal interactions.  Additionally, I came to recognize through consistent observation the importance of allowing oneself to become personally attached to patients in order to be an outstanding physician.  I witnessed how these relationships build confidence between the patient and the healthcare provider, whether it is a caregiver or a clinic. I hope to channel this experience and my understanding of this interdependence into my desired career as a physician.  My experiences this summer reinforced for me that my ability to help others and become valuable to them, is absolutely dependent on my ability to truly connect with people, in order to become a trusted provider of care.