Research
Kekeli Foundation-Ghana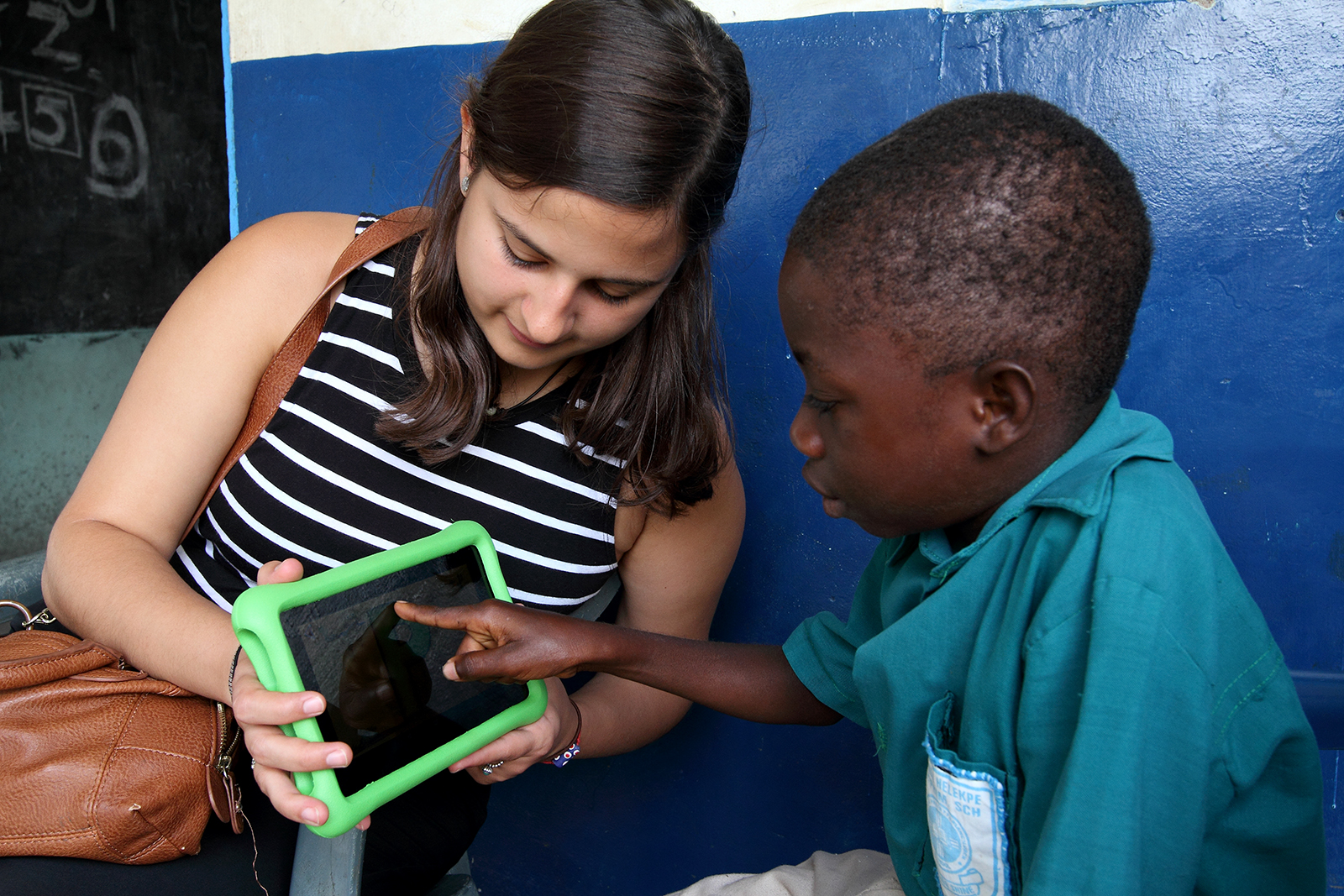 "Woezo! Yoooooo!" These and other sounds I did not understand as I was welcomed into Ghana on a Wednesday morning. Unsure of what the summer would bring (or what everyone around me was saying) I decided that during these two months I would simply do whatever was within my reach to make the most of my time and to have a memorable learning experience in a new country.
For eight weeks this summer I worked with an organization called the Kekeli Foundation based in Ho, Volta Region, Ghana. Kekeli, which means light in Ewe, is an organization dedicated to advocating for the rights of persons with disabilities. They dedicate their efforts to supporting children and adults with disabilities and their families with the goal of improving their social inclusion in all sectors of society. Kekeli works in several areas, emphasizing education and lifelong learning for persons with disabilities and community education regarding the dignity and societal inclusion of people with disabilities.
My work with the organization consisted primarily of supporting Kekeli in their different projects as well as contributing to discussions about what can be done to improve the living conditions of persons with disabilities in Ghana.
For instance, I was a spectator at several meetings with special education officers and district-level education directors regarding steps that should be taken to secure inclusive quality education in Ghanaian schools. Many of those discussions centered on the lack of resources and available professionals in the field and how that made this an extremely difficult task.
However, something I learned is that a task like this requires a starting place, even if there is a lack of resources, because this is the beginning of making change.
I also supported Kekeli through work with self-advocate groups composed of adults with intellectual disabilities. Kekeli's philosophy is that everyone deserves to be an active member of society, and in these self-advocacy groups, persons with and without disabilities collaborate to ensure that persons with disabilities are empowered to participate. My role in these meetings was to prepare activities that would facilitate relationship building between the members. I learned a lot from seeing the transforming relationships between the members of the groups and how these relationships boosted self-confidence through laughter and peer support.
I also had the opportunity to work with several children and their families at school and in their own homes by bringing in technology and teaching them how to use it to enhance their learning. During the last weeks of school, I made weekly visits to a primary school in a small village just outside of Ho where Kekeli supports three children with different disabilities in inclusive classrooms. The goal of my visits was to teach three kids with intellectual disabilities how to use tablets as an educational tool. I would encourage them to work together to reach certain goals. It was not only entertaining, but I also noticed progress in their skills as time passed. The most rewarding part of that experience was watching how the children were able to interact and collaborate with their peers to reach their common goals. I learned the importance of building relationships and how these can change not only how you interact with people, but also how you perceive yourself and others within society.
My experiences this summer made me learn about Ghanaian perception of disability and how it makes it hard for persons with disabilities to be included in society. It is frustrating to
learn about how some people see disability in such a negative light (often as a curse) and I find it difficult to understand, although I know certain understandings are built around cultural context and a specific view of the world. I know I should respect these customs and try my best to understand why certain negative perceptions and beliefs exist, yet seeing what comes because of these beliefs just makes it extremely difficult for me.
Thankfully, organizations such as Kekeli and others are advocating for people with disabilities and are trying to educate people on the importance of social inclusion for persons with both physical and intellectual disabilities. Kekeli not only taught me how hard it is to work towards social justice for persons with disabilities, but also how worthwhile the efforts are, which is something I will take with me forever and most definitely apply in my future endeavors.
I am unsure of what exactly I provided to Kekeli and the people I worked with, but I know that the best thing I got from my time with them was the different relationships I built and I guess that relationships are after all a mutual effort; thus I like to believe that the relationships are built are what I left in Ghana and what I contributed to Kekeli's work.
With no actual word to say goodbye in Ewe, I said goodbye to Ghana and the people I met this summer with no clear idea of what exactly I learned this summer but with certainty that whatever it was I will never forget.