Research
Salud Para Todos: Medicine and Health Disparities in Guadalajara and at Home
Experiencing the World Fellowships
Adviser: Mim Thomas
Final Report:
Salud Para Todos: Medicine and Health Disparities in Guadalajara and at Home
 "Buen día!" rung out to me, accompanied with warm smiles as I walked along Avenida Hidalgo every morning after a bumpy ride on bus route six-four-one. Along my morning commute, the tasty smell of fresh pan, tamales, and café de olla being sold on every corner lingered and woke up my senses as the view of the center's basilica grew closer and closer. Completely enamored by the myriad sights and sounds, I would soon arrive at the steps at Hospital General de Zapopan— or "Hospitalito" as locals liked to call it—to start my workday full of unfiltered medical exposure and experiences in a facility different from anything I had seen before in the United States.
While just over a three-hour flight south from home, this place could have been a world away. Specifically, this place was Guadalajara—the second largest city in Mexico, known for being the birthplace of mariachi and tequila. While I had traveled outside of the U.S. before, this time was different. This was not a vacation where I simply stopped at a few noteworthy places and participated in some commercialized excursions. Rather, this was a full cultural immersion, one in which I abandoned my norms and intimately encountered the everyday people, places, problems, and pace of life of those who call Guadalajara home. Resultantly, I gained an immense amount of perspective, propelling me forward in my pursuit of global citizenship in addition to my primary objective of understanding Mexican health challenges, systems, and disparities in comparison to the U.S.
Hospitalito, tucked away right off of the main street of Zapopan, a suburb of Guadalajara, was a typical public hospital—one of many that served the roughly 90% of the Mexican population without private insurance. Over the course of the seven weeks there, I would come to understand what being a public hospital meant. For instance, what struck me on my first day—and for each day after for that matter—were the overcrowded hallways filled with patients waiting to be seen and thus suggesting the need for public healthcare. Having public status also pervaded the quirófano, or operating room, where I noticed that all of the surgeries I observed were performed using local anesthesia. While general anesthesia, as the anesthesiologists explained to me, was more convenient, it was only employed for surgeries from the chest and above because local anesthesia used less of the resources available. As a public hospital, saving resources and minimizing waste were not only priorities, but also necessities, which Dr. Ballesteros communicated to me when describing how many tools or equipment are reused rather than being discarded as they would be in private hospitals. The limitations of being a public hospital was also illustrated outside of the medical areas such as in bathrooms, where it was not uncommon for hand soap, toilet paper, or paper towels to be unavailable. The first time I found the dispensers to be empty, a nurse explained to me that there was not anymore for the moment, again, because it was a public hospital.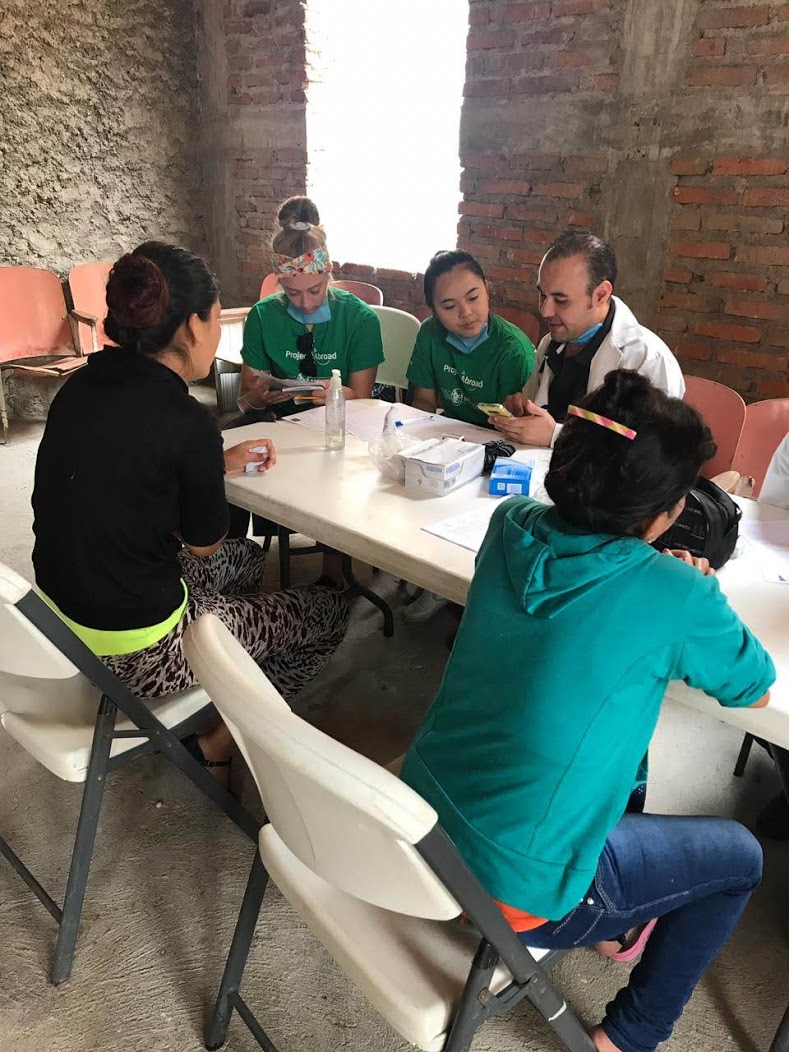 However, despite its limitations, Hospitalito served its patients well as concluded from my observations in the departments I rotated through, each of which also exposed me to health challenges in Mexico. In my first service, being the OB/GYN emergency room where the majority of patients were in labor and where I helped triage, I was made aware of the high rate of teenage pregnancy in Mexico, resulting in its first place ranking for teenage pregnancy in the Organization for Economic Co-operation and Development (OECD). Patient after patient, I noticed how young these expecting mothers were or how young they had been when they had their first child, sparking my curiosity. I had conversations with medical interns, OB/GYNs, and two shadowing high school students about how Catholicism, machismo—the idea of what a Mexican man is, how expensive contraception is, and female inequality all play a factor in this complex outcome.
Upstairs, in pediatrics, Dr. Elena and I discussed the high risk of obesity, which competes with the U.S. in the OECD and possible causes. For one, popular Mexican botanas, or snacks, sold by street vendors almost everywhere are fried. They are often accompanied by Coca-Cola, which I found to be more common than water due to its competitive price with drinking water—which must be purchased since tap water is unsafe. I, myself, often caught myself ordering soft drinks instead of water when dining out since I was paying for a beverage regardless. I also discovered that, in contrast to my upbringing, nutrition in school meals were not regulated as strictly, if at all, thus resulting in the absence of the idea of what a balanced meal ought to be.
In my time in the emergency room, I assisted with wound cleaning but was also permitted to learn about all cases in general. Due to the nature of the service, there was great diversity, allowing me to inquire about a variety of aspects of health and medicine. When a blood donation was needed, I was informed about the lack of altruistic blood donations. I also became aware of the lack of mental health awareness and services in the country overall.
These rotations also allowed me to see how patient treatment differs across borders as I observed many approaches to medicine in Mexico that I admired. For instance, mirroring the Mexican lifestyle, patient consultations in all services I worked in were unrushed, allowing the doctor and patient to be able to take as long as they needed in order to be thorough and contrasting with the limited window of patient-doctor interaction in the U.S. Additionally services like cardiology, where I assisted with patient history interrogations, were offered through 8 P.M., thus making receiving healthcare more convenient and accessible for those who work.
Hospitalito might have been a large platform where I acquired a vast amount of knowledge, but all of Guadalajara was my classroom as well. Through discussions with everyday people, I learned about Mexican politics. In assisting with an art project in a small town nearby, I participated in street art and learned of art's importance to the Mexican people. During a visit to the patients in a public children's hospital, I learned how to play the traditional game lotería. By being open to trying new things, I learned to savor the flavors of Mexico. By participating in a medical outreach on the outskirts of Guadalajara, I learned how access to healthcare is a universal need. By the end of my seven weeks, I was told that I learned how to speak like a Tapatío—what people from Guadalajara are called.
This experience was not without its challenges. There were small bumps to step over such as adjusting to meal times or getting used to a lack of air conditioning, but there were also more frustrating moments such as being viewed as a foreigner and having to deconstruct misconceptions or not being able to understand or to be understood due to the language barrier. However, the rewards were well worth the difficulties I faced. Rewards such as new friends, stronger Spanish-speaking abilities, sensitivity to the culture, a greater understanding of the diversity of the world, newfound solidarity, and an investment in Mexican social issues—particularly public health issues—that I know will help inform and enrich my treatment of Mexican patients as a physician in the U.S. in the future, but will also lead me back to Guadalajara and its vibrant streets like Avenida Hidalgo one day.