Research
Providing Healthcare Services to Local Communities in Guatemala
Experiencing the World Fellowships
Adviser: Pedro Aguilera-Mellado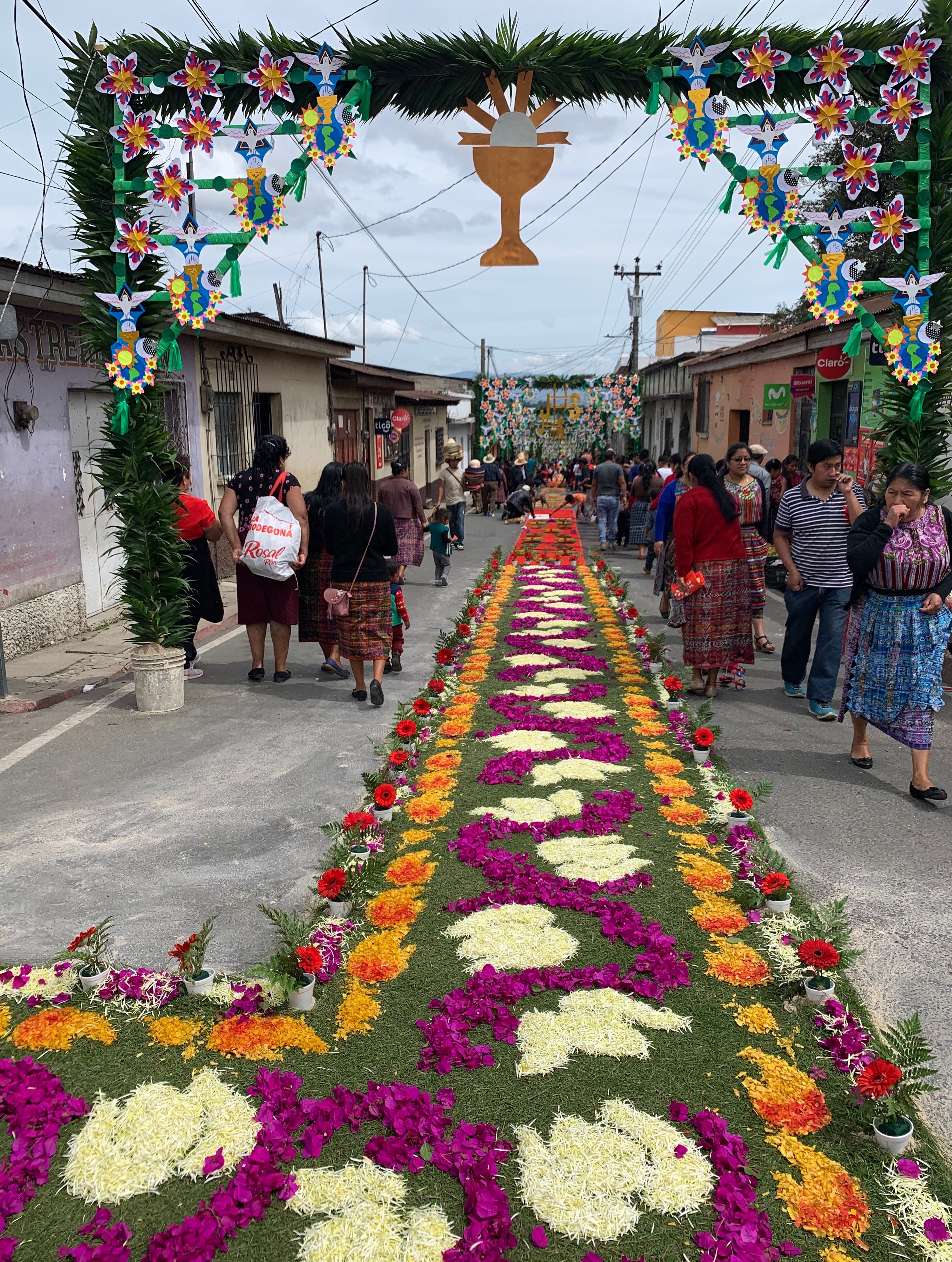 Final Report:
The smells of instant coffee and bananas are now fond reminders of the place I call my second home: Guatemala. Staying for a total of seven weeks, I quickly grew accustomed to my surroundings and immersed myself in both the astounding culture and Spanish language. Although I had learned Spanish for many years in school, I was still extremely nervous and anxious for the trip because it would mark my first visit to the beautiful region of Latin America. For months on end, I had meticulously planned out important details: scouring online for a volunteering program, understanding my role at the health clinic, receiving proper vaccinations, and preparing for the trip. Yet all of this planning did nothing to ease my initial mixture of apprehension and excitement—little did I expect how hard it would be to say goodbye to Guatemala and how much I would yearn to visit again.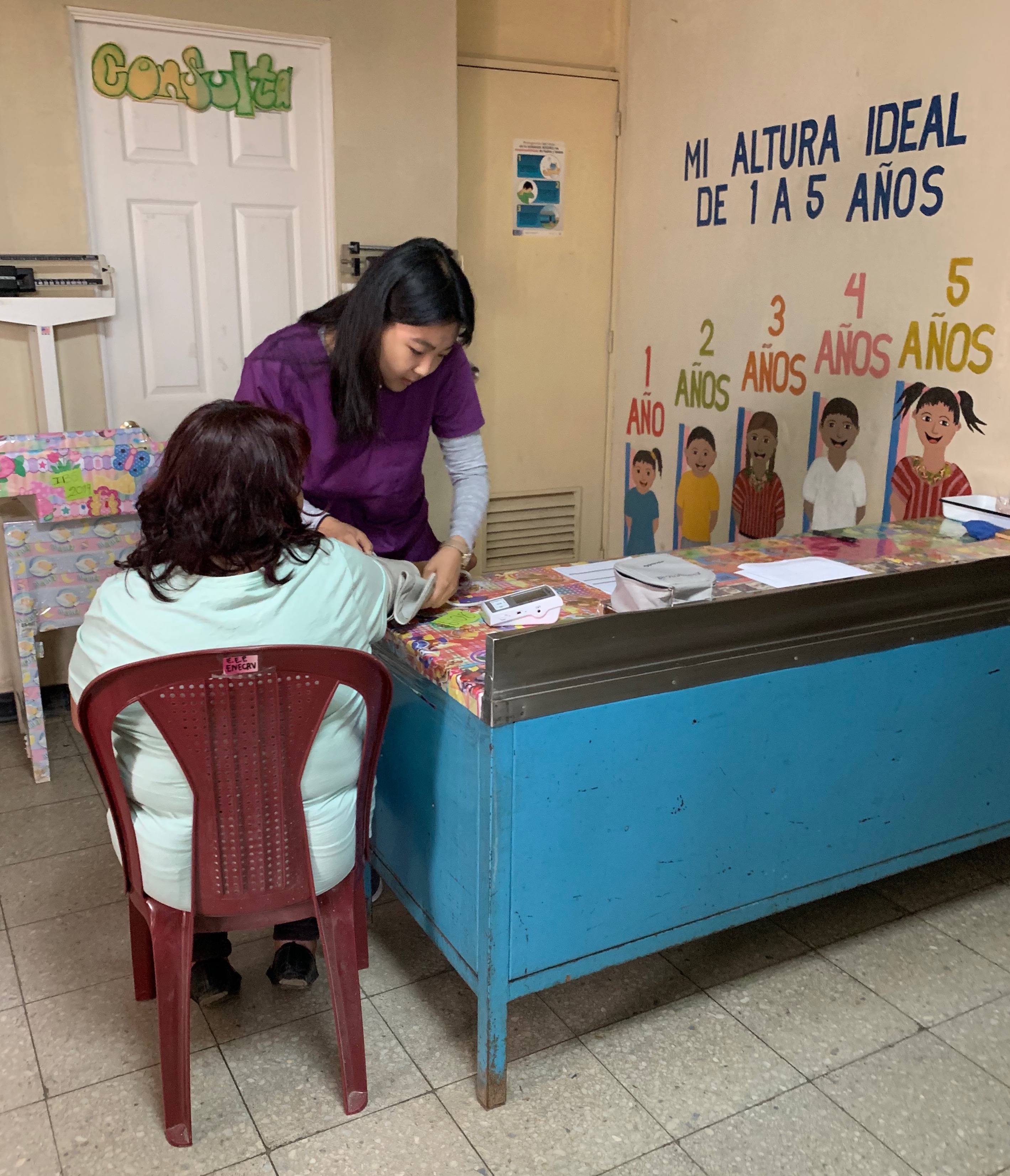 My proposed field project aimed to volunteer at the local public health clinic by assisting medical staff, offering services based on the needs of local residents (including vitamin supplement stations and patient check-ups), and providing educational outreach programs on healthy living. Through this project, I would strive to conjoin my dual interests in Latin American culture and public health while serving the Guatemalan communities. Despite the growing demand for adequate healthcare in all of Latin America, I had specifically chosen to do this project in Guatemala because of the markedly low physician to patient ratio, which currently stands at 0.93 physicians per 1000 population on average.[1] Moreover, the country's healthcare system has been largely affected by the long-lasting impacts of its Civil War (1960-1996), which limited government provision of equal healthcare for many citizens.[2]
Throughout seven weeks' time, I witnessed several other problems in the healthcare system that have been less widely recognized. For instance, one of the most prominent challenges at the Patzún municipal public health clinic was communicating with the patients who preferred to speak Kakchiquel, a native Mayan language indigenous to the area. Although this initially presented a language barrier of sorts, I quickly picked up on some of the language and interacted with patients via Spanish. Another lesser-acknowledged concern is that many Guatemalans still do not fully confide in modern medicine. For instance, women are less likely to visit a male doctor due to personal unease and social stereotypes. Moreover, women still largely rely on midwives during their pregnancies instead of visiting a formal hospital or maternity center. From a combination of these different challenges, I recognized that improvement in the Guatemalan healthcare system must be achieved through dual efforts from both the government providing healthcare access and the citizens who utilize it.
Meanwhile, at our clinic in Patzún we were very fortunate to have a main physician, Dr. Antoinetta, who is both female and fluent in Kakchiquel. During my time at the clinic, I was able to closely shadow her during patient consultations and she would thoroughly explain different diagnoses, from the common cold to a special case of plantar fasciitis. Outside of the doctor's office, I would spend most of my time either helping the office staff or helping the nurses and watching different surgeries in the emergency room. One significant challenge in pursuing my field project was understanding my own limitations to my volunteering role at the clinic. Without a medical license, I was often restricted to more observational, auxiliary tasks. However, the experience and project were nonetheless rewarding. I can distinctly recall a memory of a woman with a severely infected ingrown toenail rushing into the emergency room. The nurses took one look at the toe and decided that the best course of action would be to administer regional anesthesia and remove the toenail completely. Throughout the surgery I constantly attended to the woman, who was in great pain prior to receiving anesthesia, and swiftly aided the nurses in providing properly disinfected gauze, tape, and medical scissors to remove the nail from the swollen toe. Amidst the frenzy of the situation, I was reminded of my true passion for medicine and offering care to those in need. Although my tasks involved nothing medically liable, the woman's sincere gratitude after the surgery proved to be an inspirational and humbling learning moment for me.
Other unexpected rewards of pursuing this field project came from my experience living with the host family. Being displaced from my home in the sunny coasts of Los Angeles to a life in rural Guatemala with hardly any English communication, I was propelled to quickly adjust to using only Spanish. Yet through my time in Guatemala, my conversational Spanish improved considerably. Furthermore, I truly began to understand the region once I learned to appreciate the rhythm of daily life in Patzún. On a daily basis, I would be able to dedicate myself to volunteering at the clinic in the day, working out at a local gym, spending time with the family, going to adoration at the local church, and helping my host mom prepare dinner. More than ever before, I felt a deeper connection to both my spiritual life and mental health without the distractions of my Macbook and other electronic appliances that I had previously considered as necessities back at home. In contrast to the fast-paced, high stress of daily life that I was so accustomed to, Guatemala offered me a respite to appreciate the beauty of the local community, the unity of the people through shared culture, and a widespread acknowledgement to appreciate the little blessings—las bendiciones pequeñas—as my host dad would say, in life.
This field project offered me the rare firsthand opportunity to not only study the healthcare system of Guatemala but also immerse myself in learning about the region, its people, and the rich culture. Every day of my seven weeks were lived out fully, and I am still so grateful to have met many different amazing people on my visit. By befriending the medical interns who were several years older than me, I was able to learn about the differences between the medical schooling process in the United States and in Guatemala. The office staff, nurses, and Dr. Antoinetta helped me gain more insight into the realities, difficulties, and benefits of the Guatemalan public healthcare system but also offered their warm friendship as they willingly integrated me into their community. My host family and the entirety of their extended family in Patzún welcomed me as another child of their own family, taking care of me and becoming my emotional stronghold during my time there. Through the many personal stories shared with them over dozens of meals and afternoon chats, I was able to find a deeper connection to Guatemalan culture and customs.
This summer's experience in Guatemala is beyond unforgettable, because I have returned home with a deeper knowledge of the healthcare system and a renewed sense of appreciation for sincere service to others. My newfound understanding of this region has given me a time of powerful introspection, and above all, gifted me with a greater love for las bendiciones pequeñas in life.