Research
Hip Hop Won't Stop: The Morphing Role of Hip Hop in Cape Town Social Discourse
Experiencing the World Fellowships
Adviser: Ernest Morrell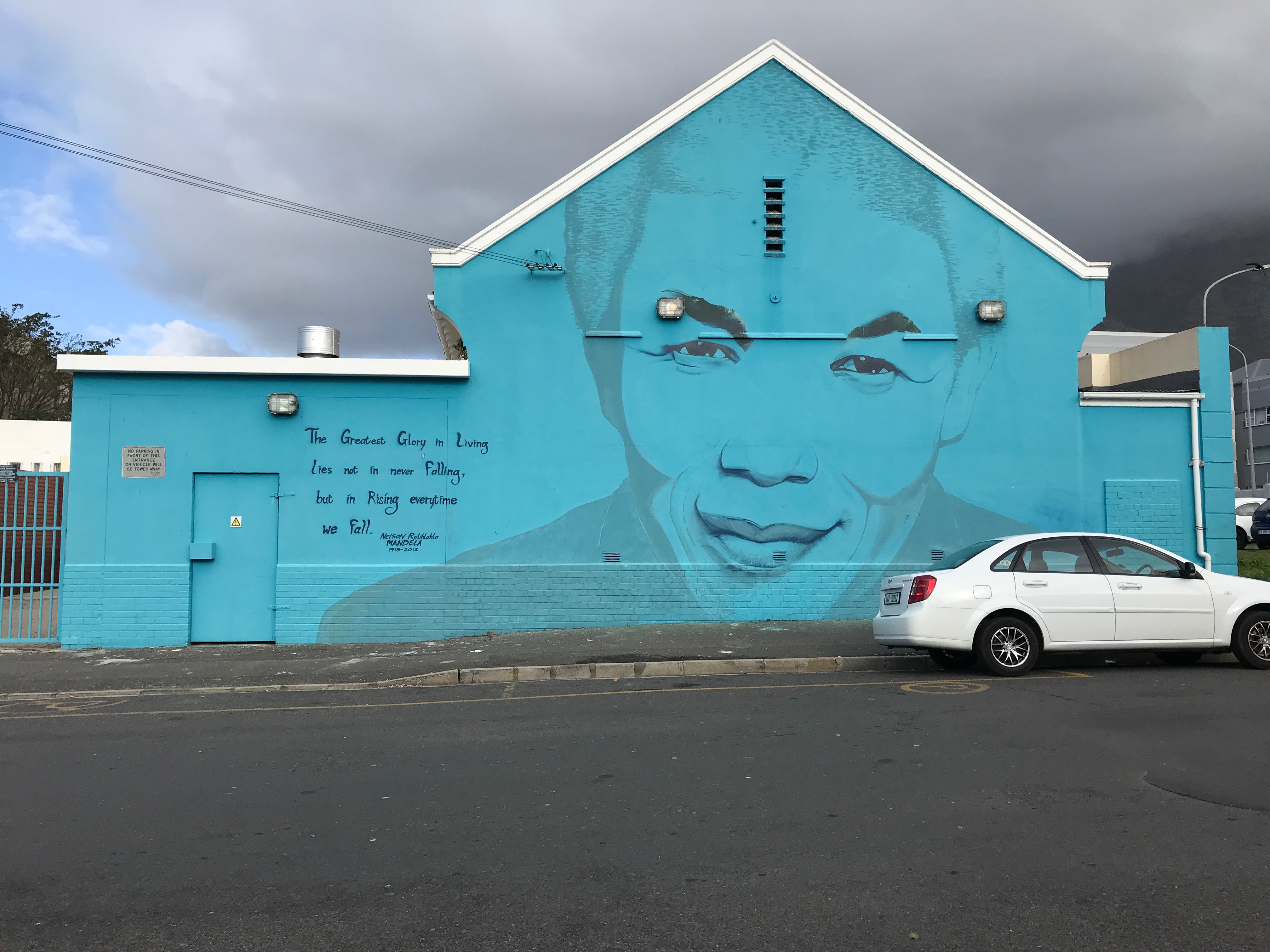 Final Report:
The southern sky's stars shone over my right shoulder, and the clouds rolled over Table Mountain to my left. I could hear a heavy 808 bass pumping from the speakers downstairs, but my focus was on the conversation I was sharing with a few local rappers atop a Cape Town venue. Two were from Gugulethu, another from Langa—two of the townships just outside of the city. We talked casually, and I told them a bit about my research project. As our conversation continued, I asked about their thoughts on the military being sent into the townships to combat gang violence. Our talk took a few turns—some thought it was a good idea, others were far more hesitant. Some shared stories of friends that been caught up in the violence, others told me about the terrifying military patrol of the townships during the Apartheid years. All were passionate. To me, this is what is so empowering about hip hop: its nature is one of individual expressive freedom, the chance to impart an experience, to declare an identity, in ways countercultural and creative. I began to engage with hip hop by listening to MCs like Kendrick Lamar, J. Cole, and Vince Staples with a curious ear, captivated with how their raps could become so much more than commercialized songs. Eventually, my focus branched to South Africa, and I became fascinated with the culture's dialogue with race and identity as the nation was re-formed as Apartheid fell and a democratic system was established and developed. As we headed back downstairs for the main act of the night's rap show, I briefly reflected on the prior four weeks, finally fully appreciating my chance to take off the headphones to engage with the artists negotiating social issues, walk the communities afflicted, and immerse myself in the Cape Town hip hop culture.
Hip hop came together in the 1970s Bronx, an area ripe with struggles related to gangsterism, drug culture, and police brutality. The innovative culture—primarily involving MCing, DJing, b-boying, and graffiti—coursed with energy, and it became a channel to negotiate personal stories of adversity amid urban struggles. Though the stories shared are often local, their messages are not location-specific. Hip hop quickly spread across the US and resonated among communities suffering similar struggles around the world, and soon becoming a global culture. From Compton to Cape Town, these stories were relatable and empowering.
South African hip hop took root in the Cape Flats townships, where youth listeners found that it spoke to their experience during the later years of Apartheid. Hip hop culture began to grow, but in pockets. Influenced by politically conscious American groups like Public Enemy and NWA, a few key South African groups paved the way for hip hop to become viable, dodging censorship and sometimes even exile to record and distribute their music in the early years of democracy.
As one local artist explained it to me, Cape Town does not have a hip hop industry—it has a hip hop scene, rather, hip hop scenes. The streets are not flooded with people sauntering with a boombox over-shoulder, and b-boys are not breakdancing on every corner. But that is not to say that hip hop is not alive in the Mother City. Myriad MCs, dancers, street artists, DJs, and more actively engage in Cape Town, and they spread hip hop in several directions—underground careers, community activism, edutainment initiatives and more. 
For my research, this was a bit of an obstacle—I was not yet directly connected with those artists and communities. So, my work was largely exploratory: branching out simply by starting conversations, reaching out to people via social media, and visiting new places. During my first few days in Cape Town, I spent a fair amount of time just walking a few of its more central areas, getting a feel for the city's energy and capturing pictures of graffiti I saw along the way. As my network developed, I found myself springing to different communities around Cape Town, interacting with different artists, producers, and activists to hear their stories and learn about their relationship with hip hop. Not every effort was fruitful, but I never knew what might come of any given conversation, so I excitedly pressed on.
I remember one case in particular where this lesson rang true. I had met with the sound archivist of a museum, and he referred me to a friend, and she recommended that I check out a hip hop karaoke event downtown. I was not sure what to expect, but I jumped in all the same. It turned out to fall on "First Thursday", a monthly event where artists from all around Cape Town exhibit their work at galleries and venues late into the night. I started a conversation with someone there, mentioned my research project, and he told me I was in the right place—virtually everyone there was a hip hop head in some way. He introduced me to a friend, who shared a few contacts, one of whom was a somewhat prominent underground rapper called Uno.
I texted Uno the next day, and he invited me to join him at a gallery for coffee. He was working on a laptop, planning out an upcoming tour to the US. We chatted casually, and he shared a bit more about his background. He was raised by his mother and grandmother in Gugulethu, and his father was part of the armed wing of the ANC (African National Congress, the party of Nelson Mandela) during apartheid—in fact, his father was exiled for much of Uno's life, and the two did not meet until he was 20 years old. This conversation was brief, but he invited me to join him at an outdoor photoshoot the next day, promoting a streetwear fashion brand that focuses on indigenous African designs.
As we walked the streets, stopping occasionally for the photographer to get a shot, Uno told me more about the neighborhood, which is called Bo Kaap. It had particular personal significance to him: his grandmother lived there until 1960, when the Apartheid government passed the Group Areas Act, which forcibly removed people from their homes and moved them to racially classified areas. She was placed in Gugulethu, and Bo Kaap was designated as a home for the "Cape Malay" community. The problems in Bo Kaap did not stop with Apartheid—Uno pointed out how the neighborhood is now quickly gentrifying. South Africa's economy is somewhat strong, but economic inequality has arguably worsened since Apartheid fell, and, with some exceptions, the wealth divide falls on racial lines. People were once pushed out of their homes by the military; now stark economic disparity poses the same threat to community identity.
I found another impactful moment in a conversation with a rapper now breaking into the mainstream: YoungstaCPT. He is 27 years old, and, after 30 mixtapes, finally released his debut album last march. Throughout his career, Youngsta has stayed independent from major record labels. In 2010, he and a few collaborators started their own Cape Town-based entertainment agency, Y?Gen. I connected with the artist through a few checkpoints: one of my tour guides referred me to a friend, who recommended I attend an artistic entrepreneurship networking event, where I met Youngsta's manager, who offered a bit of their free time later that week. We met up at their newly-opened brick-and-mortar shop in Wynberg, a low-income suburb and, moreover, Youngsta's hometown. As we talked outside the storefront, he told me about his vision for the shop: to become a central point of pride in the community. With signs like "Lekker (cool) to Be Local" posted outside, several kids came up to Youngsta to shake his hand or take a picture as we talked. He spoke of institutional problems around Cape Town—how the system seems designed to trap youth into gangsterism, how poor residents of Bo Kaap and other neighborhoods are being moved out, and how the government does not seem to listen until there are tires burning in the streets. Youngsta sees his role as one of disrupting the system by bringing commerce and visitors to Wynberg. This attitude resonates through his music, where he often raps in an Afrikaans slang dialect local to the Cape Flats. This trend is a particularly interesting one: though I did not connect with many non-English artists, more and more South African MCs are rapping in local tongues, such as Xhosa, Afrikaans, or Zulu. In several informal conversations about this, people mentioned that this just makes sense—they are rapping about local themes in the local language; using English would be mis-fitting.
Some of my interviews were more politically hard-hitting than others. During my second week in Cape Town, I sat down with an anticapitalist, anarchist hip hop collective. Much of their work is explicit protest music, with verses directly addressing themes like economic inequality, police brutality, and workers movements. As I was discussing my research at the onset of our discussion, I mentioned that one of my guiding questions was about how the born-free generation (those born after Apartheid had fallen) was using hip hop. One member spoke up: "What do you mean, born free? … Who became free?" He pointed out the prevalence of crime and poverty afflicting non-white communities, calling the 1994 elections a sellout for how they did not impose impactful change. He later went on to discuss the group's mission and the simple, raw power of a microphone, pressing that their main focus is not to have an audience, but convert participants in movements for workers justice. 
Through this immersive experience, I explored a culture that, among its expansive uses, is now re-localizing a broadly resonant message of struggle, pride, and protest. South African hip hop pioneers protested Apartheid and early ANC policies, laying the ground work for hip hop scenes that now negotiate resurfacing social issues and press the boundaries through several artists' entrepreneurial DIY approaches to claiming community identity through adversity. As YoungstaCPT raps, "If hip hop is the culture in which we partake / Then we will build our people up until the point they can't break."
This month in Cape Town has been a remarkably unique opportunity to directly engage with the multifaceted and morphing world of hip hop in Cape Town in ways that could not have been achieved without direct field work. I owe immense gratitude to my advisor, Professor Morrell for making this project possible. Though it is time to put the figurative headphones back on as I return home, I hope to keep listening, now ever-more curiously.