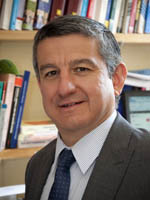 Former Visiting Fellow Fabrice Lehoucq had a busy spring semester while on research leave. Lehoucq accepted the invitation to remain as Book Review Editor for the Latin American Research Review for another term, and he worked on his book manuscript. He also published the following:
"Bolivia's Citizen Revolt," Journal of Democracy, 31, no. 3 (July 2020): 130-144.
"The Causes of Military Coups d'État," Oxford Encyclopedia of the Military in Politics, Oxford University Press, forthcoming.