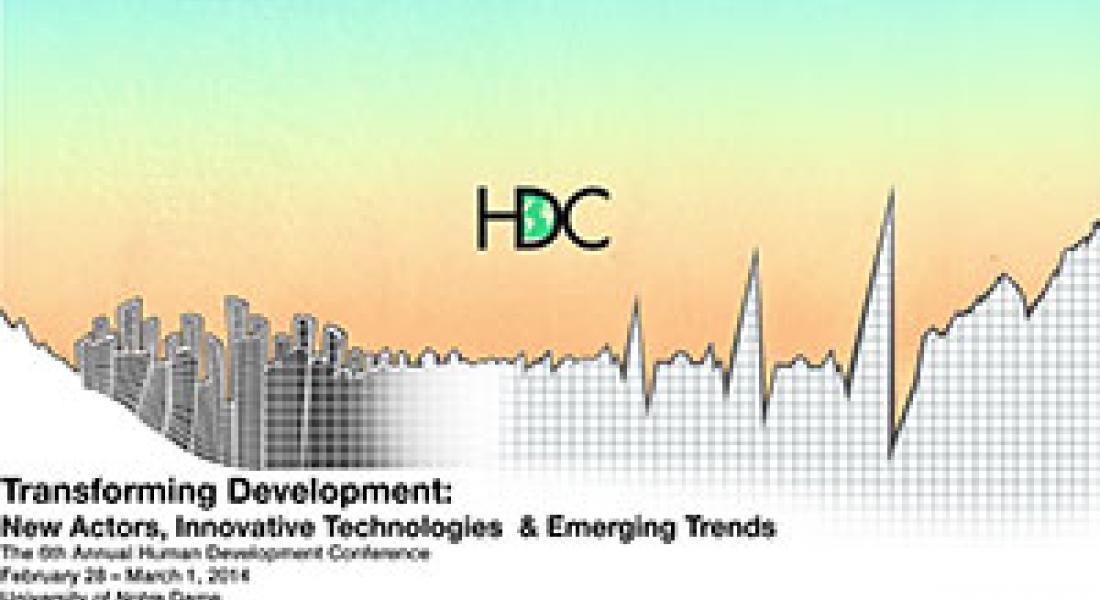 The sixth annual Human Development Conference at the University of Notre Dame will bring together hundreds of students and guests from Notre Dame and colleges and universities as far away as Uganda, India, the Dominican Republic, and Switzerland to share their research experiences in the developing world and discuss the meaning of authentic human development from a variety of disciplinary perspectives.
Organized by students for students, the conference will be held Friday, February 28 and Saturday, March 1st, in the Hesburgh Center for International Studies on the Notre Dame campus.
This year's theme "Transforming Development: New Actors, Innovative Technologies, and Emerging Trends," is inspired by the idea that development is an evolving process. A widening set of stakeholders and rapidly advancing technologies raise new possibilities for the field. The conference will be a chance to reflect on both successes and failures in development, while analyzing opportunities created by these new trends.
Students will present their research in the context of broader development themes, including environmental stability, crime, gender, health, discrimination, resource instability, and solidarity in development. Participants will explore novel approaches to improving livelihoods and advancing human dignity. In addition to the research presentations on Friday and Saturday, there will be poster presentations and a student photo contest.
Mireille Cronin Mather, executive director of the Foundation for Sustainable Development (FSD), will deliver the keynote address on Saturday evening. The FSD mission is to achieve community-driven goals through asset-based development and international exchange in Africa, Asia, and Latin America. Mather has worked on projects in over thirty countries, and conducted fieldwork in a dozen.
Sponsored by the Ford Family Program in Human Development Studies and Solidarity at Notre Dame's Kellogg Institute for International Studies, the conference is cosponsored by Notre Dame's Center for Social Concerns, and SIT Study Abroad, a program of World Learning. The majority of the student research to be presented was facilitated by conference sponsors.
For a full conference schedule, visit http://www.nd.edu/~hdc.
Contact: Kristi Lax-Walker, Ford Program, at 574-631-3744 or klaxwalk@nd.edu