Collaborative for Econometrics and Integrated Development Studies (CEIDS)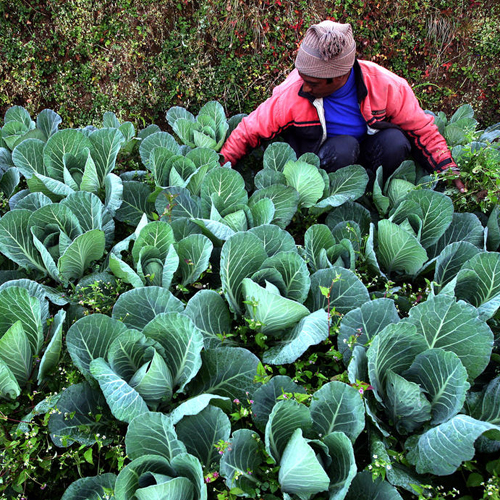 The Collaborative for Econometrics and Integrated Development Studies (CEIDS) is a community of researchers integrating shared Judeo-Christian faith and values with work that seeks to equip, evaluate, and encourage the relief and development arms of the global church.
Centered at the Ford Family Program within the Kellogg Institute for International Studies at the University of Notre Dame, the collaborative represents a growing global community of researchers based in the U.S., Africa, Latin America, and Europe. CEIDS forms a virtual network of scholars committed to activating the values of the community into research, service, and teaching in partnership with faith-based development organizations across the globe.
CEIDS holds a bi-weekly Friday online seminar in which affiliates and members present recent research papers, serving as a globally inclusive forum for the sharing of ideas. Research groups are formed around CEIDS initiatives that are often carried out in partnership with faith-based development organizations. CEIDS mentoring groups match senior and junior researchers across countries, meet monthly, and provide a space for both professional and spiritual growth. CEIDS also commissions annual review papers undertaken by affiliates and other members that seek to bridge the gap between the best current research in the development field and development practitioners in the faith-based development community. 
Mission
CEIDS is a community of researchers from many countries working together to equip, evaluate, and encourage the relief and development arms of the global church. Independently and in partnership with faith-based development NGOs, CEIDS seeks to foster research that incorporates an understanding of human dignity and human flourishing as articulated in Catholic social teaching.  This approach recognizes the value of each person as stemming from the imago dei, that as a reflection of God's image, each human being is innately valuable. This view of human flourishing and human development acknowledges the importance of traditional development outcomes such as health, education, and income, but also recognizes the importance of environmental stewardship, social-connectedness and community, mental health, relationship to God, and character values such as kindness, forgiveness and reconciliation, self-control, transparency, and truthfulness, not as means to economic ends, but as innate virtues in themselves, often more able to come to full fruition as economic needs become satisfactorily addressed. 
Vision
The collaborative engages in three core areas of practice: research, service, and teaching. 
First, CEIDS seeks to equip, evaluate, and support the work of faith-based development organizations by facilitating partnerships between these organizations and its own network of researchers. These partnerships aim to match practitioner needs with researcher interest and expertise. A primary goal of the collaborative is to serve the practitioner institutions of the church in the area of program evaluation such that they can carry out the most effective work possible both internationally and domestically. Modest research grants (and potentially outside grant funding) will be available to CEIDS members through the Ford program to facilitate collaborations between its community of researchers and faith-based development organizations. 
Second, CEIDS encourages and facilitates research that acknowledges and studies the importance of normative values that strengthen human relationships and communities, taking a view of the human person that is articulated in the mission statements of many faith-based development organizations, and in many cases by the global poor themselves. In particular, CEIDS seeks to promote research related to this holistic view of human flourishing through a bi-weekly seminar in which members of the community present empirical development research, where presentations of research related to different aspects of human flourishing are especially encouraged. 
Third, the CEIDS also seeks to develop a teaching platform. The collaborative aims to offer online hybrid classes as well as to develop a certificate program in social impact analytics. These classes will equip participating students and practitioners with the empirical tools to carry out statistical evaluation work related to development policies and program interventions. The collaborative aims to create a model of remote, in-person, and group learning that can be implemented both in the U.S. and internationally in low- and middle-income countries with overseas faculty affiliates and partner institutions.
Perhaps above all, CEIDS seeks to be a unique community, a place in which scholars come together virtually in regular seminars and conferences, and in person at an annual June retreat hosted by the University of Notre Dame. The collaborative provides a supportive community particularly for scholars of faith who aim to integrate their values and research. It aims to create spaces that foster strong and supportive friendships and working relationships in which the mentoring of graduate students and young scholars can occur naturally over shared values and interests.  CEIDS mentorship groups and research groups that are intentionally comprised of researchers from different professional levels and geographical locations across the globe, but who share common research interests, are integral to developing this kind of supportive community. The mentoring and development of young scholars domestically and overseas who wish to integrate faith with research based in human dignity and human flourishing will be critical for the sustainability and growth of the community in the decades to come.
Leadership Team
---
Technical Advisors
---
Affiliates
Projects
Child Migration and Mental Health
Project PI(s): Daniel Prudencio
Evaluating the Spiritual First Aid Intervention: A Randomized Trial in Ukraine
Project PI(s): Patrizio Piraino, Jamie Aten, Bruce Wydick, Kent Annan, Chris Barrett, and Ange Kakpo
Catholic Schools in Poor Areas
Project PI(s): Emily Conover and Alejandro Estefan
Compassion International's Child Survival Program
Project PI(s): Bruce Wydick and Paul Glewwe
Legal Advocacy for the Poor
Project PI(s): Katie Bollman and Chris Ahlin
The Impact of Clubfoot Intervention on Children's Life Outcomes: Evidence from Hope Walks in Ethiopia
Project PIs: Bruce Wydick and Patrizio Piraino
Preventing Intergenerational Incarceration: A Study of the Faith-Based Camp Hope Program
Project PIs: David Phillips and Bruce Wydick
Long-Lasting Effects of Exposure to Bible Translations: Evidence from Sub-Sahara Africa
Project PI: Rebecca Thornton
Commissioned Review Papers
In Process:
The Role of Agriculture in Integral Development
Jeffrey R. Bloem, International Food Policy Research Institute (IFPRI) and Ange Kakpo, Seattle Pacific University
Promoting Literacy: Best Practices for NGOS
Project PI(s): Paul Glewwe, University of Minnesota and Doris Suzuki Esmerio, World Vision International 
Adjusting Programs in Response to Climate Change
Project PI(s): Kate Bryant, Westmont College
Join Us
Research Working Groups
The CEIDS coordinates research groups, often consisting of several members in a research collaboration related to a research project within the scope and mission of the collaborative.  We particularly encourage collaborations among researchers that seek to improve the effectiveness of faith-based development organizations.   Some research groups are centered around the development of commissioned reviews that are targeted specifically at the faith-based development community to try to bridge the gap between the latest evidence from randomized controlled trials and other rigorous empirical research studies and development practice.
Biweekly Friday Research Seminars
CEIDS hosts an online seminar that meets every 1st Friday at 1pm and every 3rd Friday at 3pm (Eastern time).  Our Friday seminars comprise a virtual space in which we share community announcements and hear research presentations from CEIDS affiliates and members in an open atmosphere that fosters constructive, encouraging, and helpful dialogue. Seminars are scheduled for 60 minutes, but extend afterwards for informal discussion between presenters and participants.   Please contact Maurice Sikenyi at Notre Dame for a zoom link to the Friday seminar.
Mentoring Groups
The CEIDS coordinates mentoring groups where senior members lead or co-lead mentoring groups that meet on a regular and fixed time interval. These mentoring groups are designed to create spaces where CEIDS members can build community together and help and encourage one another professionally and personally and in ways that they can more deeply integrate their professional and spiritual lives.
For all inquiries regarding CEIDS or the work of the collaborative, contact Maurice Sikenyi.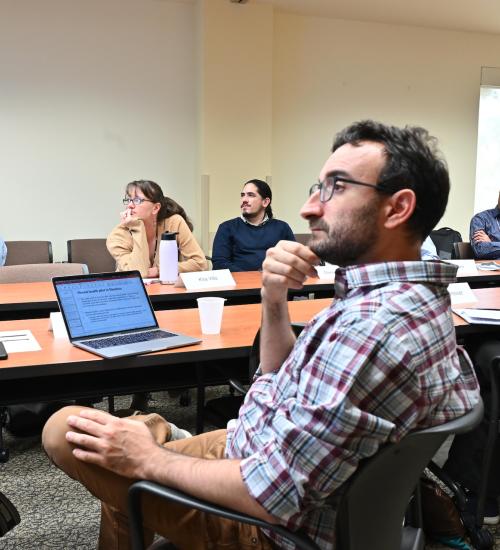 Events
Research Seminar: 1st (1pm EST) and 3rd (3pm EST) Fridays each month
Seminars Fall 2023:
Friday, September 1 at 1:00pm: Singumbe Muyeba, University of Denver, "Why Do Regions with the Largest Slum Populations Receive the Least Financing for Slum Upgrading?"
Friday, September  15 at 3:00pm: TJ D'Agostino and Danice Guzman, University of Notre Dame, "Explaining Variation in Treatment Effects: An Impact Evaluation and Mixed Methods Study of Variation in Early Grade Reading Program Effects from Haiti"
Friday, October 6 at 1:00pm: Travis Lybbert, UC Davis, "Religiosity and Educational Attainment Among the Roma: Shedding an Oppositional Identity?"
Friday, October 20 at 3:00pm: Sandra Polanía-Reyes, University of Navarra, "Overcoming Empathy Failures to Improve Prosocial Behavior Towards Migrants: Evidence from a Media Intervention"
Friday, November 3 at 1:00pm: Razvan Vlaicu, Inter-American Development Bank, "Child Labor, Rainfall Shocks, and Financial Inclusion: Evidence from a Household Panel"
Friday, November 17 at 3:00pm: Jason Paltzer, The Meros Center, "Impacts of Community Health Evangelism in Ghana as an Integral Mission Strategy"
Friday, December 1 at 1:00pm: Jeanne Lafortune, PUC-Chile, "Improving Workers' Safety in Brazil"
Friday, December 15 at 3:00pm: Scott Cunningham, Baylor, "Predicting and Preventing Suicide in Correctional Facilities"
Mentoring Group: Various times, please inquire.
Annual Retreat: First week in June each year.
---
CEIDS Annual Workshop-2023
Thursday-Saturday, June 8-10, 2023
The Ford Program in Human Development Studies and Solidarity will convene a multi-day workshop on behalf of the Collaborative for Econometrics and Integrated Development Studies (CEIDS). This second annual workshop will take place at the University of Notre Dame on Thursday-Saturday, June 8-10, 2023. The workshop theme will be "Measuring Holistic Outcomes," featuring a series of papers related to approaches to measure social, psychological, and spiritual outcomes in impact evaluation work. The retreat brings together a diverse group of scholars from multiple disciplines; economists, psychologists, theologians, policy experts, and development practitioners. The CEIDS Network is a virtual research community whose mission is to serve as an ongoing global collaborative of development researchers committed to partnering with faith-based global development organizations and supporting their mission and practice.